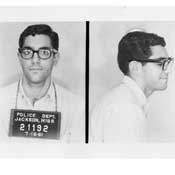 The first time Lewis Zuchman saw Freedom Rider Hank Thomas was in 1961. Thomas was giving a television interview about the violence he had encountered in Anniston, Ala., while challenging Jim Crow laws. Thomas' conviction and perseverance inspired Zuchman.
The next day, the 19-year-old headed down to the Congress of Racial Equality office in New York City and signed up to join the rides. He eventually made it to Jackson where he was arrested and spent 42 days at the Mississippi State Penitentiary in Parchman.
It would be almost 50 years before Zuchman met Thomas, the man who inspired him to join the rides. During the first Freedom Riders reunion event in November 2010 at the Alamo Theater on Farish Street, the two men were honored for their civil rights work.
Zuchman, who is Jewish, said he identified with the struggle for civil rights. Growing up in Queens, N.Y., his Jewish grandmother was afraid to light Passover candles because she did not want her neighbors to know they were Jewish.
"I grew up with this sense of understanding that our struggles were similar. I was always reminded of the Holocaust by my Jewish family and was always reminded that we had this shared suffering with black people," Zuchman says.
"When I began to see what was happening to black people in America, ... I began to feel very strongly that not only was it wrong, but the lesson that we learned in Europe before World War II is that you need to stand up early, or things just get worse and worse until you can't stand up anymore."
Being Jewish wasn't the only reason Zuchman joined the Freedom Rides.
"We all had a common struggle," he says. "Not just Jews or blacks. No one should be treated that way, and if we ever accept that then we diminish all of us."
Approximately half the white Freedom Riders were Jewish. Jackson Rabbi Perry Nussbaum frequently traveled to Parchman to meet and pray with the Freedom Riders in 1961. Six years later, in 1967, the Klan bombed Nussbaum's home and his synagogue, Beth Israel. Luckily, no one was hurt.
Thomas has frequently expressed his gratitude to the Jewish community for joining the struggle for civil rights.
"We have tremendous ties to Jewish people and what they have done for our struggle," Thomas said in October 2010. "The Jews who were in the Civil Rights Movement, ... many of them suffered quite a bit."
Zuchman, now 69, is the executive director of the Supportive Children's Advocacy Network in New York City's East Harlem neighborhood. The organization provides programs and activities for at-risk children and families in the area. During the past six months, leading up to the 50th anniversary of the Freedom Rides, he has traveled around the country speaking about his experiences. He describes this time as a period of reflection, while it has given him some of the most memorable moments of his life.
"When I came down to Jackson in November, Hank (Thomas) expressed his strong feelings of the black and Jewish community coming together," Zuchman says. "We've kind of crusaded since then to bring all of us—white and black—together, and particularly in this context of the Jewish and black community being so strongly aligned."
More like this story
More stories by this author