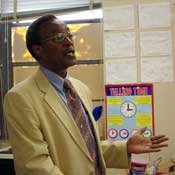 Fred Clark always felt something was not right with how the South treated blacks.
In summer 1961, our nation was embroiled in a bitter war between the segregated southern United States and those who sought to enforce the 1954 Brown vs. Board of Education order to integrate schools.
Clark, then a skinny, shy 19-year-old boy from Jackson, found himself right in the middle. He began his activist journey by learning.
"I began reading and was informed by some very good teachers that took time with us, nurtured us and taught us right from wrong," he says. "I was able to go back and look at both sides of the fence with the rich Lampton's (a Jewish family my grandmother worked for on one side) and my (all-black) neighborhood (on the other); I came to the conclusion that something wasn't right."
As a teenager, Clark engaged in numerous activities to protest segregation in and around Jackson. From sit-ins at the local Woolworth's lunch counter to boycotts of business that wouldn't serve blacks, Clark was involved early and often in Jackson's Civil Rights Movement.
"By high school I was pushed just about as far as I could be pushed and had to do something about it," Clark recalls.
While attending Lanier High School, Clark passed out literature and went to meetings with the NAACP.
In 1959, Clark trained under Martin Luther King Jr. and Rev. James Bevel. With that training came the knowledge of non-violent resistance. When the buses finally came to Jackson in 1961, Clark knew he wanted to be involved.
On July 9, 1961, Clark and 10 teens he had recruited headed to the Trailways Bus Station in downtown Jackson, site now of the Arts Center of Mississippi. Both Bevel and activist Diane Nash stayed with Clark to organize the Rides leaving from Jackson.
Clark recalls: "I asked for a ticket to Canton or New Orleans. I can't remember which. They just ignored me. Eventually, Captain Ray of the Jackson Police Department walked up and asked me to leave the station. He asked us three times, and when we did nothing, he put us under arrest for breach of the peace and inciting a riot."  
Some of the Riders were minors as young as 15. Those individuals were sent home with their parents. But Clark, who had just turned 19 the month before, and few others were sent first to the Jackson city jail. When the city jail and the Hinds County jail became flooded with Freedom Riders, the whole group was transferred to the Mississippi State Prison at Parchman.
Fred Clark spent 38 days in Parchman.
His memories are clear: "Parchman was steel and concrete, and the people were just as cold."
Like many other Freedom Riders, Clark adopted the "jail not bail" tactic. Thomas Gaither, field secretary for CORE at the time, and other civil-rights leaders devised this strategy to induce overcrowding at jails by refusing to post bail, remaining incarcerated to force change. Clark and his fellow Riders said prayers and sang freedom songs in shifts, 24 hours a day. Clark endured abuse while at Parchman, but neither numerous beatings nor death threats deterred him.
"I thought, 'If I can survive Parchman, I can survive anything,'" he said.
Clark has experienced immense hatred from racist whites and has also known kindness from other whites. It was a conflict for him, but 50 years later, Clark is accepting.
"Reconciliation is strong with me now that I've matured and grown in my faith," he says. "I had to learn to pray for my enemy, to love them and not want to seek revenge. I was a radical. "... Eventually, I was freed from hate. I prayed to God to release me from this hate. Now I am a finished product."
Today, Clark is a teacher at Powell Middle School. He uses his story to teach his young students not only about the dark and violent history of his past but to teach the greater lessons as well.
    
"Reconciliation is the only way," Clark tells his students. "If you try to take hate to fight hate, it won't work."
Freedom Rider Fred Clark is now a teacher at Powell Middle School in Jackson.
Marika Cacket
More like this story
More stories by this author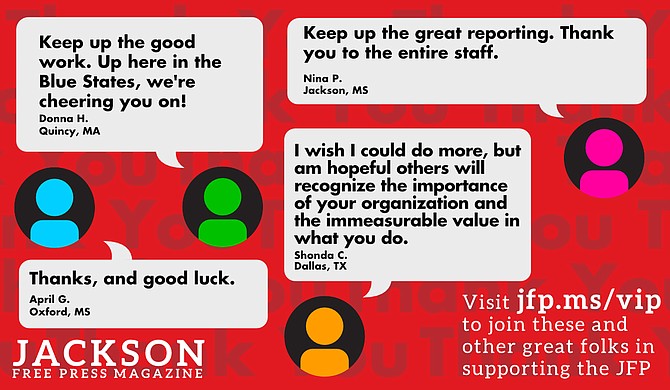 Thanks to all our new JFP VIPs!
COVID-19 has closed down the main sources of the JFP's revenue -- concerts, festivals, fundraisers, restaurants and bars. If everyone reading this article gives $5 or more, we should be able to continue publishing through the crisis. Please pay what you can to keep us reporting and publishing.