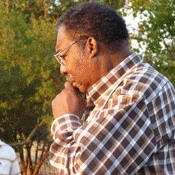 Hank Thomas knew he was going to die. He only questioned how. As the Ku Klux Klan attacked and bombed the bus he was riding through Anniston, Ala., with 12 other Freedom Riders challenging Jim Crow laws, Thomas decided he would rather suffocate than get off the bus and allow the Klan to beat him to death.
As smoke filled the interior of the bus, Thomas crouched on the floor to inhale the remaining oxygen. "I'm thinking, if you inhale smoke, you will go to sleep, and it will be a painless death," he recalled.
When he could no longer breathe, his reflexes took over and he began to fight for air. Suddenly, the gas tank exploded, and flames engulfed the bus exterior. The Klan members, who had been holding the bus door shut, ran away from the scene, and Thomas was able to get off and find safety.
This was the second time the Klan had tried to kill Thomas during the summer of 1961, so he expected the worst when police arrested him and others when the ride ended in Jackson and transported him to Mississippi State Penitentiary at Parchman.
Far from the public eye and media, police stopped the vehicles during the two-and-a-half hour ride to Parchman and walked away leaving the Freedom Riders anticipating brutality or even death.
Thomas, now 70, took a trip to Parchman during the Mississippi Center for Justice's Delta Roadtrip earlier this month. The nonprofit legal organization hosted the annual Delta civil-rights tour for staff members, donors and guests to reflect on the significance of the movement. Thomas, who lives in Stone Mountain, Ga., will return to Jackson in May 2011 during the 50th anniversary of the Freedom Riders' trip. Thomas is one of the 13 original riders. Hundreds more followed.
A few miles outside Greenwood, the tour bus stopped at a dilapidated brick building on Money Road. The building was once Bryant's Grocery, where a 14-year-old black boy named Emmett Till allegedly whistled at a white woman. Six days after the incident, officials found Till's mutilated body floating in the Tallahatchie River. A Mississippi grand jury indicted J. W. Milam and Roy Bryant for Till's kidnapping and murder, but an all-white jury acquitted them. In 1956 the two confessed to killing Till in Look Magazine.
Till's murder was the spark that lit the fuse of the Civil Rights Movement, said Luther Brown, director of Delta State University's Delta Center for Culture and Learning, who led the tour. When reporters asked Rosa Parks why she refused give up her seat on a Montgomery, Ala., bus 100 days after the trial of Bryant and Milam, she said all she could think about was the young boy.
As the tour group snapped photos at the site, Thomas turned away from the building and stared at the railroad tracks across the street. Once back on the bus, he grabbed a microphone. "I am Emmett Till," he said somberly. The bus immediately grew silent.
Thomas marked his 14th birthday the same year Till was murdered: 1955. At age 9, Thomas and a friend sat in the back of his hometown grocery store in Wadley, Ga., waiting for the white customers to leave so they could purchase goods. A white woman tried to move past him in the store's narrow aisle, and he accidentally touched her arm. His friend abruptly ran out of the store. Thomas followed and asked what was wrong.
"You touched a white woman," his friend breathlessly replied.
"As soon as it got dark, all the lamp lights were blown out. I can remember to this day, my mother praying: 'Lord Jesus, please don't let anyone hurt my boy.' I didn't understand what it was about then. When Emmett Till was killed, it began to dawn on me. I don't know how many boys or men were killed during that time. ... To you, it's an academic narrative. To me, I just relived it."
Thomas, who received a Purple Heart for injuries he received during the Vietnam War, says he didn't expect to get emotional during his trip back to the Delta, but it opened the wounds from a time when blacks were under attack. "I remember getting so mad, I just wanted to holler," he said about the injustices he witnessed.
At Parchman, he revisited the barren jail cells where he lived for 45 days in the prison's maximum-security unit. At one point, guards put Thomas in solitary confinement for two days after he led the prisoners in songs about freedom. It's where the state now carries out executions.
"While I don't forget what happened to me, I can't carry grudges," he said. "I believe that you dissipate your creative energies when you seek revenge."
When Thomas returns next spring, a historical marker will be next to Bryant's Grocery. Two Delta trip participants from last year, who wish to remain anonymous, donated funds for the marker.
Brown said the marker is a step in what he hopes will someday be part of a state-wide civil-rights trail, similar to the recently erected blues trail, cataloguing the events that paved the way for blacks to achieve equality. "The demand for civil-rights sites among tourists is every bit as great as blues sites," Brown said.
As the bus headed south on Highway 49, Thomas sang songs he led at the penitentiary. "I'm taking a trip on the greyhound bus line," he sang. "I'm riding the front seat to Jackson this time, Hallelujah I'm traveling, Hallelujah ain't it fine. Hallelujah I'm traveling down freedom's mainline."
JFP News Editor Lacey McLaughlin attended the tour at the expense of the Mississippi Center for Justice.
Read more JFP stories on Emmett Till at jfp.ms/till.
More stories by this author
Support our reporting -- Become a JFP VIP.
The news business has changed dramatically in the past year, and we need your help more than ever to keep bringing you important stories about Jackson and the Metro. Become a JFP VIP with an annual membership or you can Sign up as a monthly supporter. Thanks for anything you can do to empower our journalism!