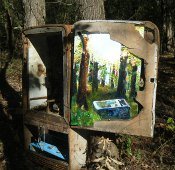 While walking in the woods along the Pearl River in Jackson last year, Millsaps College senior art student daniel johnson discovered a 1948 Westinghouse Refrigerator. Finding an appliance mysteriously placed in a natural setting was the catalyst for The Westinghouse Refrigerator Project.
For his senior art show at Millsaps, johnson turned the refrigerator into a multi-dimensional art exhibit and gave the community the opportunity to participate. First, he took photos of the fridge and created a Facebook page for it. The Facebook page contains directions to find the fridge (Fortification Street levee entrance, walk south along levee to tributary, walk east along tributary until trees open) and encourages the community to decorate it. Johnson initiated the process by affixing a painting of the fridge onto its door.
Johnson designed stickers of fridges and included the Facebook address. He also painted white fridges around the city (with permission) inside businesses such as Pizza Shack. Fridge stickers soon appeared on buildings on Capitol Street, telephone polls in Fondren and the fence behind Sneaky Beans.
It's safe to say johnson created a fridge following. "I visited thee after the rising of the waters, and I found that while you had been safe, much of those things given to you had been washed away or damaged," one fan writes on Facebook.
The Westinghouse Refrigerator Project exhibit is the culmination of the eight-month process. The multimedia exhibit includes an installation made from objects people left inside the fridge such as turtle shells, toy planes and bottles. It combines video footage of the fridge with a spoken-word rap johnson wrote. "What scale do we measure then and now?" he asks the viewer.
The exhibit features a 20-foot mural johnson painted; a virtual tour of the Pearl River on a projection screen; and a hand-made owner's manual. Johnson found the original owner's manual for the fridge on eBay and cut and pasted it against old maps of the Pearl River. The manual suggests locating the fridge "outside social time constraints."
"It talks about all the different elements that makes the place what it is," johnson says about the manual.
"I wanted to give the community ownership. I wanted to say bring whatever is out there to here so there can be an exchange."
Johnson also took the fridge out of its "natural" environment and brought it into the gallery for all to see. As the creator of the project, he plans to throw the fridge away after the exhibit because he says his role with the project will be done. If someone wants to bring the fridge back to the river, however, and turn it into outdoor art installation, johnson said he welcomes that idea.
Attend the "Westinghouse Refrigerator Project" gallery talk and reception 5:30 p.m. to 7 p.m. Monday, May 9, inside the Lewis Art Gallery at Millsaps College (1701 N. State St.) .
More stories by this author
Support our reporting -- Follow the MFP.