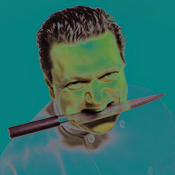 While Jacksonians may know him best for his culinary creations, writer and consulting-chef Tom Ramsey considers himself a storyteller above all else.
The Jackson Free Press named Ramsey the JFP Freelancer of the Month for February for his humorous and heart-felt stories and recipes that add flair to the JFP's food section and BOOM Magazine.
As the owner of culinary group Ivy and Devine, Ramsey literally has his plate full. Every Monday afternoon, the Vicksburg native hosts the online radio show, "At the Chef's Table." He also creates menu items for local restaurants, teaches private cooking lessons and frequently makes celebrity-chef appearances.
Coming up with inspiration for new recipes is hardly a chore, Ramsey says. As the interim chef at Underground 119, he recently revamped the venue's tapas menu off the top of his head. He jazzed up Underground's traditional Southern-fried green tomatoes dish with fried green tomato tostados--tomatoes fried in cornmeal, topped with grilled pork, Pico de Gallo, cilantro and lime juice.
"The menu was due that day so I wrote down a dish, and I just made it up right there on the spot as I was writing the menu," Ramsey says. "I had never cooked it before. I started serving it that night."
Ramsey admits that his culinary style might not be the most orthodox, but he can usually imagine what his dishes will taste like before he even begins cooking.
The chef is a former investment banker, tobacco executive and lobbyist who graduated from the University of Southern Mississippi with a bachelor's degree in film. He lives in Belhaven with his wife, Kitty, and their four children.
Ramsey jokes that his transition to chef is a type of salvation from his previous careers.
"I either had to become a chef to balance everything or a whale hunter or Charlie Sheen's life coach to round out all the evil," he says. "I picked a nice thing."
The 45-year-old shares his own personal experiences with food through writing. Once he cooked a purple cabbage outside his USM dorm while he was a student, because he was too poor to afford food. In addition to learning how to cook on a shoestring budget, Ramsey says he also learned an important lesson about cabbage's effect on his digestive track.
"If you are going to get desperate enough to eat decorate cabbage, go for the light fluffy ones, not the dark, brooding beautiful ones," he advises.
For all things Ramsey, visit his website. Stayed tuned for "Chef/Raconteur," his upcoming book combining personal essays with his favorite recipes, which he hopes to have published in the next year.
Interested in freelancing for the Jackson Free Press? E-mail [e-mail missing] or [e-mail missing] for writers' guidelines.
More stories by this author
Support our reporting -- Follow the MFP.