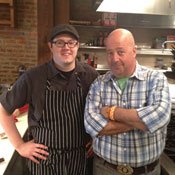 I'm a foodie through and through. I eat, breath and sleep food. When I'm not cooking at Parlor Market, I'm usually cooking with friends or for friends; working in the garden; watching my favorite shows, "Iron Chef America" and "Top Chef;" or collecting and reading cookbooks. All these things fuel my passion for food.
A question I'm typically asked is "how do you come up with this stuff?" Well, here is where I find inspiration, my "secret weapons," if you will. Any one of these tips will help you to become a bigger food nerd, too.
First and foremost, I draw my inspiration for creative specials and menu items from the farmers market. Just about every Saturday, you can find me at the Mississippi Farmers Market on High Street around 9 a.m. where I seek out locally grown and seasonal produce to serve at Parlor Market. You never know exactly what is going to be there, and that's half the fun of it.
I may show up expecting to purchase beets for a dish I have in mind, and instead I find salsify. Never used salsify? Even heard of it? It's an interesting ingredient that I've only used a few times and never expected to find at the Jackson farmers market, but there it was! Some say it has an oyster flavor; in fact, another name for it is oyster root.
Of course, you can find more typical ingredients like green tomatoes, carrots, cabbage, onions and sweet potatoes on a usual basis from great farmers like Tim Cooper of Cooper Farms and Vineyards. But there are a few people like Jonathan Picarsic of Amorphous Gardens who are trying to bring something new to Jackson. He's the guy who had the salsify, and he always has beautiful heirloom carrots. He's planted lemongrass, bitter melon, kiwano melon, interesting varieties of cucumber, and lots of different types of organic greens, flowers and herbs. He definitely keeps me on my toes and welcomes my suggestions of new seeds for vegetables I'd like to serve at the restaurant. I've started keeping a digital journal of what I find in season at the farmers market so I can plan ahead for the next year.
When I get back to the restaurant with boxes full of fresh vegetables, farm eggs, local milk from Progress Milk Barn and honey from Mississippi Bees, I have to figure out what to do with it all. Sometimes I have an idea in mind, but mostly, I have to come up with a dish to feature the ingredients after it's all back at Parlor Market.
First, I draw on southern tradition. How are these ingredients typically used in the South? What dishes do they star in? How can I make that dish my own and put a Parlor Market spin on it? Sometimes the dish will materialize in front of me with little influence. Other times I draw a blank, so I consult my vast array of cookbooks.
Cookbooks are extremely important to me. I own well over a hundred in my personal library, and since I haven't had the opportunity to travel and eat at as many restaurants as I would like, I often bury my nose in them looking for new recipes and techniques I've never tried before. One of the most important cookbooks I own is the "The Flavor Bible: The Essential Guide to Culinary Creativity, Based on the Wisdom of America's Most Imaginative Chefs" (Little Brown & Co., 2008, $35). I really think that every chef and foodie in the country should own one of these. It has won a James Beard Foundation award, with good reason.
Essentially, the authors list almost every ingredient you can imagine, include other ingredients that pair well, and give you examples of where these ingredients have shown up on famous chefs' menus, tips on how to cook them and methods to use to best highlight the flavors of the ingredient. I consult this book religiously when coming up with dishes that will have a place on the regular menu.
One of my favorite new cookbooks is "Eleven Madison Park: The Cookbook (Little Brown & Co., 2011, $50). The food, techniques, recipes and pictures are absolutely stunning. This book is food porn at its highest. I simply feel insignificant as a chef when browsing the pages of this incredible tome. I would also highly recommend "Momofuku" (Clarkson Potter, 2009, $40). I have cooked more recipes and used more techniques from this cookbook than all my other cookbooks combined.
Another huge source of inspiration for me is the Internet. Where were we before blogs and Google? I usually find that if I have an idea for something new, someone has beaten me to it. A quick Internet search will yield results and recipes in a flash. My favorite blog to check out is blog.ideasinfood.com. The husband and wife team at "Ideas In Food" are always asking questions about what food can be, how it can be prepared, what happens if we do this, or burn that, or manipulate an ingredient a certain way? Then they blog about it, take photos of just about every step of the way, and share both their successes and failures. They use their work to inspire others, to push boundaries and as a learning tool for everyone, including themselves. I visit this site just about every day.
Recently I discovered Twitter. I've always ignored it because I didn't feel the need to be part of more than one social-media site until Andrew Zimmern came to town (see page 14). I got the incredible chance to cook for him and his crew, and he tweeted about the meal at Parlor Market the entire time. So I thought, "OK, I'll look into it."
I've started following about 75 different chefs, restaurants and food personalities. It makes me feel included in a world of truly talented and experienced chefs, and I get to see the ingredients they work with, the dishes they create, the road trips they go on and the food they eat along the way. All these things inspire me to work even harder on my own food. The chefs also seem to have this strong connection to one another, whether they are from the South, New York City, San Francisco or Chicago. It suddenly makes a big world seem a lot smaller and more accessible.
You can follow me @jessehoustonPM or @parlormarket to see what we are up to.
But let's not forget our roots! Inspiration is all around us in local restaurants. We are fortunate in Jackson to have many talented chefs like Derek Emerson (Walker's Drive In, Local 463), Dan Blumenthal (BRAVO!, Sal & Mookies, Broad Street Bakery), Nick Wallace (King Edward Hotel), Tom Ramsey (Underground 119), Steven D'Angelo (Nick's), David Ferris (Babalu), Mike Roemhild (Table 100) and Andy Cook (Parker House). I'm very fortunate: All of these incredible chefs have fed me, keep me on my toes and inspire me to work hard.
The best thing about this group of talent is that these chefs work well together as a team and treat one another like family. You can follow most of these guys on Twitter or Facebook, too, to find out what they are up to, what their daily specials are and more.
Visit and support their restaurants often!
Let's face it, there has never been a better time to be a foodie in Jackson. There is always so much going on from pop-up restaurants (PM Tiki is April 23 at my restaurant: shameless plug) to crawfish boils, backyard barbecues, pint nights, dinner parties and supper clubs.
There is always something new to discover, and Jackson features plenty of great ethnic cuisine as well if you're up to trying new things. But then again, that's what being a foodie is all about.
Soft Shell Crab 'Tom Kha' with Ramps
For the Coconut Lemongrass Broth:
14-ounce can coconut milk
2 cups chicken or seafood stock
6 quarter-size slices fresh ginger
1 stalk fresh lemongrass, cut in 1-inch pieces
1 tablespoon fresh lime juice
1 tablespoon Thai or Vietnamese fish sauce
1 teaspoon sugar
1 teaspoon Thai chili paste
Salt to taste
In a medium saucepan, combine coconut milk, broth, ginger, and lemongrass and bring to boil over high heat. Add lime juice, fish sauce, sugar and chili paste. Reduce heat and simmer 5 to 10 minutes. Strain and season with salt to taste.
For the Soft Shell Crabs:
4 cleaned soft shell crabs (faces, gills and tails removed)
Cornstarch
Vegetable oil for frying
Salt
Dust the cleaned soft shell crabs with cornstarch, covering completely. Shake any excess cornstarch off. Place the crabs gently into 375-degree oil and fry until completely crispy, about 3 minutes. Remove from oil and season generously with salt.
For the Ramps:
1/4 pound of fresh ramps, washed thoroughly
Oil
Salt and pepper
Lightly coat your ramps with oil, and then season with salt and pepper. Place over a hot grill and char slightly, making sure the whites of the ramps become soft and tender. If you do not have ramps, you can substitute green onions.
To assemble:
On the bottom of a serving bowl, place the charred and wilted ramps. Gently pour enough coconut lemongrass broth to cover the bottom of the bowl. Place the crispy soft shell crabs on top of the wilted ramps and garnish with cilantro, basil, grilled limes, chopped peanuts, pickled mushrooms or any combination of these traditional garnishes.
For more mouth-watering treats and tasty eats, chow down over at our Food Blog and the JFP Bite Club Facebook page, and follow the aroma on Twitter. Be sure to bring your appetite!
Parlor Market Chef de Cuisine (and new JFP cooking columnist) Jesse Houston (left) dazzled food writer Andrew Zimmern (right) recently in Jackson. Zimmern tweeted Houston's praise throughout the meal.
Courtesy Jesse Houston
More like this story
More stories by this author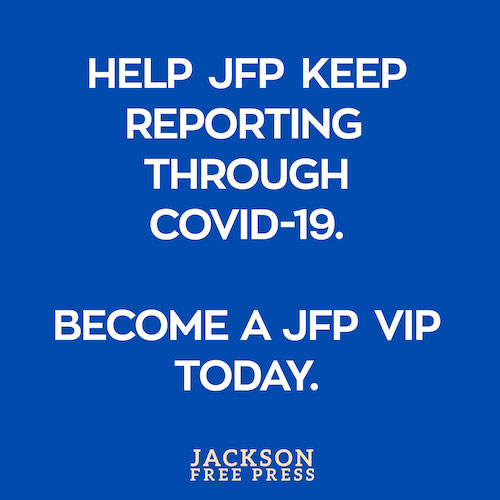 COVID-19 has closed down the main sources of the JFP's revenue -- concerts, festivals, fundraisers, restaurants and bars. If everyone reading this article gives $5 or more, we should be able to continue publishing through the crisis. Please pay what you can to keep us reporting and publishing.