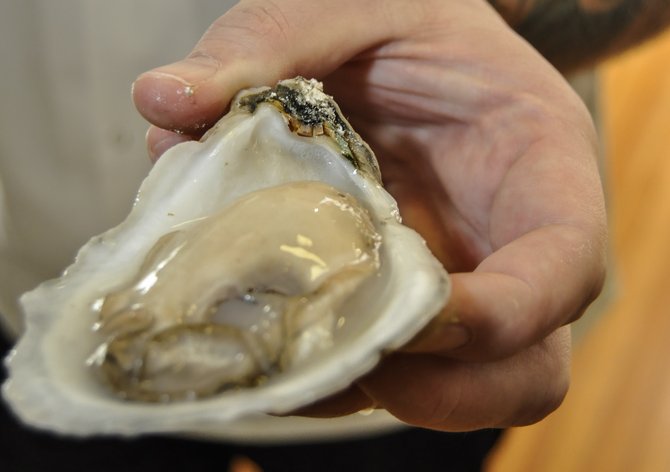 Opening an oyster bar in Fondren has given me a great opportunity to get reacquainted with an old friend. I've been shucking the mollusks for seven years now, and I can only imagine how many thousands I've gone through. The more I've been around them, the more I've grown to respect them and become fascinated by God's perfect little hors d'oeuvres. Each species is completely different in shape, color, flavor and finish as determined by its merroir—a relatively new term used as the marine equivalent to terroir, which is the notion that the climate, soil and environment affects things like chocolate, coffee and, especially, grapes for wine. So when you consume a raw oyster, you can taste the place where it is raised and harvested.
I like to use the Chincoteague Salt oysters as a prime example. Because the portion of the Chesapeake Bay in which they are raised doesn't get much fresh water, they are very salty and briny. In contrast, a kumamoto oyster raised on the Pacific Coast in Tomales Bay has the flavors of salt on the air and waves crashing on tide pools, followed by a melon finish. Right now I'm obsessed with Chunu oysters grown at Fisherman's Island in Virginia. They somehow seem to marry the best of both worlds—the small size of a west coast oyster, with the brine of an east coast, and with a slight sea grass finish.
Shucking and eating oysters, and, of course, serving them in fun new ways has been my focus until now, but I've recently been diving in (pun intended) a little deeper to understand the history of oysters and, specifically, how important they are to Jackson.
Oysters really gained popularity in the United States in the 1800s, where rich and poor alike consumed mass amounts of the bivalves. In New York alone, millions were harvested daily and shipped to oyster bars all over the country. People said that you could find an oyster bar filled with working middle class in every major city, where the mollusks were a great companion to beer. For less than 10 cents, some oyster bars offered all-you-could-eat oysters—but if a patron was consuming too many, the oyster shucker would slip them a dead oyster in hopes that the person would get sick and wouldn't be eating anything else, especially oysters, for a long time.
The rise in oyster popularity led to increased demand, and so fishermen started dredging the ocean floor with giant metal nets towed behind ships to excavate the creatures from their homes, decimating the wild population. Along with pollution during the Industrial Revolution and the introduction of foreign oyster species, many became diseased and unsafe to eat. As the wild resource diminished, the government tried to step in and intervene by giving control of the oyster beds to private companies, some of which formed large monopolies. The decreased supply, coupled with the controlled resource, led to price gouging of a once bountiful and inexpensive food source.
Along came oyster pirates! Eager to make a quick buck off of the oyster scarcity, these "Robin Hoods of the Sea" used their own dredges to steal oysters from the beds of the monopolies and sell them cheap to the poor. While illegal, their activities generated significant sympathy from the working class and even the police, who weren't very motivated to bust the oyster pirates for providing cheap oysters to slurp down with a pint of beer after a long hard shift.
The government had to take action against the illegal pirating activities and formed an Oyster Navy to police the rivers and bays. It even commissioned an old tugboat which successfully chased pirates out of the protected waters. Eventually, the Navy had to disband when an officer killed a waterman who was illegally harvesting oysters. Oddly enough, this seemed to quell both sides, and the Oyster Wars ended.
Later, in the 20th century, oysters settled into their status as a display of opulence and decadence due of the higher prices after to the decimation of the wild population post-Civil War. Champagne became a more popular pairing with oysters than beer. Many Jacksonians remember the swanky Oyster Bar at the King Edward Hotel during the '50s.
Due to Jackson's close proximity to New Orleans and the Gulf Coast (and, I believe, also due to its incredible Greek heritage), seafood has always been very dear to our hearts, oysters in particular. I reminisced with local Jackson restaurateurs Jeff Good and Malcolm White about oyster bars in Jackson, and they helped me understand a part of Jackson's past in celebrating the mollusks. Jeff's first restaurant job was at LeFleur's, which had an oyster bar. The Mayflower Cafe used to have oysters on ice in the decorated tile tubs right in the front windows. Al's Half Shell downtown was a favorite spot among Jacksonians.
In 1982, Malcolm White designed the oyster bar at Oliver's, which later found its way into the Hal & Mal's Oyster Bar, along with their expert oyster shucker, "Little Baby." Malcolm remembers buying a truck to pick up fresh seafood—fish, crabmeat, shrimp and oysters—from vendors in New Orleans once or twice a week
"You'd go out and drag an old croaker sack out of the back room and throw them in there, and there'd be about three clumps, and you'd have to take a hammer and knock 'em apart, and there'd be barnacles all over them," he recalls. These days, he says, "They're select. They're in a box. They're washed. They're clean. They're individuals. I mean it's totally different."
"Part of the atmosphere and the charm is a good shucker, who can not only open oysters but make conversation—and we always had someone with a personality," Malcolm says. "Dan Dan the Oyster Man, he's still around, the other guy we called Suede Wade. We always had a really cool nickname for the shucker."
Malcolm and his brother Hal often got in the back to help shuck oysters to keep up with the demand. "From the time dinner started, all night long we were just two people, steady shuckin' and we went through a lot of oysters back in the day," Malcolm says.
Sometime during the '90s, a big scare swept the nation, and many diners were afraid to eat raw shellfish, as health departments required restaurants to print consumer advisories warning against the dangers of consuming raw or undercooked seafood on their menus. I think this is one of the reasons why we don't see as many oyster bars in Jackson and other cities anymore. I've noticed in my time working in Jackson restaurants that a lot of people prefer them fried or broiled, but you can still find great raw oysters in town, which some people will still happily slurp down.
Oyster bars are beginning to make a comeback all over the country. Classic oyster bars are more popular than ever, and people are opening new modern and innovative ones all the time. I've been trying to visit as many as I can to research trends, food, atmosphere and more in order to provide the best experience possible when we open Saltine Oysters and Brew in Fondren late this summer. We really want to pay homage and respect to the history of our briny, shelled friend, and it has really been a treat to get to know oysters in an entirely new way.
More stories by this author
Support our reporting -- Follow the MFP.