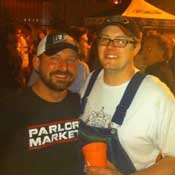 I met Craig Noone the summer of 2008 at Stephan Pyles Restaurant in Dallas, Texas. I had just graduated from culinary school in Austin, moved back to Dallas and landed a dream job working for my then-culinary idol, Stephan Pyles, at his flagship restaurant in the arts district downtown. After a stage and an interview, they put me to work in the oyster and tapas bar, front and center, right in the middle of the restaurant.
With a mountain of ice in front of me and a roaring wood-burning pizza oven behind me, I had to wear a silly black hat and shuck oysters for guests sitting at the counter. Every once in a while, I had to turn around and check to make sure I wasn't burning a pizza in the 700-degree oven while answering questions about the menu. But what kept me busiest was making ceviche. The menu offered eight different ceviches (nine if you included the special signature ceviche only available to VIP guests and those who purchased the expensive tasting menu), everything from tuna to scallops, shrimp to hamachi, sea bass and salmon and, of course, lobster. I could probably make them in my sleep.
After my first week on the ceviche station, a new guy was hired and assigned to work with me because it was a two-man operation, sometimes three on a really busy night. He enthusiastically introduced himself to me as Craig Noone from Jackson, Miss., and during his training, began to ask questions about where I was from, where I went to school, who my family was and if I played any ball.
I am actually pretty shy when it comes to getting to know people on an intimate basis. I get kind of nervous when introduced to people, and I've often been told I can be rude—sometimes very rude. I don't mean it, and I can't say I was raised that way because my dad loves to ask questions and get to know who you are. For some odd reason, I'm actually much more comfortable in front of crowds. But during Craig's interrogation process, he made me feel comfortable, and it seemed that he genuinely cared about who I was and where I have been and what I have done with my life. He told me this was the southern way.
It wasn't long before we realized we had both moved from our homes and gone to the same culinary school in Austin, Texas: the Texas Culinary Academy, now renamed the Le Cordon Bleu College of Culinary Arts Austin. (Craig and I both hated this name change, as we were proud TCA Alumni).
What a small world! He graduated the year before me and had been working for The Ritz-Carlton in Dallas as a prep cook. He went in at 7 a.m., cleaned lobsters, peeled potatoes (he was the self-proclaimed fastest potato peeler of all time) and created lunch specials. He then was at Stephan Pyles by 3:30 in the afternoon to work the ceviche station.
Caroline Hodges Peters worked the oyster bar with us as well. It wasn't long before Craig was probing her with questions and, before you know it, they were busy talking about how they were both from Jackson, and quickly naming their mutual friends, alma maters, favorite Mississippi restaurants and chefs, and all other things Jackson, which might as well have been China to me. They were both surprised and maybe downright offended that I had never been to Jackson, or even Mississippi. Boy, did I have a lot to learn.
As our months on the ceviche and tapas station went by, Craig and I got to know one another extremely well. He told me that he couldn't sleep after his 16-hour days and hour-long commute because he was spending the few last precious hours compiling menu ideas, saving recipes, researching the country's top restaurants and chefs, paying very close attention to the James Beard Awards and planning to eventually turn all this stuff into a restaurant of his own in Jackson.
He would drive to Jackson on his days off to look for places to put his restaurant, talk to potential investors and do more research. While mixing tiny bowls of exotic ceviche, we would collaborate on ideas and recipes and menu items, and I told him that when he was ready to open his restaurant, I would help him do it, even though I had never been to Jackson, or Mississippi, or really much of the South. I trusted him and his vision. I believed in what he wanted to do.
We left the ceviche station at Stephan Pyles at the same time. Craig returned home in the spring of 2009 to make his dream come true, and I went to work researching southern food and culture. We would always joke about how I was a "born-again southerner."
Craig sent me a business plan with blueprints and a logo, and a silly little name for his restaurant. Parlor Market? I packed my stuff up, and the first day I went to work for Craig was the first day I stepped foot in Mississippi. I brought Ryan Bell with me, a chef from Fort Worth, Texas, whom Craig had never met.
When we got here, the restaurant was a construction site, all cement and pipes and beams. We began to see that space transform as we worked at a small fold-out table, jotting down notes, calling purveyors and potential employees, with nothing more than a laptop and small amount of office supplies.
Plywood became hardwood floors. Beams became topped with marble and pipes became custom soda fountains. Ryan and Craig became close friends; it was hard to tell they had only just met.
Fast forward to opening night, and we were standing in one of the most beautiful spaces in Jackson. Craig was extremely proud of it and would tell you about the history behind every little piece of wood, chunk of marble, type of glass and stitch of fabric. He could literally go on for hours.
None of us had ever been an executive chef. None of us had been a general manager. We barely had experience having employees under our wing. For a little while, Parlor Market became an example of what not to do, of how not to open a restaurant. We should not have been successful but suddenly, we found ourselves flung to the top of the food chain, so to speak.
Craig always said his greatest talent was hiring people more talented than himself. He did an incredible job. But the one thing that no one could beat Craig at was his trust and faith in others, his charming personality, and his ability to make you feel comfortable and treat you like you were the most important person in the room. He always said he was the best maitre d' in the country. Judging by the amount of people who grew to love and admire him, I think he was right.
If there is anything Craig has taught me, it is that there is an area in my life in which I can strive to be more like he was. He taught me to search inside myself and learn how to express a genuine interest in the lives and details of others. Not just our guests at the restaurant, but also in my friends and family and employees. In Jackson, it's almost impossible to avoid someone, so why not truly get to know and love them?
Craig believed in Jackson and wanted to see it grow into a major food city, a place of rich culture, diversity and history. His legacy at Parlor Market will continue to grow and push the boundaries of food in Jackson and create an atmosphere in which you can expect to feel welcomed as a part of our close family.
Visit Jesse Houston and the other PM superstars at 115 W. Capitol St., 601-360-0090.
PM Recipes (Courtesy Jesse Houston)
Parlor Market Chef Jesse Houston shared two of his friend Craig Noone's favorite recipes, just in time for the holidays.
Satsuma Amarillo Shrimp Ceviche
1-1/2 ounces poached shrimp
Juice of 1 key lime
Pinch of salt
1 tablespoon satsuma juice
1 teaspoon brunoise jalapeno
Pinch of minced cilantro
1/2 teaspoon Amarillo chile puree
Combine shrimp, lime juice and salt in a bowl. Mix well for 15 seconds and then add in the remaining ingredients. Mix and adjust for seasoning.
Mussels and Matchsticks
Here is another of Craig's original menu items, steamed mussels topped with aioli and crispy shoe-string potatoes.
Ancho Abita Broth
1 bottle Abita Amber beer
1 cup shrimp stock
1 ancho chile, toasted
Sprig of thyme
4 peppercorns
1 tablespoon olive oil
1/2 yellow onion, diced
1 rib celery, diced
2 cloves of garlic, smashed
In a pot, sweat the onions, celery and garlic in oil over medium heat. When they are translucent and beginning to brown, deglaze with the beer and add ancho chile, thyme and peppercorns. Bring to a boil and reduce to simmer, steep for 15 minutes. Add the shrimp stock and simmer for 10 more minutes. Strain through a fine mesh strainer.
Creole Aioli
1/2 cup of mayonnaise
1/2 cup of Creole mustard
1 clove of garlic paste
In a bowl or food processor, mix all ingredients well.
Steamed Mussels
1 pound fresh Prince Edward Island mussels
1/2 shallot, shaved
1 clove garlic, shaved
1 tablespoon butter
1 cup Ancho Abita broth (see above)
1/4 cup Creole Aioli (see above)
Shoe-string potatoes
2 tablespoons chopped parsley
Salt to taste
In a pan, sweat the shallots and garlic with the butter until translucent; add in the mussels and then the Ancho Abita Broth. Cover with another pan and allow to steam for just a few minutes, or until all of the mussels have opened. Taste the broth and adjust seasoning with salt as needed. Transfer the mussels to a bowl, top with the Creole Aioli, chopped parsley and shoe-string potatoes.
Serve immediately.
Previous Comments
ID

165378

Comment

Great piece, Jesse. Thanks for writing it.

Author

Todd Stauffer

Date

2011-11-10T16:27:49-06:00
ID

165467

Comment

Thanks for taking the time to write this Jesse...beautiful energy describing the hub bub of your restaurant world and of course our beloved Craig... Ann Blackwell

Author

annwell

Date

2011-11-27T00:04:42-06:00
More stories by this author
Support our reporting -- Become a JFP VIP.
The news business has changed dramatically in the past year, and we need your help more than ever to keep bringing you important stories about Jackson and the Metro. Become a JFP VIP with an annual membership or you can Sign up as a monthly supporter. Thanks for anything you can do to empower our journalism!