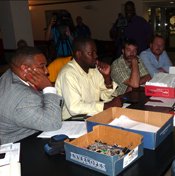 At 7:05 a.m. Aug. 2, Republican Executive Committee Chairman Pete Perry received an urgent call from a poll worker at the Wynndale Precinct in Terry. The poll worker told him that candidates' names for certain races were not appearing on some of the electronic voting machines, and he needed more paper ballots quickly.
This was the first sign that something was awry in the Hinds County election process. Gay Polk, candidate for Democratic state representative of District 73, also received phone calls from supporters saying they could not find her name on the paper ballots or on voting machines.
Perry says that a technician must determine the cause of the computer glitches. But handing voters the wrong ballots isn't uncommon at split precincts like Wynndale. A split precinct is where two different legislators represent its residents. Poll workers must verify the voter's precinct, and make sure the machine displays the correct ballot or give the voter a correct paper ballot.
Polk narrowly lost the race with 1,754 votes, or 49 percent. Her opponent, Brad Oberhousen, won with 1,867 votes, or 51 percent.
"Any precinct that is a split is confusing," Perry said. "That's what happens in redistricting."
Polk said she plans to challenge the election results.
The race that received the most attention, however, was the Hinds County Sheriff's race. Incumbent Malcolm McMillin, who has served in his position for 20 years, beat former Jackson Police Department Chief Tyrone Lewis in 2007 with more than 60 percent of the vote.
Lewis, who retired from the Jackson Police Department last year, ran an aggressive, grass-roots campaign and used social media. He also held several press conferences announcing his endorsements from city and community leaders.
On the morning of Wednesday, Aug. 3, Lewis and his campaign staff, election officials, media, citizens and McMillin's campaign staff filled the basement of the Hinds County Courthouse. The crowd, which fluctuated between 20 and 50 people throughout the week, gathered around a long table where the Hinds County Democratic Executive Committee sorted paper, absentee and affidavit ballots.
The atmosphere was mob-like with people debating whether some absentee ballots should have been counted, and campaign supporters such as Andrew McMillin, the incumbent's son, said he discovered affidavit ballots in the circuit clerk's office that had not been taken into account.
Whenever committee members moved ballots, an entourage of people would file behind them, many using cell phones to record the chaos.
The committee permitted each camp in the sheriff's race to appoint a neutral person to sit on a resolution board that would determine questionable votes and verify ballots. When the committee finished its determinations, it brought the ballots into Hinds County Election Commissioner Connie Cochran's office to enter the ballots into the database. At that point, Cochran said she could not enter them because the committee had separated the ballots from their envelopes without organizing them by precinct.
Hinds County Democratic Executive Committee Chairman Claude McInnis told Cochran she had given him instructions to place the ballots in one pile.
"I did not say that. Do not lie to me, Claude," Cochran replied.
McInnis appeared to lose his patience and suggested that Cochran could find a way to enter the votes without having the correct precinct.
"She can do a lot of different things. It's a damn computer. She is a computer expert," McInnis said.
Cochran enters the data into the county's database and then compiles an election report for the secretary of state's office and certifies the votes for the Democratic Executive Committee to sign off on.
"I really can't describe what has happened," Cochran said. "This (computer system) is set up to report voter returns by precinct. As long as we have been counting ballots, we have been counting by precinct."
McInnis shelved the absentee-ballot situation for the meantime. He had other problems to tend to. McMillin's camp had pointed out that some precincts had a much higher number of voters signed in to vote compared to the actual votes cast. A crowd gathered around McInnis and Election Commissioner Marilyn Avery as they began to re-tally the electronic voting machines and found 222 additional votes from voting machines at Pearl Street A.M.E. Church.
Cochran later confirmed that she entered absentee ballots into the database without having a precinct number for them. She entered votes for supervisors and legislators in the first precinct listed in their appropriate districts.
On Sunday, Aug. 8, the Election Commission's final numbers showed that Tyrone Lewis won the sheriff's race with 18,788 votes, or 50.79 percent. Hinds County Sheriff Malcolm McMillin received 16,702 votes, or 45.15 percent. (He needed 50 percent of the votes plus one for a runoff.)
At press time, the Democratic Executive Committee planned to certify the votes Tuesday night.
On Saturday, Perry said that last week's election process isn't uncommon. He searched for any misplaced Republican absentee ballots and ensured that the number of voters signed up at the polls matched the number of votes cast.
"We have to do everything they have to do, but because what we do isn't going to change the outcome of any election, I don't have to answer to 50 people every time I do something," Perry said. "If it's a close election, you are going to have this. "
Perry, who works challenging campaigns for candidates throughout the state, said that while counting ballots is an open process, party officials don't have to permit candidates or supporters to insert themselves in the process.
The Republican committee chairman says those who are losing campaigns can sometimes create confusion to cast doubt on an election's validity.
Perry, however, didn't defend the Democrat's handling of the election.
"I don't know if it's intentional or crooked or fraud, but I will say that it's sloppy," he said. "But it's going on in 81 other counties, too."
Once the election is certified, a candidate can file a notice to inspect the votes within 12 days. If the candidate finds more problems, he can file a notice of a challenge within 21 days of the election. Andrew McMillin said he did not know if his father's campaign would file a challenge.
More stories by this author
Support our reporting -- Follow the MFP.