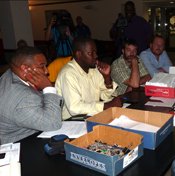 Campaign supporters inserted themselves in the Hinds County election process last week.
Stories this photo appears in:
Politics
At 7:05 a.m. Aug. 2, Republican Executive Committee Chairman Pete Perry received an urgent call from a poll worker at the Wynndale Precinct in Terry. The poll worker told him ...
After five days of tension and confusion over the results of Hinds County Elections, the Hinds County Democratic Executive Committee expects to return to the county courthouse tomorrow and certify ...
Politics
The Hinds County Sheriff's race wasn't the only primary race contested yesterday. Gay Polk, Democratic candidate for state representative of district 73, says she received several calls from voters in ...