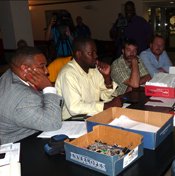 The Hinds County Sheriff's race wasn't the only primary race contested yesterday. Gay Polk, Democratic candidate for state representative of district 73, says she received several calls from voters in her district who were not able vote for her because she wasn't on the ballot.
"I had four calls before 8 o'clock," she said. "People said they could not vote for me."
The calls came from voters who went to the Wynndale precinct in Terry who had to vote on paper ballots when candidates did not appear on the electronic ballots. Wynndale is a split precinct, where two different legislators represent its residents.
"They were passing out the wrong paper ballots," Polk said. "They did not have the paper ballot's for district 73's precinct."
Preliminary totals show Polk with 1,708 votes or 48 percent and her opponent, Brad Oberhousen with 1,818 votes or 51 percent.
Claude McInnis, Hinds County Democratic Executive Committee executive vice chairman, said the commission will certify approximately 700 absentee and affidavit ballots as well as 650 paper ballots from the Wynndale precinct by the end of the week.
In addition to candidates being left off ballots, Andrew McMillin, Sheriff Malcolm McMillin's son, said he had received reports of polls opening as late as 10 a.m., three hours late. WAPT also reported that Tuesday's primary election results on the county's website showed three times as many votes that were actually cast at one point.
Candidates and concerned citizens filled the basement of the Hinds County Courthouse yesterday and appeared to be confused about the counting processes for affidavit, paper and absentee ballots.

Affidavit ballots are reserved for individuals who present themselves as voters but their names are not on the poll book. Many times the voters are not registered or are at the wrong precinct. In either case those ballots are not counted. The Hinds County Election Commission must verify each affidavit ballot, which can be a time consuming process. 

Preliminary totals in the sheriff's race show Tyrone Lewis winning with 17,743 votes or 51.7 percent and McMillin close behind with 15,503 votes or 44.7 percent. For a runoff to occur, McMillin would need to get roughly 20 percent of the outstanding votes.
Lewis and his campaign manager, Aaron Banks, were at the courthouse yesterday. They questioned the Democratic committee about whether the affidavits votes needed to be counted.
"We are just here to monitor the process just like we would have done on any other occasion," Banks said. "I hope this doesn't turn into Bush versus Gore. In this case, we'd be Bush. ... From what we have seen, we are very optimistic. We are the front runner. One thing we do know is that this county overwhelming said that the county needs a new sheriff."
Andrew McMillin said it was too early to tell if his campaign would take legal action against the county because of the mishaps.
"If it's not a fair election, or there are issues of impropriety, then we will have an issue with it and pursue it," he said. "Until we have the certification of those numbers, we won't say yea or nay."
Previous Comments
ID

164283

Comment

Lord, help us if Tyrone Lewis becomes sheriff of Hinds County. He seems to have an ax to grind and that's not ever good in law enforcement.

Author

rubysgem

Date

2011-08-04T19:35:16-06:00
More like this story
More stories by this author