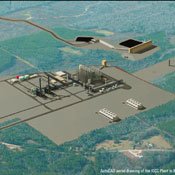 The Mississippi Public Service Commission is taking its time approving rate increases funding a $2.88 billion coal-burning plant already under construction in Kemper County.
A majority of the Mississippi Public Service Commission voted to permit Mississippi Power Co. to build the plant last year, after more than a year of fiery controversy and debate. The agreement, in tandem with a 2008 Mississippi law, allows Mississippi Power to charge its Mississippi customers for the cost of the plant prior to its construction.
Rates for Entergy Mississippi customers increased an average of 40 percent in the 1980s and early 1990s to fund the construction of the similarly priced Grand Gulf nuclear facility after it came online in Port Gibson.
Critics of the Kemper plant, such as Sierra Club Executive Director Louie Miller, and even Mississippi Public Service Commissioner Brandon Presley--the lone minority vote on the commission against approving the permit--say the cost to Mississippi ratepayers is going to be painful, regardless of ratepayers paying for the plant two years in advance.
"This thing is the biggest transfer of money from Mississippi Power customers to Mississippi Power stockholders in history," said Miller, whose organization is appealing to the Mississippi Supreme Court a 2011 Harrison County Chancery Court decision favoring construction of the plant.
But, so far, the PSC has yet to follow-up its permission to build the plant with approval of the required rate increases.
Senate Bill 2793, which created the law allowing Mississippi Power to pre-charge its customers, authorizes the commission to conduct prudence reviews on any pre-construction, construction, operating and related costs associated with a power-generating facility. The law also "authorize(s)" the commission "to make and issue such prudence determinations as frequently as each calendar quarter."
Commissioner Lynn Posey said he believed the clock started ticking on the prudence reviews when Mississippi Power began construction of the facility in December.
"We'll probably hold that as a special type of (meeting) when it comes up," said Posey, who approved the permit allowing the company to charge ratepayers up to $2.88 billion last May in hopes of stabilizing electricity prices for consumers in the long run. "There's been some stuff done, but I don't know if there's been some work done by the staff, but it hasn't been brought to our attention just yet."
Presley said he did not support making customers responsible for up to $2.88 billion rather than company stockholders.
Mississippi Public Utility Staff Executive Director Bobby Waites said the quarterly deadline created by the 2008 Mississippi law is not an outright rule, and that the commissioners get to set the deadline.
Those deadlines have yet to be determined," Waites said. "The Baseload Act gives the commission the authority to have prudence reviews, but the commission has decided in its order that it will make a determination when the first prudence review will begin and at what intervals."
Miller said the PSC's reluctance to address the issue may be political.
"All of these guys are running re-election campaigns this year and probably don't want to give opponents ammunition to use against them," Miller said.
While Kemper County is absent from this week's PSC meeting docket, commissioners will address Entergy Mississippi's request for $51 million in reimbursements over a stalled expansion project at its Grand Gulf nuclear-power plant.
Entergy filed an application with the Mississippi Public Service Commission in October to allow the company to eventually charge ratepayers for costs it incurred while unsuccessfully trying to construct Grand Gulf Unit 3 in Claiborne County.
"The commission's approval of the accounting treatment and other relief sought herein simply preserves the company's right to seek at some future time recovery of prudently incurred costs and expenses incurred and to be incurred related to the development (of) Grand Gulf 3," the company states in its Oct. 29 filing.
The company ran up a $51 million tab for planning, evaluating and monitoring fees while trying to develop a new reactor, including $27.8 million in specific site costs, $21.8 million in generic project development and $1.5 million in company-specific costs.
The U.S. Department of Energy ranked Entergy's application too low in importance to commit to it federal financing, according to Entergy's former Vice President of Nuclear Business Development Kenneth Hughey's 2010 testimony to the commission. Entergy now proposes an Allowance for Funds Used During Construction account, which does not immediately charge ratepayers, but makes recovery possible in the future. The account would not produce revenue for the company but will add to the total capitalized cost of the plant, allowing Entergy to get a return on its investment if the failed project is ever successfully built and included in the rate base.
Entergy said in its October filing that it is not currently seeking money to cover the lost investment, including "any increase in rates or any change in its present rate schedules now on file with the (Mississippi Public Service) Commission." However, Miller said the company should not look for ratepayers to cover the failed start-up, not even in the future.
Previous Comments
ID

163012

Comment

Just a side comment...The article is entitled "Coal Plant Cost 'Painful'". However, the only individual that uses the word "painful" is the author of the article.

Author

Dave Coleman

Date

2011-04-06T15:52:25-06:00
ID

163013

Comment

You're right, Dave. The story has a different headline in print, and our assistant editor changed it to be shorter online, and accidentally put painful -- which is a paraphrase leading into a quote -- in quotation marks. Obviously, that's incorrect, and I'll change the headline now. Thanks for pointing it out.

Author

DonnaLadd

Date

2011-04-06T16:13:12-06:00
More stories by this author
Support our reporting -- Follow the MFP.