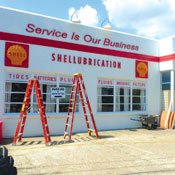 Skeeter Phelan never intended to be a catalyst for change. She came from a proper family, had the right friends, attended Ole Miss, belonged to the best clubs. And yet, she felt more solidarity with black housekeepers than her family and friends. Skeeter wasn't, by any stretch of the imagination, a civil-rights activist. She was a humanist. She felt a common bond with the struggles of working women supporting their families, and this bond extended beyond skin color and the 1962 conventions of the Deep South. Skeeter was a woman ahead of her time.
Like Skeeter, the heroine of Kathryn Stockett's novel "The Help"--which explores the treatment of black maids by white Jacksonians--filmmaker Tate Taylor is a man ahead of his time. Before "The Help" became a best seller, Taylor spearheaded the adaptation of the book--which his best friend Stockett wrote--for the big screen. He brought in his producing partner Brunson Green, and together they have packaged a film with an impressive cast and the backing of a major movie studio. And then, not forgetting where they came from, Taylor and Green brought the production back home.
The Mississippi Factor
Every media outlet in metro Jackson and Greenwood announced that DreamWorks Studios had an open casting call for extras and small roles in "The Help." Droves of people lined up for the opportunity to be in a major motion picture. That's not surprising. Mississippians adore movies.
But how often does a studio-backed production come to town that is based on a book written by a Jackson native (Stockett); has an adapted screenplay written by a Jackson native (Taylor); is to be directed by a Jackson native (Taylor); and the first producer on board is a Jackson native (Green)?
Incredibly, the Stockett-Taylor-Green dream team all grew up within a mile of each other in Jackson; Taylor and Stockett attended Jackson Prep; Brunson Jackson Academy.
"Our mothers knew each other," Green said during an interview with the Jackson Free Press at the swanky Delta Bistro in Greenwood. Along with co-producer Sonya Lunsford, we were tucked away in a private booth, set apart from the well-heeled diners. But southern gentility and Mississippi pride moseyed into the conversation.
With a boyish grin, Green confirmed the rumors circulating Jackson beauty parlors: Skeeter's accent is based, in part, on his mother's southern drawl.
Looking around the packed room, Green pointed out at least 10 production members in the local eatery. In fact, Taylor sat at another table squeezing in lunch after the morning rehearsal. He smiled an acknowledgement toward our table before making his way to the next production meeting.
Taylor's a busy man these days.
The Journey to a Major Deal
It sounded implausible a few years ago, but Taylor had this brazen idea to develop his friend Stockett's book "The Help" into a movie. "I was the third person to read the manuscript," Taylor says during a break. "I knew it would make a great film."
Taylor and Green acquired the movie rights to Stockett's story in 2008, before the book was published. Taylor immediately started writing the screenplay so he could be prepared to make the movie he wanted to direct. It was an ambitious goal.
"I had only directed one and half movies," Taylor says, adding, "Kathryn believed in me, and I believed in her."
Although his acting resume was full, Taylor's directing resume was sparse, but notable. Taylor had written and directed the short film "Chicken Party" and the feature-length "Pretty Ugly People," both of which screened at the Crossroads Film Festival and traveled the festival circuit, garnering bunches of awards. "Pretty Ugly People" was released theatrically last fall in six markets.
"(The) film was a success for the most part," Green says. "But due to the economy, the indie-film market took a hit this last year and (our film) was not a big grosser."
In his work as a director, Taylor has demonstrated a talent for eliciting strong performances, particularly from the female cast members. "Women are funnier than men," Taylor says, adding that their stakes are higher, making them more interesting.
Taylor could be the next George Cukor, one of the great directors who made his female stars legendary. "It is surprising to realize to what extent you echo your family, and how, from childhood, you have been shaped and molded," Cukor has said.
"The Help" echoes the world that shaped and molded Taylor and Green. They have the perfect sensibilities to make the film.
When "The Help" topped the New York Times bestseller list, Taylor and Green had a hot commodity and a viable movie project. With the support of seasoned Hollywood veterans Chris Columbus, Steven Spielberg and others, these two guys from Mississippi turned a nebulous dream into a reality. With the backing of 1492 Pictures and DreamWorks Studios, Taylor and Green assembled an outstanding cast, which includes Emma Stone as Skeeter, Viola Davis as Aibileen, Octavia Spencer as Minny, Bryce Dallas Howard as Hilly, Jessica Chastain as Celia, Allison Janney as Charlotte (Skeeter's mom), Mike Vogel as Johnny and Chris Lowell as Stuart.
The Formative Years
Taylor and Green were ordinary kids from Jackson who had practical ambitions of going to college and getting good jobs to pay the bills. They loved movies as much as the next person, but they were realists: They did not pursue film degrees. They didn't even tinker with acting in high school. And while they lived within a mile of each other and had mutual friends, they did not actually meet and collaborate until 1996, when Green cast Taylor in the first production Green had produced, a short film called "Stick Up."
Taylor's collaboration with author Stockett goes way back.
"Kathryn and I have known each other since the age of 5," Taylor says. "We did not live in the world of Hillys. We were Celias."
For those who may not have a vivid recollection of Hilly and Celia in "The Help," Hilly is a Jackson socialite, desperately clinging to the status quo in a southern society on the brink of civil-rights reform. She has a cadre of minions at her beck and call, and her word is law in the Junior League.
Celia is Hilly's antithesis. Although she married well and possesses all the modern conveniences of a 1960s household, including five bedrooms, swimming pool and pool house, Celia is not and never will be part of the "in" group. She's friendly, fun loving, treats the domestic help as equals, and is voluptuous and pretty in a Marilyn Monroe way. Celia is far too threatening to be part of Hilly's world.
"Like Celia, Kathryn and I were outsiders," Taylor says. "We both had single moms and were latchkey kids."
But, to paraphrase a line from author Jill Conner Browne, Taylor and Stockett made their own kind of fun, including spontaneous trips to Brennan's in New Orleans when they were in their teens.
After graduating from the University of Mississippi and doing marketing for oil companies in Memphis, Taylor got his first glimpse of film production when the grip trucks rolled into his neighborhood in Memphis.
"I would come home, change from my suit and watch the filming of 'The Firm,'" Taylor says.
Inspired by what he saw and seeking something more creative than the oil business, Taylor quit his job and moved to Los Angeles.
"One day I get this call from Kathryn who says, 'You got out and left for Los Angeles?'" Taylor recalls Stockett asking. "I told her, 'Get your butt here,' and the next day she was there."
Stockett and Taylor lived in a cramped apartment above a lingerie shop. Stockett trained as a chef at that time. Taylor worked as a production assistant for "Beavis and Butthead" on MTV and had wispy thoughts of someday helming feature films.
Taylor returned to Jackson after he had a serious fall in 1994. "I was in a coma, hospitalized for five weeks and almost died," he says.
During his recuperation, Taylor says he was "stricken by how stupid it is to have fear." Setting aside his doubts, he committed himself to a building a film career. He applied to be a production assistant for "A Time to Kill," which filmed in Canton in 1994 and got the job. Taylor was the only locally hired production assistant on the Warner Brothers production.
Like Taylor, Green's foray into film was a non-linear journey home.
"I had graduated in economics from Trinity University in San Antonio," Green says. "But there was a recession back then. I had one job offer, and it was not very attractive. So I had a one- to two-year window to look into film before I had to get a real job.
"My only connection to film was my friend John Gibson, who is from Jackson," Green says. Gibson hooked Green up with a props guy who was looking for an unpaid intern on a TV movie pilot for the CBS series "Ned Blessing."
"I basically cleaned a bunch of guns after the shoot-outs," Green says.
His first paid film job was in Mississippi working on locations casting on "The Gun in Betty Lou's Handbag." His boss was casting director Kerry Barden. Eighteen years later, Barden is casting "The Help."
"It took me a while to figure out what I wanted to do," Green says. "I was a production assistant; I did locations casting; I worked as an assistant to a producer. I then started being a first (assistant director)." These experiences led Green to producing shorts such as "Stick Up" and Lorraine Bracco's "Auto Motives," and feature films such as "Fool's Gold," a Sundance Film Festival selection, and "The Journeyman," a spaghetti-styled western starring Barry Corbin and Willie Nelson.
Green met Taylor through their mutual friend Mary Preston Hays in 1995.
"Tate was in Jackson at that time and wanted to get into film. Mary Preston said, 'You need to meet Brunson; he's in town,'" Green says. They were introduced at a Medgar Evers homecoming event and reconnected in Los Angeles.
Expanding the Southern Base
While Green and Taylor developed their film careers, Sonya Lunsford, who is from Georgia, was moving and shaking her own way in the film business.
"I started in craft services providing snacks and refreshments for commercial crews in Atlanta," Lunsford says. "I liked the business so much I wanted to work in every single department to see where I could land."
Having a knack for budgets and finances, Lunsford found that she best enjoyed the business end of production. Lunsford worked her way up the ranks from accounting clerk to co-producer. Among other films, she managed the budgets on Steven Soderbergh's "Traffic," "Che" Parts 1 and 2, and "The Good German."
Around the time that Green and Taylor were doing their first short film, "Chicken Party," Lunsford had reconnected with Green, whom she first met when he was her neighbor in Austin. "There was a whole southern contingent that would get together in L.A., and we talked about projects," Lunsford says.
Lunsford's first project with Green and Taylor was their feature film, "Pretty Ugly People." After working on the $60 million "Che" films, Lunsford knew "there was nothing we couldn't do."
Converging Forces
A convergence of forces aligned perfectly for adapting "The Help" into a movie. Besides the obvious fact that the book became a triumphant success and that Taylor, Green and Lunsford had reached the right stage in their careers to pull off a major motion picture, Chris Columbus, who has a distinguished career directing and producing films, including "Harry Potter and the Philosopher's Stone" and "Harry Potter and the Chamber of Secrets," took a shine to the project.
Taylor met Columbus a few years ago.
"My sister lives in San Francisco, and her daughter goes to school with Chris' daughter. When my niece was invited to a sleepover at the Columbus home, I asked her to take a copy of 'Chicken Party' with her. Yes, I pimped my 10-year-old niece," Taylor says, laughing. "Chris loved the film, and we met and talked and kept in touch."
With his clout and stature in the film industry, Columbus actively campaigned to get "The Help" made. It is because of Columbus that this film had a fast track and did not languish in the studio system.
While there were many studios vying for the opportunity, DreamWorks Studios sealed the deal first. The film "landed in the right place," says Lunsford, who has worked for a number of studios.
"DreamWorks Studio has been extremely supportive in making this film," Taylor says.
Taylor and Green wanted to film in Mississippi because it grounds the film in authenticity. "I used to hunt in Carrollton, Miss.," Taylor says. This area is "a timeless, enchanting place. It's very cinematic."
The Homecoming
The Mississippi Film Office, the Mississippi Development Authority, the Greenwood-LeFlore-Carroll Economic Development Foundation, the Greenwood Convention and Visitors Bureau, Bill Crump, chairman of the foundation, and Viking Range CEO Fred Carl Jr. made Mississippi a financial viable place to bring a studio picture. The Mississippi Film Office started working with Green and Taylor on the film in October 2009.
"This is a different production from others, because Brunson and Tate are from here, and they know what they wanted," Film Office Deputy Director Nina Parikh says.
"They have a very good sense of the book and this project and really good instincts," Film Office Director Ward Emling adds.
Filming "The Help" in Mississippi not only brings money into the state, it does something less tangible, but more important in many respects. Working on this film can change someone's life.
"Brunson and Tate began their careers as PAs in Mississippi," Emling says. "Now they are doing a major motion picture." He adds that having this opportunity allows folks to "decide if this is something they want to do or not want to do with their life."
No one can predict what may develop from the friendships formed on the set of "The Help." But there's a strong likelihood that future Mississippi filmmakers will have begun their careers from being an extra or a production assistant on the movie that Green and Taylor brought home.
Previous Comments
ID

159886

Comment

It's always "funny" when prep school students liken themselves to someone from Sugar Ditch.

Author

Carunzel

Date

2010-09-22T12:19:17-06:00
ID

159891

Comment

"Allison Janney as Charlotte (Skeeter's mom), Mike Vogel as Johnny and Chris Lowell as Stuart. " WAIT! Is Allison Janney in Jackson right now?! Ahhhh! LOVE her. LOVE.

Author

Izzy

Date

2010-09-22T13:43:11-06:00
More stories by this author
Support our reporting -- Follow the MFP.