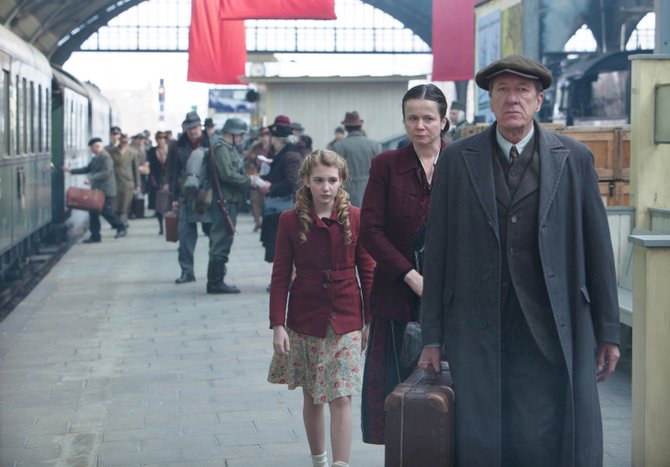 "The Book Thief" anchors itself in the reality of war, where true courage can mean ordinary people who keep promises to old friends. "It's about being people," says Liesel Meminger, the young heroine of the film.
Liesel, played by the French-Canadian actress Sophie Nelisse, is a girl caught in circumstances and historical events beyond her control and understanding, except for the guiding principle that people are people. It sounds a tad trite reduced to prose, but "The Book Thief" is a well-crafted film, much sturdier than platitudes of wisdom.
The movie, which is based on Markus Zusak's bestseller and adapted for screen by Michael Petroni, is a lyrical journey that gloomily hovers over the picturesque German countryside and zooms in with Teutonic precision into the lives of one family during World War II. Director Brian Percival paints with exquisite detail a canvas of war by examining the lives of Liesel and the family who adopts her. Death narrates.
We never know Liesel's biological father, but her mother was a communist, hunted by the burgeoning Hitlerites. After a long train ride, punctuated by Death stealing her brother's short life, Liesel is taken into the care of a childless German couple. Hans (Geoffrey Rush) and Rosa (Emily Watson) open the doors of their quaint home to Liesel, but she cowers in the backseat of the car, like a feral kitten. Hans, a gentle soul, coaxes the dirty child from the car. Rosa doesn't have the same patience. She speaks harshly, probably because her hands are pruned from washing dirty undergarments for the rich folks.
Liesel escapes from day-to-day hardship through reading "borrowed" books. After the book burning in honor of the Fuhrer's birthday, she snatches a book from the dying embers. If caught, she would be severely punished, but she is oblivious to danger.
Liesel's best friend, Rudy (Nico Liersch), prefers soccer to books, but he will defend Liesel and all of her secrets. The big secret, which they share through an exchange of spit (once for yes and two for no), is that the Hubermanns have a Jewish guest hiding in their basement. He was in the attic, but they made him move to the basement so it wouldn't be too much like Anne Frank. Hans made a promise to keep Max (Ben Schnetzer) safe. Liesel and Max spend years together, talking, reading and sharing stories. Max leaves after Hans publicly defends a friend accused of being Jewish.
An air of darkness and danger hang over the film, but light moments peak through at times to make the movie a touching experience. There's a beautiful scene of Liesel and Hans sneaking buckets of snow into the basement, where they engage Max in a snowball fight. Rosa catches them, and she gets pelted too.
The relationship between Liesel and Rudy is sweet and innocent. Rudy continually pesters Liesel for a kiss, and when she finally acquiesces, it's hard not to shed a tear. The young stars are mesmerizing because of their youth and vitality. Rush delivers a graceful performance.
Although the film sometimes seems sluggish, it's a three-dimensional experience about war and people and courage. It may not tread new ground, but it stands strong and firm.
More stories by this author
Support our reporting -- Follow the MFP.