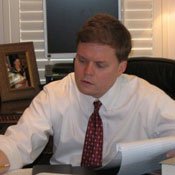 When Mississippi Gov. Haley Barbour suspended the sentence of convicted domestic murderer Michael Graham last summer, citizens of Pascagoula were outraged. In fact, most people in the town knew where they were when Graham pulled up next to his ex-wife at a red light and shot her point blank in the head. As shocked and furious as his community, freshman Rep. Brandon Jones, D-Pascagoula, knew something had to be done.
Authoring bills to limit the governor's pardoning power and creating a fee to fund Mississippi's Domestic Violence Fund, Rep. Jones has helped bring real change to the state. The 31-year-old will travel to Jackson July 25, when the Fifth Annual JFP Chick Ball will honor him for his work to fight domestic abuse.
• What pushed you to become a representative?
(My wife) Laurie and I moved to Pascagoula after we graduated in May. Hurricane Katrina hit in August of that year right after we moved back. After the storm, of course, the Gulf Coast was devastated, and there was a lot of work to be done. When it came time to put up names for the (Mississippi) House of Representatives, our representative of 16 years decided not to run. I thought it would be a good opportunity to help with the recovery effort on the Coast.
• Why did you want to author these three bills about the governor's pardoning power?
I don't generally think it is a good idea to tinker with the constitutional or statutory authority given to the governor. But in wake of the decisions that were made in respect to violent criminals, I thought it was worth revisiting some of these old laws.
• What was your first reaction when you heard about Gov. Haley Barbour releasing domestic murderer Michael Graham?
One of the things I felt happened when he made the decision in regards to Michael Graham—the guy that killed a lady here in Pascagoula—I assumed, given the details of the crime, that the governor just didn't have all the details of the crime right there in front of him. To be fair, there are a lot of things that come across the governor's desk in a given year. My sense was that this happened because he wasn't adequately briefed on the facts of the case. There is just no way this decision would have been made.
• What were the bills exactly?
I tried to present a progressive array of options because I knew there would be people disinclined to do anything that would offend the governor or change his authority in the least bit. What I did is go from the most exacting ways to change the law to one that would slightly change (the laws). One of the laws would have been a constitutional amendment to take away a governor's ability to pardon a murderer. That would have required a two-thirds vote in the House and Senate. It would have been pretty big.
• What happened with the bills?
The third one passed at least three times in the House (of Representatives) and a couple of times in the Senate, and then they brought us back a conference report, and it was not in there. (The Senate killed the bill.)
• You also sponsored a bill (House Bill 989) to take $10 from certain bonds to create revenue for domestic-violence shelters around the state. What spurred that for you?
The crime that Michael Graham committed against Adrienne Klasky. Adrienne was just a beloved classmate and friend to people down here. I knew her best friend really well, and I knew her sons. One of her sons was in a class with my younger sister. The crime was so vivid and shocking because it happened in front of our public library (in Pascagoula). Car pulls up—shotgun blast at close range. Adrienne's father was even one of the first people on the scene; he worked at a business right down the street.
We are not a town without crime, by any means; we have our own issues. But this was a very unique and very shocking moment in the history of Pascagoula. It's kind of one of those moments that has reverberated throughout the years.
In dealing with the aftermath of the release of Michael Graham and getting to know several of the folks who work with this issue across the state, I learned that domestic-violence shelters, like virtually every other agency and industry across the state, were having a significant economic shortfall with serious financial problems. We started looking for a way to help them out and put more money in a fund that was created several years ago called the Victims of Domestic Violence Fund.
• Once the bill passed, what did it do to help the fund?
What that bill does is take a $10 fee off of every criminal bail bond, usury bond, property bond and other various bonds that people take out, and takes $10 out of that and puts it in the Domestic Violence Fund. My sense is this could be a very serious shot in the arm, as far as domestic-violence shelters. We are really excited about this bill passing. So we are really hopefully that this will be a nice revenue stream for this fund and ultimately help our 12 shelters across the state.
• What about domestic violence gets you the most?
We, unfortunately, live in a world where it's acceptable. There's abuse taking place across economic lines, racial lines and geographic lines. People are doing this with stunning regularity. What I would like to be a part of is trying to create an environment where this type of environment is unacceptable. Certainly we can do that by enacting laws and legislation to address the problems and make sure there are adequate penalties, make sure that victims are aware of their rights, and we provide every protection provided to them under the law. Another component of it is to change the culture and keep talking about these things.
• You are normally in Jackson to be in the Capitol. What are your feelings about being here for the Chick Ball, especially since it is honoring you?
This is a tremendous honor. It's really one of the most gratifying things that's happened to me since being elected. If there is any group I would want to be aligned with, it's people who are working to eradicate domestic violence. Truly, I stand in awe of the people who give their lives to this cause. To go in and work in these shelters with not a lot of money, spending an enormous amount of time with victims, making themselves available 24 hours a day to try to help people who are in crisis, there's something awe-inspiring about that kind of work. It's nice to be some small part of their effort, especially Jackson. The three-and-a-half-hour drive is a small price to pay for such a good event.
Previous Comments
ID

149977

Comment

Congratulations to Brandon! You chicks could not have picked a better person to honor.

Author

DiFatta

Date

2009-07-23T13:49:30-06:00
ID

149979

Comment

We do have good taste, don't we!

Author

Katie

Date

2009-07-23T13:59:41-06:00
ID

149985

Comment

Congrats to a member of the FRAT HOUSE, or uh, The Plaza Building.

Author

tye d.

Date

2009-07-23T14:46:01-06:00
ID

149987

Comment

I remember Brandon from when we were both at MC. He is a good guy, and definitely deserves this honor!

Author

andi

Date

2009-07-23T15:06:26-06:00
ID

149989

Comment

I like the idea of taking $10 from a bond and putting towards domestic violence shelters. That can really do some wonders.

Author

golden eagle

Date

2009-07-23T15:29:17-06:00
ID

150086

Comment

It's scary that the Governor couldn't pardon dead, innocent Clyde Kennard but can pardon alive, guilty domestic murderers. It's scary that he's a governor. However, it's even scarier that he's our governor.

Author

russellbarksdale

Date

2009-07-26T00:16:24-06:00
More like this story
More stories by this author
Support our reporting -- Become a JFP VIP.
The news business has changed dramatically in the past year, and we need your help more than ever to keep bringing you important stories about Jackson and the Metro. Become a JFP VIP with an annual membership or you can Sign up as a monthly supporter. Thanks for anything you can do to empower our journalism!