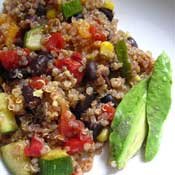 How do you cook quinoa if you don't even know how to say it? Quinn-wah? Quinn-noah? Kin-wah? Let's put this to bed. It's KEEN-wah and the best thing since, well, the Aztecs and Incans ate it thousands of years ago.
Classified as a pseudo-cereal, quinoa is closer related to beets, spinach and Swiss chard than grains such as brown rice. Small, flat and oval in shape, you could easily mistake quinoa for other grains.
Cooked, quinoa has a distinct look with transparent body and "germ" remaining on the edge. On store shelves, traditional quinoa is yellow, but you can also find red and black quinoa with a bit of a search.
This recently "rediscovered" grain was once considered the "gold of the Incans," as they noticed the increased stamina of their soldiers when they ate the grain. Not only is quinoa high in protein, it has the most complex and balanced amino-acid profile of any grain.
Unlike wheat and rice, quinoa is stocked in the amino acid lysine, making it a good choice for vegetarians concerned about adequate protein intake. With the presence of lysine, the World Health Organization rates the quality of protein in quinoa equal or superior to that in milk.
While quinoa is a good source of nutrition for vegetarians, it can also boast being gluten-free.
Slightly nutty, quinoa is versatile in flavor. From pilaf, soup, side dish to main course, quinoa can be perfectly seasoned for any occasion or stand out on its own.
Working with quinoa, my dishes tend to take on a Mexican vibe because it can handle spices well, yet not become second fiddle to other ingredients.
This recipe has become a go-to meal at my house and at family gatherings because it is easy, feeds people for days, and everyone can put their own spin on it with anything but the kitchen sink.
Not to mention, it tastes even better the next day as leftovers when all the ingredients have had time to "marry."
Mexican Quinoa Casserole
1 cup quinoa (uncooked)
4 teaspoons Mexican seasoning, divided (Cumin, cayenne, salt, pepper, garlic to taste. In a bind, use packaged taco seasoning.)
8 ounce can Rotel tomatoes, drained
15 ounce can black beans, drained
1 medium zucchini, sautéed
1 cup corn, cooked
1 lime, juiced
Salt and pepper
1/2 cup Mexican cheese
Avocado (optional)
Cilantro (optional)
Cook the cup of quinoa with 2 cups water for 15-20 minutes according to package directions, until transparent and no longer chewy. A few minutes before completely cooked, add 2 teaspoons of Mexican seasoning. Stir and continue to cook until done.
In the meantime, chop and sauté zucchini in a non-stick pan until tender. In a bowl, combine all vegetables, beans, lime juice and remaining seasoning in a bowl.
Preheat oven to 350 degrees Fahrenheit. Once quinoa is completely cooked, cover the bottom of 2-quart dish with a thin layer of quinoa. Top with a layer of vegetable mixture. Repeat layers until all ingredients are used, ending with a layer of quinoa.
Top with cheese. Bake for 25-30 minutes, or until bubbling and cheese is browned. Serve with avocado and cilantro (from the garden, of course) on the side.
Serves 6-8.
More stories by this author
Support our reporting -- Follow the MFP.