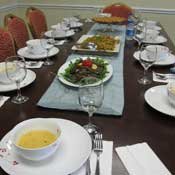 The kitchen was quiet, with only the shuffling of feet filling the silence. Two small girls with dark brown hair, smooth tawny skin and gauzy dresses weaved between the women, giggling in excitement. I looked over at a friend, a recent convert to Judaism, standing next to me and thought about how, two years ago, I would have never imagined being part of a Turkish Henna Night ceremony.
One by one, the women opened their hands while veiled Turkish women filled each of our palms with glass saucers and lit tea candles. The room was thick with curiosity and a feeling of purpose. As the women of the Raindrop Turkish House, we were welcoming Kubrah Ozcan to Mississippi in the same way she was invited to her new family the night before her wedding in Turkey.
A year and a half before, I was welcomed to the Institute of Interfaith Dialog and the Raindrop Turkish House, albeit not with the grandeur of Henna Night. New to my job at the Jackson Convention and Visitors Bureau, my boss, Vice President of Marketing Linda Mann, invited me to a lunch hosted by IID where we would hear from various faith leaders and enjoy Turkish food made by the women of the organization.
I did not understand much about IID at the time, but I understood food.
What I learned through conversation was that the Institute of Interfaith Dialog grew from the Turkish Americans' response to the terrorist attacks Sept. 11, 2001. Faced with new skepticism and bigotry after the events of 2001, the Turkish Muslim community knew something needed to be done to help bridge the gap created by intolerance and fear.
They asked the question, "How can citizens live in peace and harmony?" Their response was through grassroots education, panels, interfaith dinners and cultural exchange trips sponsored by the Institute of Interfaith Dialog. Through direct communication, members of the institute hopes prejudices, stereotypes, and fear could be diminished or eliminated.
In the Jackson area, the group meets at the Raindrop Turkish House on County Line Road. My first meal at the Raindrop House, I was humbled and excited to receive food over a shared table. A foodie at heart, I eyed every silver dish and platter as my boss explained the intricately arranged dishes. I seemed to punctuate every bite with, "What is that?" and "It's amazing," as Hatice Imogalu and Mahmut Gok, both Turkish Muslim members of IID, smiled and tried to explain the food to me.
I was hooked—not simply because of the food, but because the diverse community IID and the Raindrop Turkish House afforded me. For the first time in my adult life, Jews, Muslims, Bah'ais, and people of other Christian denominations surrounded me, not just Methodists or Baptists. As I learned more and more about the intricacies and beauties of each Abrahamic faith, I also learned more, in turn, about my own faith and myself.
I saw the practice of being reverent and humble through Ramadan fasting at the fast-breaking meal, Iftar, with my Muslim friends. I gained a deeper knowledge of the Old Testament readings with the helping hands of a Jewish rabbi. Conversations with an Episcopal priest engaged my appreciation for the body and blood at Christ's table during communion.
A year after attending my first event at the Raindrop Turkish House, I received a surprise birthday gift: Turkish cooking classes taught by Songul, one of the Turkish women of IID. To date, it is still one of my most beloved gifts.
On Saturdays in the late morning, a group of us met at the Raindrop Turkish House, eagerly popping into the kitchen for the next lesson. I learned to prepare Sultan's Feast, Borek, Cezerye, Carrot Salad, Lahmacun, Piyaz—all foods I didn't recognize before I started the classes.
Instructors handed out with the day's menu, with instructions translated from Turkish to English and measurements converted from the metric system. Listening to the women guide us through dish after dish, we marveled at their ability to bring ingredients such as red pepper paste, pomegranate syrup, garlic and tomatoes together to make such interesting and filling meals.
Watching our group—a diverse mix of religions, ages and genders—I couldn't help but admire what the interfaith community looked like, even in our own small microcosm. Around a table, we were all working for the greater good of the group to provide knowledge, understanding and nourishment.
It was only a few weeks later that I stood in the kitchen at the Raindrop Turkish House, waiting to formally greet our IID Mississippi representative Fatih Ozcan's new wife, Kubrah, into our interfaith community.
Walking two by two into a dark room, we ushered her in. As she sat, veiled in an intricate red dress, we circled her, singing a traditional Henna Night song. Friends showered her with gifts, and we all danced until we couldn't dance anymore. Holding each other's hands and dancing in celebration, we were not Muslims, Jews or Christians, but a demonstration of mutual understanding and acceptance.
What I found in the Institute of Interfaith Dialog was community—loving, honest and open. In a simple invitation, "Come and eat," I was filled with more than Turkish food, which I now make for my friends. What filled me was the hope that others may soon also dismantle any fears and prejudices they have against the people I now call my friends.
Carrot Salad
8 carrots, grated
1/4 cup corn oil
2 cups plain yogurt
1 cup sour cream
1 garlic clove
Salt (as needed)
Sumac (can be found at Mediterranean groceries)
Place oil and carrots in pan and sauté until carrots are tender. Let carrot mixture cool.
In a bowl, mix together yogurt, sour cream and pinch of salt. Mince garlic and add to mixture.
In a shallow dish, spread carrot mixture to cover bottom. Place yogurt mixture on top, sprinkling sumac over yogurt as desired.
More stories by this author
Support our reporting -- Become a JFP VIP.
The news business has changed dramatically in the past year, and we need your help more than ever to keep bringing you important stories about Jackson and the Metro. Become a JFP VIP with an annual membership or you can Sign up as a monthly supporter. Thanks for anything you can do to empower our journalism!