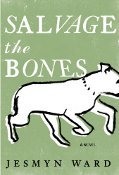 Ask any Mississippian, and they'll tell you where they were the week of Aug. 29, 2005, the week Hurricane Katrina hit. They'll tell stories of the eerie silence waiting for the storm. For those who stayed on the Gulf Coast, they'll tell of the snarling and groaning as Katrina choked trees and reduced homes to cement foundations, and of devastation massive and humbling.
"Salvage the Bones" by Jesmyn Ward (Bloomsbury USA, 2011, $24), chronicles the lives of a family struggling to survive the days leading up to, during and after Katrina in the fictional Mississippi town of Bois Sauvage. As the hurricane swirls closer, 14-year-old Esch and her brothers stumble to prepare for the storm, while her father, a heavy drinker, grows more concerned. There is little food to save, but Esch can't keep food down anyway; she's pregnant. What food there is, her brother, Skeetah, is taking for his prized pit bull's new litter, while her other brothers Randal and Junior vie for attention and dream of getting out of small-town Mississippi.
"Salvage the Bones" is honest about the realities of rural poverty, as Ward has seen personally growing up in DeLisle, Miss. Ward, the first in her family to attend college, received her master's degree from the University of Michigan, was a Stegner Fellow at Stanford University and Grisham Writer in Residence at the University of Mississippi. She is an assistant professor at the University of South Alabama.
You're from south Mississippi. How did that shape how you wrote this book?
I was actually here (on the Gulf Coast) for the hurricane, even though I wasn't supposed to be. The hurricane occurred as I finished my MFA program at Michigan. So, I was supposed to go back to teach in early August, and I didn't because we heard the hurricane was coming, and I just thought, "Oh, well, I'll just stay until the hurricane passes, and I'll go back home." I'm homesick a lot when I'm away from home, so I always try to get as much time (at) home as I can, which means staying until the last minute. So, I was here for the storm. I wanted to write about that experience; what it was like to live through that experience, but I wanted to do it fictionally. I just felt like I don't encounter a lot of books that often that are about Katrina that are fictional.
When we see coverage of Katrina, there is a lot of emphasis on the devastation in New Orleans. Being from Mississippi, did that speak to you?
I know (for) some people, that makes them angry, that Mississippi was hit so hard, and then we were sort of never mentioned in the damage (coverage). Whenever people talk about Katrina, they talk about New Orleans. It was a horrible and overwhelming experience, and I just wanted to do the best that I could to write about it and to express that on the page. There was a lot about what happened during Katrina that people wouldn't believe if they hadn't lived through it. I just wanted to convey some of that and do it as well, and as clearly and as strongly as possible.
Why did you decide to do it from a fictional perspective as opposed to writing your personal experience?
The funny thing is I actually wrote about it in an essay before I wrote about it in a book. Right after it happened, I think I was in shock about it happening. I didn't write about it for months afterward. It wasn't until one of my professors at the University of Michigan told me, "You know, this is your experience to write about." It was almost like when she told me that, she was giving me permission to write about it. My first response was to write an essay about it. That was my first impulse, but it wasn't enough. ... I felt it didn't express the enormity of what happened.
Each chapter represents a day leading up to, during and after Katrina. What led you write in such a way?
I've heard that each novel will teach you how to write it, and I think that it's true. I wanted to challenge myself and do something different. I wanted to make the amount of time that passes during the novel and shorten that so that the story was much more compact. I knew I wanted it to be around 12 chapters, so I decided to make each chapter a day. There's a lot of tension there, a lot of pressure there, that builds up during those chapters. Hopefully, it would create a lot of momentum. Because I hadn't done that before, I thought that if I tried to write it this way and if it fails, I'd start all over. It worked, and I was lucky.
Jesmyn Ward will sign and read from "Salvage the Bones" starting at 5 p.m. Sept. 21 at Lemuria Books (202 Banner Hall, 4465 Interstate 55 N., 601-366-7619).
More stories by this author
Support our reporting -- Become a JFP VIP.
The news business has changed dramatically in the past year, and we need your help more than ever to keep bringing you important stories about Jackson and the Metro. Become a JFP VIP with an annual membership or you can Sign up as a monthly supporter. Thanks for anything you can do to empower our journalism!