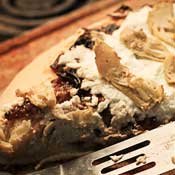 About four years ago, I finally realized that the health problems I had been having for years would recur every time I ate tomatoes or dishes in which tomatoes were prominent. Salsa, spaghetti and tomato-based soups all gave me terrible allergic reactions such as swollen eyelids and stomach aches.
Frustrated, I visited an allergist to confirm my self-diagnosis. After testing me for a tomato allergy, it came back negative. But the doctor warned me that I was probably still allergic. It turns out that our bodies can react negatively to foods in many different ways, but he could only test for one particular way. He urged me to eliminate tomatoes.
I took his advice, and for years now I have been completely tomato-free. It's been an interesting experience, and I've gained a lot of sympathy for those with much worse allergy conditions. Here's some things I've learned:
• Focus on your health, not on what you're giving up. Do I wish that I could eat spaghetti and tomato soup? Of course. In the end, however, I am happier and healthier knowing that I'm not risking a reaction.
• Speak up. Don't be afraid to tell people about your allergy. Family, friends and restaurants wait staff won't always know or remember. Because tomatoes often appear as flavoring in dishes where you don't expect them, I have to mention it every time I'm not doing the cooking. I've learned that no one minds.
• Get creative. I can't eat pizza with traditional red sauce, but I have made some incredible pizza using alternative ingredients. I've cooked with everything from white sauce to artichokes. The possibilities are endless.
• Eliminate other problem ingredients. My allergy has meant that I have to read every single label food I buy. This necessity has actually translated into much better health all around. Since I'm reading the ingredients, I can also avoid high-fructose corn syrup, extra soy, preservatives, artificial flavorings and the like. My awareness was forced on me by my allergy, but it has invited me to choose a more health-conscious attitude.
In the end, I'm actually thankful for my allergy. I've gained consistent well-being without painful reactions. And that is something I wouldn't trade for anything.
Tomato-Free Ricotta Cheese Pizza
2 tablespoons olive oil
2 cups red onions, thinly sliced
1-1/2 teaspoons golden brown sugar
2 tablespoons balsamic vinegar
Pinch of dried crushed red pepper
1 cup ricotta cheese
1 or 2 6-ounce jars marinated artichoke hearts, well drained, coarsely chopped
Pizza dough for one pizza (homemade or store bought)
Heat one tablespoon oil in large nonstick skillet over medium-high heat. Add onions and sugar. Cook until dark brown and tender, stirring frequently, about 16 minutes. Mix in vinegar and crushed pepper. Cook until mixture is thick, about 1 to 2 minutes more. Season with salt and pepper to taste.
Preheat oven to 500 degrees.
Roll pizza dough out onto the back of a baking sheet sprinkled with cornmeal. Brush with remaining 1 tablespoon of oil. Sprinkle with salt. Spread onion mixture over the crust. Dollop ricotta all over the onion layer, and top with slices of artichoke hearts.
Bake until caramelized and crusty, about 10 to 12 minutes.
More stories by this author
Support our reporting -- Follow the MFP.