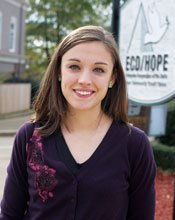 Sarah Welker understands the importance of a strong social network and role models within a community. A well-founded support structure brought the enthusiastic 23-year-old to Mississippi in March 2010 to become a policy analyst for the Mississippi Economic Policy Center.
While the Winston-Salem, N.C., native moved to Mississippi primarily for her profession, her ties here also are personal.
"There are a lot of layers to my transition to Jackson," Welker says.
While attending the University of North Carolina at Chapel Hill, where she earned her bachelor's in public policy and economics, she met Jackson native (and former JFP intern) Tom Allin, and they formed a relationship. Two years ago, when Welker visited Jackson to meet Allin's family, she saw that his family members were strong role models and mentors in the Jackson community. Allin's grandfather was the bishop of the Episcopal Church of Mississippi and several family members work in the nonprofit sector for organizations such as the Barksdale Reading Institute and the Good Samaritan Center.
"I came in with a built-in network of Tom's family and friends," she says.
She developed her own social network within the non-profit and advocacy community through her work at MEPC. Formed in 2006 in response to Hurricane Katrina recovery needs, the Mississippi Economic Policy Center deals in three issue areas: fiscal policy, responsible lending and aid to low-income and working families.
Since 2007, Mississippi has lost approximately 70,000 jobs. In response, Welker conducts research and articulates best practices to aid adults who need greater income and more educational opportunities.
In her recently published report, "Building Pathways to Credentials and Careers," Welker suggests the state provide travel vouchers, counseling services and child care for low-income adults struggling to make ends meet while they attend classes.
Welker sees the parallel between her personal success and her research. At UNC, professors mentored Welker and personally invested in her success, making her well equipped for her current position.
"There are supports you need outside the classroom," she says. "Whether that's in the form of a mentor, in my case, who exposed me to research experiences and a team environment, or someone ... at a community college who can connect you to financial supports."
Welker anticipates the upcoming legislative session. State Legislators often rely on MEPC to provide data about state-wide issues so they can be better informed when voting. Welker feels great purpose in her work, knowing it affects Mississippians' futures.
"I've finally learned enough to be dangerous," she says.
More stories by this author
Support our reporting -- Follow the MFP.