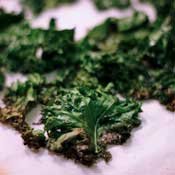 Those on-the-go days, filled with work and other errands are the most difficult aspect of maintaining a healthy diet. By the end of the day, it's tough to motivate myself to cook something healthy. Wouldn't it be easier to heat up something out of a box or go out to eat?
One way of making sure my healthy lifestyle isn't sacrificed to busyness is to have ideas for simple, quick meals and keep their ingredients on hand. This cuts back on the temptation to spend money on dinner out, and it maintains my determination to stay healthy.
Here are a couple of easy dinners that have helped me.
• Beans and rice. This college-days favorite doesn't have to be bland. Sauté onions and fresh garlic in olive oil, pour in a can of beans, season to taste with salt, pepper, dill and cilantro, and serve over rice.
• Sautéed zucchini and squash. Sliced up zucchini and squash, cooked briefly with a little butter in a non-stick pan make for a quick and easy side dish. Pair it with a meat dish or with rice or potatoes if desired.
• Breakfast for dinner. Scrambled eggs on toast are filling and simple. Add a small salad on the side, and maybe even some nitrite-free bacon, and you'll have dinner on the table in no time.
• Eat your greens. In the early fall, you can make crunchy, healthy chips from leafy produce like kale. Just tear the leaves into the desired size, spread olive oil on a pan lined with parchment paper, oil the leaves slightly, and bake at 300 for 20 minutes. Salt to taste. Kale chips, while not filling enough for a meal on their own, make a great snack or lunch side item.
• Hummus and Pita. Though you can make hummus easily from scratch, sometimes it's easier to buy it. Either way, it will provide a filling snack or a meal on its own when you're in a rush.
More stories by this author
Support our reporting -- Follow the MFP.