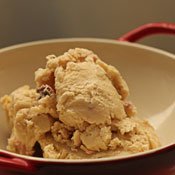 Prepare this recipe using your ice cream maker of choice. I recommend the KitchenAid mixer attachment—it's simple, easy and doesn't require hand cranking that old-fashioned ice cream makers do.
5 cups half-and-half, separated
8 egg yolks
3/4 cup sugar
4 teaspoons vanilla
1/8 teaspoon salt
2 cups chopped strawberries
2 bananas, mashed
Over medium heat, heat two-and-a-half cups half-and-half until very hot, stirring constantly. Do not allow the half-and-half to boil. Take the saucepan off the heat and reserve the half-and-half for the next step.
In a medium bowl, whisk egg yolks and sugar for thirty seconds, or until well blended and slightly thickened. Gradually add the hot half-and-half until the mixture is smooth. Pour the mixture back into the saucepan and heat until the edges are bubbly. Again, don't let the mixture boil and stir constantly to avoid sticking.
Pour the mixture, which will now resemble custard, into a bowl and add two-and-a-half cups half-and-half, vanilla and salt. Cover and chill for at least eight hours.
Follow the manufacturer's directions for your ice cream maker. In the last few minutes of the freezing process, add fruit. You will likely need to freeze the ice cream for a few hours longer to ensure the right texture and adequate stiffness.
Serves eight.
More stories by this author
Support our reporting -- Follow the MFP.