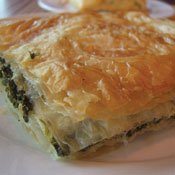 For me, few things cause a dietary downfall as quickly as the presence of hors d'oeurves and appetizers. There's just something appealing about small morsels. I have been known to make a meal of dips, starters and tiny treats.
While I tend to use "appetizer" and "hors d'oeurve" interchangeably, technically, they are not the same. Appetizers are meant to be the first course, usually eaten while at the table. Think of a massive, deep-fried onion complete with a vat of secret sauce—or a salad.
The term "hors d'oeuvres" refers to the variety of bite-sized food, typically served at parties. In formal settings, fancily dressed, smiling waiters pass them around the room. I, however, am lucky to get them plated and out of the kitchen before I am surrounded by the usual surly mob of starving people known as my family. We're not real formal at my house.
Spanakopita is my mother's trusty, take-to-any-known-function appetizer recipe. She finally admitted that she first got the recipe from a cookbook she found in a neighbor's trash, hence "trashy" in the title.
Whatever its origin, she's made it her own. It's incredibly rich, and the phyllo pastry manages to crunch and melt in your mouth, all at the same time. It's well worth the energy it takes to make it.
I don't make curried artichoke dip very often because it contains a considerable amount of cheese and mayonnaise. I consider it an infrequent treat. Leftovers work well as a pizza topping or tossed with warm pasta. This is The Man's favorite artichoke dip. I think I could serve him rusted sheet metal covered with this cheesy dip, and he would eat it. Seriously.
My personal favorite is black-eyed pea salsa. It's a good balance of spicy and "twangy." It also travels well to potlucks and parties. Try it on a baked potato or as a filling for a quesadilla.
Curried Artichoke Dip
2 (6.5-ounce) jars artichokes, drained and chopped
1 cup mayonnaise
1 cup Parmesan cheese, grated or shaved (not the stuff in the shaker can!)
2-3 teaspoons curry powder, or just add to taste
Mix all ingredients together in a baking dish. Bake at 350 degrees for 20 to 25 minutes. Serve with crackers, pita chips, toast rounds or just a really big spoon.
Serves 6 moderately hungry folks.
Black-Eyed Pea Salsa
2 (15-ounce) cans black-eyed peas
1 red onion, chopped
1 red or yellow bell pepper, chopped
a handful or two of cilantro, chopped
1-2 jalapenos, seeded and diced
1 (11-ounce) can corn, drained (optional)
1 tomato, diced
Dressing:
1/4 cup vinegar or lime juice
1/4 cup olive oil
2-3 cloves garlic, minced
salt and pepper, to taste
a pinch of cumin
Put the first seven ingredients in a large bowl and mix. Make dressing and add to other ingredients. Chill for at least two hours or overnight. Serve with tortilla chips.
Serves four to six.
Momma's "Trashy" Spanakopita
While she usually serves this as an appetizer, Momma claims this also makes an awesome breakfast when served cold. It can be frozen prior to baking and served later.
1/2 cup onions, finely chopped
1/2 cup scallions (including at least 2-inches of the green tops), finely chopped
1 to 2 cloves garlic, minced (optional)
1/4 cup olive oil
2 pounds frozen spinach, thawed
1/4 cup fresh dill or 2 tablespoons dried dill
1/4 cup flat-leaf parsley, finely chopped
1/2 teaspoon salt
pepper, to taste
a pinch or two of cayenne pepper (optional)
1/3 cup milk or 1/3 cup ricotta or a 1/3 cup mixture of the two
3 or 4 eggs, lightly beaten
1/2 pound feta cheese, crumbled
1/2 pound butter, melted (This is for the phyllo. You can also mix 1/4 cup melted butter and 1/4 cup olive oil or use cooking spray every other layer. It browns better if butter is on the top layer.)
16 sheets (1/2 pound) 16-by-12 inch phyllo pastry, defrosted the day before
In a large skillet, sauté onions, scallions and garlic in olive oil until soft, or about 5 minutes. Squeeze excess moisture out of spinach and add to pan. Cover and cook for another 5 minutes on medium heat. Add dill, parsley, salt, pepper and cayenne. Cook uncovered, stirring frequently, until most of the liquid has evaporated and the spinach is starting to stick to the pan. This should take no more than 10 minutes.
Transfer spinach to a large bowl and cool a little. Stir in milk and/or ricotta cheese. Once the mixture has reached room temperature, add eggs and feta cheese. Melt butter. Coat the bottom and sides of a 9-by-13-inch pan with melted butter. Line the pan with one sheet of phyllo, pressing it into corners and against the sides of pan. Brush with butter. Add another sheet of phyllo. Continue until you have eight layers. (Those wanting to cut down on butter can use fewer layers or less butter as noted above.)
Spread spinach mixture over pastry. Cover with remaining eight sheets of phyllo, making sure to use butter between each sheet. You will have some excess dough on the edges. Either trim it off or just push it down into the pan.
Brush the top with butter and bake at 300 degrees for one hour or until crisp and lightly browned.
Serves—a lot! Because it's so rich, it's sometimes difficult to eat more than one piece at a time.
More stories by this author
Support our reporting -- Become a JFP VIP.
The news business has changed dramatically in the past year, and we need your help more than ever to keep bringing you important stories about Jackson and the Metro. Become a JFP VIP with an annual membership or you can Sign up as a monthly supporter. Thanks for anything you can do to empower our journalism!