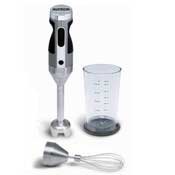 Are you struggling to find the gift for the cook who has everything? It's really not as hard as it seems, and it doesn't have to be pricey. I tend to give others either what I want for myself or what I find particularly useful. For me, these gifts seem to fall into three distinct groups: "tools you don't think you'll ever use," "kicked-up basics" and "splurges."
1 The first items fall into the category of "tools you don't think you'll ever use"—but can't do without once you've used them. These gadgets appear to be drawer clutterers but are actually indispensable. Both can be found at The Everyday Gourmet (1625 E. County Line Road, Suite 500, 601-977-9258).
The Microplane
It zests; it grates; it even makes julienne fries! OK, scratch that last part, but this food "rasp" really does make adding a touch of freshly shaved Parmesan directly onto your pasta much easier. (Microplane, $19.95)
The Immersion Blender
This handheld blender allows you to easily puree or whip items without having to drag out the traditional blender. You just "whiz" the blender in whatever container you're already using, thus creating less mess. Make a single-serving milk shake in a glass versus making a batch in the blender. Your kitchen stays cleaner, and you avoid that unavoidable feeling of obligation to eat all the sweet, creamy leftovers.
An immersion blender makes pureeing soups a painless task. No more burning yourself when pouring hot soup into a traditional blender. Just stick the immersion blender in the pot and push the button. This gadget makes it easier to control the soup's end texture. Want it to still have some chunks? Just whiz it up for a few seconds. Want it extra creamy? Blend for a few seconds longer. The Viking Hand Blender ($120) is The Everyday Gourmet's best seller.
2 My second category of kitchen gifts is "kicked-up basics." These are those boring kitchen tools that everyone already has in some form. Why not give fancier or more personalized versions?
Handcrafted wooden spoons
Once you've used a hand-carved wooden spoon, you're hooked. The spoons, smooth with a good grip size, have heft but are lightweight. They just feel good in your hand. You can find a variety of wooden spoons from different craftsmen at the Mississippi Craft Center (950 Rice Road, Ridgeland, 601-856-7546) ranging from $12 to $18.
Herbs and spices
Last year, one of my favorite gifts was saffron brought to me from Egypt. Foreign spices are a simple and inexpensive way to play with new flavors, and you don't have to leave the country to get them. Every cook I know would appreciate a package of a few out-of-the-ordinary herbs, spices, sauces or condiments. Find these items easily at any of our area's local ethnic grocery stores.
My two favorites are Patel Grocery (6965 Old Canton Road, 601-952-0332) and Van Hung Asian Market (637 Highway 51, Suite P, Ridgeland, 601-856-9638). The staff at both stores is always willing to answer even my most ridiculous questions.
Personalized kitchen items
While I am a huge proponent of homemade gifts, I also am a fan of practical gifts. Unfortunately, the two don't always meet. One way to create useful gifts for the home cook is to visit a local ceramics studio. Fat Cat Ceramics (1149 Old Fannin Road, Suite 11, Brandon, 601-992-6553) has numerous kitchen-related gifts ready for you to personalize. These range from simple measuring cups ($17) and batter pouring bowls ($21), to serving bowls ($15-$28) and margarita glasses ($10.) This is also a perfect way for children to create practical gifts for the home chefs in their lives.
Family recipes
An inexpensive and sentimental gift for your favorite cook is shared family recipes. This could be as simple as passing down a loved cookbook or typing up a few recipe cards. If you want to get more elaborate, you can compile your own family cookbook.
3 My final gift category is simply "splurges." These are awesome to have but aren't necessary for kitchen survival. I have included only one item in this group, in hopes that Santa might get the hint.
Cooking Classes
Those who love to cook love to expand their knowledge of new techniques and cuisines. Once these new skills are used, the gift giver benefits as well. The Viking Cooking School (1107 Highland Colony Parkway, Ridgeland, 601-898-8345) offers a variety of classes. Demonstration classes range from $59 to $89, while hands-on classes are $89 to $119. The Date Night and Girls-Night-Out classes are some of the most popular. You can view a full class schedule online at vikingcookingschool.com. Gift certificates are available, and can be used for any class offering.
Of course, combining the above items into a gift is also simple. Here is a family recipe that I'm going to give along with an immersion blender to one of my loved ones.
Cheater's Black Bean Soup
2 teaspoons olive oil
1 large onion, chopped
2-3 cloves garlic, minced
2-3 cans (15 ounces) black beans
1 can (14.5 ounces) diced tomatoes
1/2 cup to 1 cup salsa
3-4 cups stock
1-2 teaspoons ground coriander
2 teaspoons ground cumin
1 teaspoons salt
handful of cilantro, chopped
sour cream, optional
Sauté onion and garlic in olive oil over medium heat until onions are soft. Add black beans, tomatoes, salsa and enough stock to reach desired thickness. Stir in coriander, cumin and salt. Simmer for 20-30 minutes. Puree (using your new immersion blender, of course). Top with cilantro and a dollop of sour cream, and dig in!
Serves 4.
More stories by this author
Support our reporting -- Become a JFP VIP.
The news business has changed dramatically in the past year, and we need your help more than ever to keep bringing you important stories about Jackson and the Metro. Become a JFP VIP with an annual membership or you can Sign up as a monthly supporter. Thanks for anything you can do to empower our journalism!