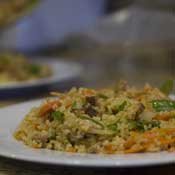 Food rules? Really? Really. After finding the website http://www.100daysofrealfood.com, which led me to Michael Pollan's "Food Rules: An Eater's Manual" (Penguin, 2009, $11), I finally got it. While I profess to eat well, a large portion of the time I don't.
I decided to take the website's challenge and give up all processed foods for 10 days. The general idea was to consume no refined sugars or artificial sweeteners, no refined grains, and nothing pre-packaged containing more than five ingredients. In my world, this translated into no Coca-Cola, no cinnamon rolls and no Cheetos.
I've had some experience with personal food guidelines; prior to this self-imposed moratorium on processed goods, my "food rules" consisted of "don't eat any land animals" and "don't drink anything blue."
The second rule was formed in elementary school after a nasty incident involving a blue Icee and a Tilt-a-Whirl. I've managed to avoid most meat-eating and most blue liquids for almost 20 years. I eat lots of vegetables, and I know how to cook. How hard could it really be to go without a few foods for a week and half?
I discovered it could be incredibly hard. This experience forced me to realize exactly how much sugar and how many foods with unpronounceable ingredients my family regularly eats. I also discovered that, apparently, my body is rather fond of processed foods. I had a whopper of a headache for about three days. Of course, that pain could have been caused by my struggling to figure out what I was going to eat each day.
Somewhere around mid-afternoon during my first "processed food-free day," the headache and major irritability set in. Other people's perkiness caused me enormous amounts of distress. Well, OK, perkiness always bothers me, and I guess I'm always irritable.
My lovely 4-year-old daughter informed me she didn't like the breakfast cookies I attempted to make. She dubbed them "cat vomit" cookies. I thought her description was quite accurate. I also made whole-wheat blueberry muffins, or rather I made fruit-filled doorstops. The family informed me these were awful, which of course they were. Once again, I've been reminded that my baking skills are limited.
On a positive note, I remembered how easy it is to make a simple stir-fry, which I served over brown rice. Typically, I forgot the lengthier cooking time for brown rice and ended up cooking the plain old white version. I used my home-canned tomatoes another night to whip up a batch of spaghetti sauce filled with red peppers and roasted garlic. The Man even said he could deal with the whole-wheat pasta.
I plan to continue with the majority of the dietary changes made the past 10 days. My family likes honey whole-wheat bread (as long as I don't make it) and is perfectly happy eating brown rice and whole-grain pasta. I think I may have finally kicked the Coca-Cola habit, and I lost weight, too.
I don't, however, think I will stick with the "five ingredients or less" rule for packaged foods, but I will keep reading labels and pay more attention to ingredients. I also am firmly convinced that some foods taste better with just a tiny amount of sugar. Finally, I think that everyone at my house will be happy to know that the "cat vomit" cookies are a thing of the past.
Here is a basic stir-fry recipe that you can adapt to suit your tastes. While I have included specific vegetables in the recipe, I typically use whichever ones I happen to find in the fridge. It's also good with shrimp or scallops.
Quick and Easy Stir-Fry (Serves 4)
2 tablespoons soy sauce
2 teaspoons sesame oil
1-1/2 tablespoon cornstarch (nice, but not necessary)
1 cup water
About 1 inch of raw ginger, peeled and grated
2 to 3 cloves garlic, minced
2 to 3 tablespoon canola oil
1 small onion, chopped
2 to 3 red or yellow peppers, cut into
1-inch chunks
1 head broccoli, cut into "trees"
In a small bowl, mix together the soy sauce, sesame oil, cornstarch and water to make the sauce. Set aside.
Heat oil in a wok or a large skillet. Add ginger and garlic, sauté for about 30 seconds. Add onions and cook until almost soft. Add remaining veggies; cook, stirring frequently, for another five minutes.
Add sauce and toss until the mixture has thickened. This should take about a minute. If you didn't use cornstarch, cook until the sauce has reduced to about half. The cornstarch thickens the sauce faster and also creates that fancy "shiny" look in the stir-fry.
Serve over rice or noodles.
More stories by this author
Support our reporting -- Become a JFP VIP.
The news business has changed dramatically in the past year, and we need your help more than ever to keep bringing you important stories about Jackson and the Metro. Become a JFP VIP with an annual membership or you can Sign up as a monthly supporter. Thanks for anything you can do to empower our journalism!