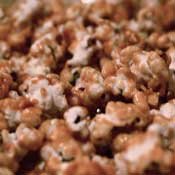 Cyndi Lauper and a punk rocker. Those were the costumes my best friend and I wore the last Halloween I went trick-or-treating in the mid-1980s. We always went in her neighborhood because that's where the good treats were passed out—whole candy bars, popcorn balls, caramel apples, and the one household that apparently forgot each year and decided to just hand out money.
This was also the year the local hospital began providing X-ray services for parents concerned about razorblade and needle-filled goodies. My mother chose a more practical method of looking for hidden objects in my haul; she simply ate the questionable items herself. This was, of course, a huge sacrifice for my mother and only done for my safety. In fact, her searching was so thorough, I was left with a few Blow Pops, the hard candies packaged to look like strawberries and those disgusting nougaty-peanut butter-things that were wrapped in either orange or black waxed paper.
Apparently, my mother thought these items were impervious to sharp objects.
Halloween wasn't the same after that, and it still isn't. Last year, my pirate-princess daughter did the majority of her trick-or-treating at Boo at the Zoo instead of our neighborhood. She received more pencils and bouncy balls in her treat bag than candy, and to be fair, she was perfectly happy with this. While I was pleased to be able to avoid the terror created by a sugar-overloaded child, I missed the homemade goodies. I wanted the opportunity to protect my daughter from the evils of caramel apples and chocolate chip cookies.
Even the traditional "carving of the pumpkin" has changed. As a kid, our pumpkin was a source of pride. We never had just a simple jack-o-lantern kind of pumpkin; that was way too normal. Ours had elaborately carved faces with three-dimensional parts. They were usually complete with hair and clothing, and had elaborate homemade props. The one I remember distinctly was the year the pumpkin was turned into an elderly lady wearing glasses and curlers.
Last year, a day or two after we carved our pumpkin, it developed a nasty case of furry black mold and basically melted into the yard. Maybe this year we'll just paint our jack-o-lantern or maybe buy one of the sparkly rhinestone decorating kits I've seen lately. Nah. I think it will be more fun to figure out how to incorporate the mold in the finished design.
Grown-Up Maple Caramel Corn
This sweet and spicy mix is a twist on popcorn balls. You get the initial taste of sweet and salty, and then the heat sneaks up on you. This is the way The Man likes it. I like to add the peanuts at the end with the pretzels; I prefer them to be salty rather than sweet.
1 to 2 bags microwave popcorn, popped (I prefer the ones that aren't heavily "buttered.")
1 cup nuts (I use peanuts, but I think it would be good with whatever you happen to have on hand.)
3/4 cup maple syrup
3/4 cup brown sugar, packed
2 tablespoon butter
1 teaspoon vanilla
1 to 2 dashes cayenne pepper
Cooking spray or oil
1 cup pretzel Goldfish crackers
1 small package fall M&M's (optional)
Put popped popcorn and nuts into a large, greased bowl.
Cook sugar and maple syrup over high heat until boiling, stirring constantly. Add butter, vanilla and cayenne pepper stirring until incorporated. Pour mixture over popcorn and mix until all popcorn is coated.
Put popcorn and nuts into a large pan and bake at 250 degrees for about 45 minutes. Stir every 15 minutes or so. Cool and pour back into large bowl. Toss in pretzels and M&M's.
Caramel Dip
This alternative to caramel apples is creamier than the original, so you don't get sticky as you eat it.
4 ounces cream cheese, room temperature
1/4 cup brown sugar, packed
1 teaspoon vanilla
1/2 bag caramels (about 25 or so of the individually wrapped caramels or enough to make about 3/4 cup when melted)
1/8 cup half-and-half or evaporated milk
1/2 cup pecans or walnuts (optional)
Mix cream cheese, sugar and vanilla together until smooth.
Put caramels and half-and-half in a bowl. Microwave on high for about one and a half minutes. Remove and stir, making sure all caramels are melted.
Slowly pour melted caramels into cream-cheese mixture, stirring gently as you go. Add nuts and mix.
Serve warm with apple slices (I prefer tart apples, such as Granny Smith.) or vanilla wafers.
Pumpkin Dip
My mother says this tastes like pumpkin pie in a bowl. I don't know about that, but it definitely is addicting.
8 ounces cream cheese, room temperature
1 cup powdered sugar
15-ounce can of pumpkin
2 tablespoons pumpkin pie spice
1 teaspoon vanilla
Mix cream cheese and powdered sugar until smooth. Add remaining ingredients, mixing well.
Chill and serve with graham crackers or ginger snaps. It's also good on bagels.
More stories by this author
Support our reporting -- Become a JFP VIP.
The news business has changed dramatically in the past year, and we need your help more than ever to keep bringing you important stories about Jackson and the Metro. Become a JFP VIP with an annual membership or you can Sign up as a monthly supporter. Thanks for anything you can do to empower our journalism!