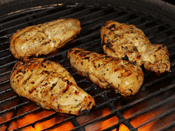 When it's cold outside, I crave comfort food: macaroni and cheese, pot roast, soups and stews that warm you from the inside out. But it's inevitable, after two months of overindulging and several weeks of chili, soups and stews, I start fantasizing about summer food.
The smell of charcoal burning and the sound of meat sizzling on the grill call to me like a siren song as I glob another helping of "something warm and filling" in a bowl. I long for fresh, sweet corn, crisp cucumbers and juicy vine-ripened tomatoes. I want a salad full of farmers' market veggies and a steak hot off the grill.
So I fake it.
I make my husband drag out the grill, and I pretend it's summer time. Steaks, chicken, vegetables—no edible item is safe from my summer-food craze. He's freezing out there holding his barbeque tongs, but it's worth it—to me, anyway.
Here are two grill recipes to pull you through until the frost thaws.
Knock Your Socks Off Flank Steak
1/4 cup soy sauce
2 tablespoons vinegar
1-1/2 teaspoons ground ginger (fresh or powdered)
3/4 cup olive oil
2 green onions, diced
1 flank steak, 1 to 1-1/2 pounds
Unfold the flank steak as it is usually folded in half in the package. With a sharp knife, score the steak, by carefully slicing into the surface of the meat diagonally, across the grain. Do this on both sides of the steak, scoring the meat about every inch. Marinate overnight. (I know it's a long time to wait, but really, it's going to be so worth it.)
Drain the marinade off of the steak and grill to desired doneness.
Matt's Kickin' Chicken
1/4 cup apple-cider vinegar
3 tablespoons spicy brown mustard
3 cloves garlic
1 lime juiced
1 lemon juiced
1/2 cup brown sugar
1-1/2 teaspoons salt
1/4 cup olive oil
ground black pepper to taste
2 pounds of chicken (I prefer boneless, skinless breasts; but you could also use bone-in, skin-on chicken pieces)
This is my favorite chicken marinade of all time. Trust me on this.
Marinate chicken overnight if you can, or at least for two hours before grilling. I've gotten desperate and cooked this on the stovetop, and I've baked it in a 400-degree oven until the center of the chicken breasts is no longer pink. It's almost as good, but for best results, throw those babies on the grill, even if it is snowing.
Grilling Tips
Chicken
• Cook chicken breast (5 to 6 ounces) six to seven minutes each side.
• Cook chicken legs 15 to 22 minutes each side (grill with chicken legs placed 5 to 6 inches above direct fire.)
• Keep grill covered.
• Chicken is generally safe at an internal temperature of 160 degrees, but 180 degrees is recommended.
Steak
• For a 3/4-inch cut, cook eight to 12 minutes on direct heat; flip at four minutes)
• The internal temperatures for steak are: rare, 140 degrees; medium-rare, 145 degrees; medium, 160 degrees; medium-well, 165 degrees and well-done, 170 degrees. Source: http://www.grillingtips.com
Decadent Mac-n-Cheese
by Tom Ramsey
2 medium yellow onions
12 cloves garlic
2 tablespoons fresh rosemary
1 bunch parsley
2 teaspoons fresh thyme
6 cups milk
1 cup heavy cream
1 cup chicken stock
2 pounds small elbow macaroni
4 slices thick-cut bacon
4 tablespoons butter
4 tablespoons all purpose flour
6 cups shredded sharp cheddar cheese
4 cups shredded pepper jack cheese
3 16-ounce packages cream cheese
Kosher salt
Black pepper
Olive oil
Finely chop onions, garlic, rosemary, parsley and thyme. Combine milk, cream and chicken stock.
Bring a large pot of salted water to a boil. Add macaroni and cook until al dente (firm but not hard). Drain, do not rinse, and return to pot, removed from the heat.
In a large saucepan, cook bacon until fat renders and bacon is crispy. Remove from pan and place on a paper-lined plate. Add butter, yellow onion and garlic. Cook until onions are translucent. Add flour and whisk until flour forms a thick, uniform paste. Add rosemary and thyme, and whisk. Slowly incorporate liquids, whisking as they are added. Add a handful of cheese at a time until all of it is blended and melted. Taste and add salt and pepper as desired. Crumble bacon and add to the cheese sauce.
Pour the cheese sauce into the pot of macaroni, scraping down the sides to ensure that all of the sauce is used.
Serve hot and garnish with finely chopped parsley. Drizzle with olive oil.
Serves six.
More like this story
More stories by this author