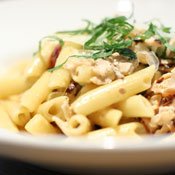 It's hard to admit, but it's true. I love carbs, and I am nearly powerless against them. I need a support group. Carbs are my kryptonite.
In a move that has shocked every member of my family, I made a resolution this year to eat healthier and to start exercising again, and I've actually done it. I started by cutting out all sweets, alcohol and bad, or simple, carbs. I said no to white potatoes and yes to sweet potatoes. I resisted white breads and embraced their ugly step-cousins—whole-wheat breads. It was difficult but not as hard as completely giving up carbs would have been.
I've tried going cold turkey on carbs before, and I become consumed with thoughts of doughnuts, rice, potatoes and pasta. I spent my nights dreaming of brownies and cakes. For me to say I'm going to quit completely is to turn all of my thoughts to the one thing I am not supposed to think about.
When I am dieting—and, oh, how I hate that word, even thinking the word "diet" makes me want to scarf down my kid's stale Halloween candy that has been stashed in a cabinet for six months—I want a pasta dish smothered in a warm creamy sauce, grilled chicken and maybe a little bacon mixed in.
Who am I kidding? When I'm dieting, I dream about bacon. Bacon and chocolate. And sometimes, bacon with chocolate. I've got recipes that satisfy both cravings perfectly. The first recipe is the closest I've been able to come to my favorite dish at my preferred Italian restaurant. The second recipe is the most perfect chocolate pie I've ever tasted. My great-grandmother used to make it for my mother and my grandmother made it for me. Not only is it the perfect combination of smooth, creamy and chocolatey, it is also simple to prepare. Chances are good that you can make it out of ingredients already tucked in your pantry.
Just because I can't eat carbs right now, doesn't mean you have to be deprived as well.
Carb Lovers Penne Heaven
2 1/2 tablespoons all-purpose flour
2 1/2 tablespoons butter
1 cup half-and-half
1 cup of milk
1/4 cup white wine
1/4 teaspoon garlic salt
1 teaspoon dried dill
1 teaspoon dried rosemary
1/4 teaspoon cayenne pepper
1/2 teaspoon paprika
Black pepper to taste
1/3 cup Parmesan cheese, grated
1/3 cup cheddar, grated
1 bag of pre-cleaned baby spinach (optional, but a great way to sneak in some veggies—you really can't taste it)
4 slices of bacon, cooked until crisp then chopped (use a large pan because you will use the same pan to make the sauce)
3 cloves of minced garlic
1 14.5-ounce box of penne pasta (I use whole-wheat pasta so I don't feel as guilty)
2 grilled chicken breasts, chopped (If you don't have leftover grilled chicken, marinate a couple of breasts in Italian dressing straight out of the bottle for an hour, then cook chicken on the stovetop until it is no longer pink and the juices run clear.)
Prepare pasta according to package directions, drain and set aside. Cook bacon for several minutes on medium-high heat in a large pan. Just before it becomes crisp, add the minced garlic. Cook until bacon is crisp and garlic is golden but not overly brown. Burned garlic is extremely bitter. Drain excess grease off bacon, remove from pan, chop and set it aside.
In the same pan you used to cook the bacon, add butter until melted, then add flour to form a roux. Whisk the flour into the butter while cooking on medium heat. Do not allow the butter to brown. As the butter and flour thicken, add the milk, half-and-half and wine slowly, continuing to whisk. Add in herbs and spices, then add the cheeses slowly, stirring constantly as they melt.
Slowly add the baby spinach, stirring as it wilts into the sauce. In a large bowl, toss cooked pasta, chopped chicken, bacon and sauce, stirring to coat.
Grease a 9-by-13-inch baking dish and pour pasta mixture into the dish. Sprinkle with a little Parmesan, cheddar and paprika. Bake at 400 degrees until bubbly and the cheese on top of the dish melts, approximately 15-20 minutes.
Serves six to eight.
Maw's Chocolate Pie
1 cup whole milk
1 cup sugar
2 tablespoons rounded cocoa
2 rounded tablespoons flour
1 tablespoon butter
1 tablespoon vanilla
3 egg yolks
One baked pie shell
Whipped cream to top
Mix ingredients together, and cook in a double boiler until it thickens, whisking constantly. It will take around 10 to 15 minutes for custard to thicken. Let the custard cool, then pour into pie shell. Refrigerate until chilled. Top with whipped cream before serving.
More stories by this author
Support our reporting -- Become a JFP VIP.
The news business has changed dramatically in the past year, and we need your help more than ever to keep bringing you important stories about Jackson and the Metro. Become a JFP VIP with an annual membership or you can Sign up as a monthly supporter. Thanks for anything you can do to empower our journalism!