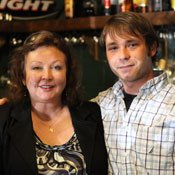 It's time for a night out, and your taste buds are craving Italian. You're pining for cherry-red tomato sauce and al dente pasta, or maybe you're more in the mood for the bubbling layers of lasagna. Either way, Jacksonians have an extensive selection of Italian restaurants from which to choose, from national chains to homegrown favorites. With newcomers crowding the stage, though, some of the old guard have to work a little harder to remain in the spotlight.
Since opening their doors in fall 1993, Fratesi's Italian Foods (910 Lake Harbour Drive, Ridgeland, 601-956-2929) covers all the bases, offering a range of Italian American favorites like seafood lasagna, veal scaloppini and the beloved favorite, spaghetti and meatballs. Each table comes with a straw-wrapped Chianti-bottle candle holder, so you can twirl your pasta by candlelight.
"The Fratesi's originally came from Ancona, right above the heel of the boot," owner Pam Fratesi says. "These are all Nonna (Italian for grandmother) Fratesi's and Terry Fratesi's recipes."
To see what makes the kitchen at Fratesi's tick, I sat down with Fratesi and 28-year-old Jereme Sullivan, the restaurant's chef. Sullivan is a Jackson native who graduated from Northwest Rankin High School in 2000. He's been cooking for 10 years, but started off bussing table at Fratesi's when he was 18.
What is your cooking background?
Jereme Sullivan: I learned the basics from my parents but (I'm) mostly self-taught.
What was the first recipe you mastered, in general, and at Fratesi's?
JS: In general, it would be breakfast: bacon and eggs. I am the king of omelets at home. At Fratesi's, it would be the veal scaloppini; it's a simple dish that requires deli-cate timing.
What your cooking style here at Fratesi's?
JS: It's mainly trattoria (an informal restaurant or tavern serving simple dishes) style. We have all homemade sauces and lasagnas. Everything at Fratesi's is homemade and is served in a relaxed homey atmosphere.
What are some of your favorite dishes on the menu?
Pam Fratesi: Mine would be spaghetti and meatballs.
JS: Me, too. It would have to be spaghetti and meatballs, or the seafood lasagna. Our meatballs are all ground beef with garlic, pecorino and Parmesan cheese.
What is the most valuable kitchen tip or trick that you learned over the years?
JS: Probably keeping your composure in difficult situations. You've got to have a cool head and entertain the customers.
What is the one item you would ban from your kitchen?
PF & JS: Cheddar cheese.
PF: It pains me to see a good Italian salad ruined when a customer asks for shredded cheddar.
If you could cook for/serve anyone in America, who would it be?
JS: Anthony Bourdain.
PF: Andrew Zimmerman.
You have to choose your last meal. What's in it?
JS: I'm not sure, but I think red meat—probably a beef tenderloin with salt, pepper and cooked medium rare.
PF: Red sauce and pasta—cappellini—an easy-to-twirl pasta.
Does Fratesi's have any particular community-service involvement?
PF: We have made lasagnas for HeARTS, scaloppini Against Aids, and we've fed Habitat for Humanity workers.
What is one piece of advice you would give anyone wanting to become a chef?
JS: You have to know that this work can be both stressful and rewarding. It's a stressful job. You have to have a passion for cooking and take pride in your work.
Fratesi's Chicken and Artichoke Lasagna
2 pounds boneless, skinless chicken breast, boiled or baked
1 pound cottage cheese
1 pound cream cheese
2 cans (12 ounces each) [condensed] cream of mushroom soup
1/2 cup diced red onion
1 diced tomato
2 cloves of fresh garlic chopped
1/4 pound fresh spinach
1 can (14 ounces) artichoke hearts
2 ounces olive oil
1/2 cup shredded Parmesan cheese
1/2 cup shredded Romano cheese
1 pound shredded mozzarella
1 bottle Italian dressing
1 package of lasagna noodles
Salt and pepper
Chop chicken and place in Italian dressing. Marinate in refrigerator for one hour.
In a medium-sized double boiler, combine cream of mushroom soup, cream cheese and cottage cheese over medium heat until mixture melts. Stir frequently to prevent burning.
In a medium skillet, heat two ounces of olive oil over medium heat for one minute. Add red onion and chopped garlic. Add spinach with a pinch of salt and pepper; toss spinach until it wilts.
Add the spinach mixture to the cheese base in the boiler. Drain the marinated, chopped chicken and add to the pot.
Chop the artichoke hearts and add to the pot. Add salt and pepper to taste. Reduce heat to simmer.
Place 12 lasagna noodles in hot water just long enough to soften. Preheat oven to 325 degrees.
In a 12-by-10-inch glass baking dish, place a layer of lasagna noodles evenly across the bottom. Spread a quarter to a third of the filling evenly across the pasta, then sprinkle with Romano, Parmesan and mozzarella cheeses. Repeat the noodles, filling and cheese combination for three to four layers, depending on the size of the baking dish. Finish the top layer with the chopped tomato and the remainder of the cheese. Cover with foil and bake for 25 minutes.
Remove foil and bake for 25 minutes more or until golden brown. Remove from the oven, and cool for 15-25 minutes.
Serves nine to 10.
More stories by this author
Support our reporting -- Become a JFP VIP.
The news business has changed dramatically in the past year, and we need your help more than ever to keep bringing you important stories about Jackson and the Metro. Become a JFP VIP with an annual membership or you can Sign up as a monthly supporter. Thanks for anything you can do to empower our journalism!