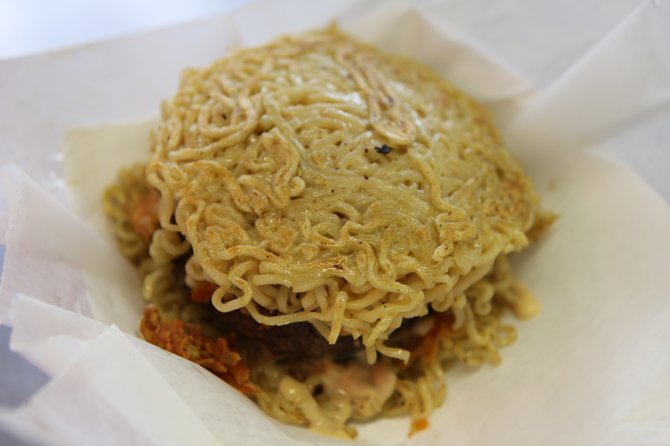 The hamburger, a venerable American institution, has been pleasing billions since its inception between the flame broilers of Louis' Lunch in New Haven, Conn., in 1900. However, as the hamburger's first century drew to a close, things seemed to be growing a little stagnant—that is until Daniel Boulud introduced the Bistro Burger to the menu of his db Bistro Moderne. With a base of ground sirloin and chuck, Boulud threw moderation out the window with the addition of braised short ribs, preserved black truffles and foie gras.
Boulud put his Bistro Burger on the market in 2001. He and other chefs countrywide have turned the idea of a burger inside out and upside down, opening the floodgates for any shape and form of burger the public is willing to devour. So how does this New York study of excess relate to Jackson? It all comes down to Lauren Davis, the man behind Jackson's Mystery Machine-style food truck, LurnyD's Grille.
Like any good businessman, Davis is constantly searching for the next thing that will have patrons lining up at his Smith Park location. Taking a cue from the nationally acclaimed hit and phenomenon begun by Keizo Shimamoto of Smorgasburg in Williamsburg, N.Y., Davis is now serving Jackson's first ramen burger.
You may be wondering just what a ramen burger is. To construct one, Davis takes two packs of beef-flavored Top Ramen, cooks the noodles with the flavor pack, adds an egg for binding, shapes the noodles into a bun-shaped circle and refrigerates them overnight. The following day, Davis takes the molded noodles and cooks them on the grill until just crispy, forming the "buns" for his ramen burger.
Davis tops the burger with an Asian aioli composed of mayonnaise, Sriracha, ponzu, and soy sauce. One more thing sets his Asian burger apart from its inspiration: "(Shimamoto is) putting arugula on it—I'm doing deep-fried kimchi," Davis says. "That's my spin on it."
With the ramen burger constructed, the final task is figuring out just how to eat it. Based on my time with the noodle-bound patty, I recommend that diners attack with a knife and fork.
While the best method for consumption is still open to debate, this special new menu item brings many possibilities to LurnyD's. For one, ramen comes in myriad flavors beyond beef. Perhaps a shrimp ramen burger will be on the menu?
"We're always trying different stuff out here. We're trying to keep it fresh, keep it interesting," he says. "I've got five hamburgers that are pretty much menu staples, but you've got to keep something fresh."
This is the first installment of the JFP's new series, which dives into some of the capital city's favorite local dishes. Want your favorite covered? Email [email protected]
More stories by this author