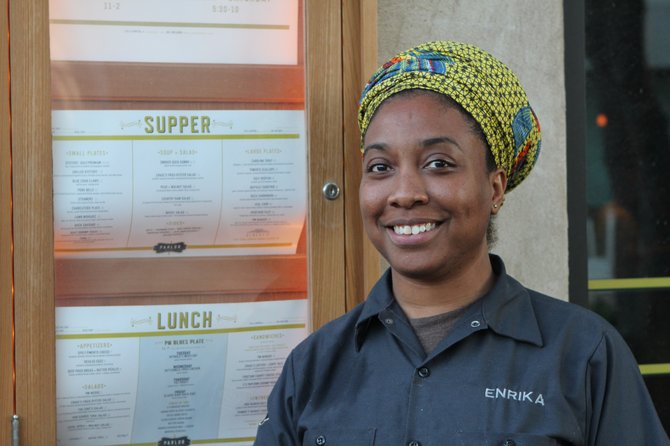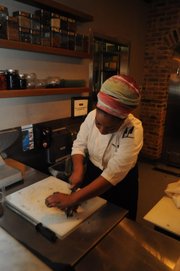 Germaine Greer, the renowned Australian journalist and feminist, once said, "There are only two things that women don't do as well as men, and that's design dresses and cook." Although that statement first sounds absurd--many of us have the Rockwell-styled mental image of mothers and grandmothers weaving magic in the linoleum-tiled kitchens of the American home--men do dominate the stainless-steel counters and fire-breathing ranges of commercial kitchens. When it comes to classically trained chefs, it's a boys club, steeped in regimentation and tradition, and still a hostile environment to the fairer sex.
But plenty of women are sharpening their knives and stepping into the heat of the kitchen to challenge the male-dominated field. In Jackson, one chef who knows the uphill battle women face in a professional kitchen is 37-year-old Enrika Williams. A graduate of the culinary program at the Arts Institute of Atlanta, Williams cut her teeth in the very traditional and very French kitchens of Au Pied du Cochon at the Intercontinental Buckhead Hotel in Atlanta and is now a sous chef at Parlor Market (115 W. Capitol St., 601-360-0090). Curious to hear her take on the idea of female chefs in the modern culinary world, I had the opportunity to sit with her and ask a few questions.
Did anyone inspire you to become chef? Who?
I grew up in West Point, and it was a really small town. My grandmother had chickens in her backyard; my grandfather had his own garden. My grandmother would have these club meetings and card parties where she would pull out her china, her tea service and punch bowl. I was always around food, and I enjoyed it. I don't think I ever had a choice. I think from a small age, I would pull my chair up to the counter and help--get in the way actually.
Were you made to help, or did you want to help?
They encouraged it, and they told me to come on. I was like, "Granny, what are you doing, why are you doing this?" I would pull my chair up (and) play with biscuit dough. I've always been around it and enjoyed it. It's one of those things that drive me.
Did you have a mentor, such as a professional chef or cookbook author that you looked up to?
Goodness, I grew up watching PBS so, obviously, Julia Child, Martin Yan, John Folse, Justin Wilson. I used to watch cooking shows all Saturday. My grandmother had the red-and-white Betty Crocker cookbook. She got Southern Living, and so those things are nostalgia for me. I studied those books, looked at those pictures and remembered things. What really prompted me to go to culinary school was the need to know more. What I was reading in books and seeing in magazines wasn't enough. I wanted to do this seriously. I want to throw myself in and absorb everything. When I got to culinary school, I was a sponge-- any opportunity, people, culture, I absorbed it all. I just spiraled (up) from there.
In a quest to learn more, is there a dream restaurant you'd like to work at?
I like food trucks and people that are more into food--chef-driven restaurants where the integrity of the food is so important. They are putting out simple, minimal, classic, tasty local food.
So you prefer James Beard Awards to Michelin stars?
I prefer James Beard to Michelin awards, but the Michelin stars like Alinea (restaurant), in food towns like Chicago and San Francisco, I desire to go there, too. I love food in all aspects. I'm not bound by southern food. I'm not a food snob where I only want to eat foie gras and caviar; I just like food. Whatever is good, I like it.
When it comes to food, most women are bakers. How did that affect you becoming a sous chef at Parlor Market?
It affected me a lot. I would always see, in different publications, the best-of lists, and the chefs would always be male. If they threw a woman in it, she was a pastry chef. So, I think that was part of my reasoning to go to school because I knew I was a female, and it was already going to be more difficult for me. It's a boys club, and I didn't want to get boxed into salads or pastries. I actually avoid those things if I can. I would rather do savory and sauces and grill.
French kitchens are very regimental, but you never hear about female French chefs.
In the French kitchen it was a base system, very strict and lots of testosterone. You don't speak or talk; you do what the chef tells you to do. The challenge can either make or break you. I wanted them to judge me on whether I'm doing a good or bad job, not (on) my gender. I wanted to prove them wrong, and I wanted to do it even though they're telling me to be quiet and just stay in the back. It made me work that much harder.
Are there any advantages to being a woman in a chef's world?
Sometimes it helped to be associated with chefs that are really good at their craft. People will look at you and think: She's not there by accident; she's up to the level of the others. So, in a sense, it's kind of an acknowledgement. Maybe you are a pretty good chef. You can't fake it. I've gotten used to being one of the few female chefs in the kitchen. It's helped me to be comfortable in my own skin because I have to sustain looks, snarls, attitudes and egos. There are some guys, even in this day and age, who think I'm not supposed to be in the kitchen. In general, there's still a consensus that I should be making salads and cakes.
What was the first recipe you mastered?
7 Up pound cake. It's exactly (what it sounds like)--it's a pound cake made with 7 Up soda. It's delicious. You use 7 Up, butter, cream and eggs but the texture is the standard pound cake. My grandmother and mother would make it for special occasions and the holidays. I told myself that I had to learn how to make it because when I tried it would collapse or I would burn it. Finally, I mastered it.
What is your favorite ingredient?
Celery. I love celery, especially the smell. I use the leaves as salad greens, I'll pickle the hearts, I'll use the roots and the parts to make stock out of them, (and) I'll make a broth out of that. I like to braise celery, I like it raw, I like it pickled. It's my new favorite ingredient. 
/What is your least favorite ingredient?
Eggs. I don't eat them. I like to cook them, but as far as eggs exciting me, no, I'm going to avoid that unless I'm making an aioli or hollandaise (sauce).
If you could cook for or serve anyone in America, who would it be?
I have a few in mind, but I would say the president. Julia Child would have been the second.
What is one piece of advice you would give anyone wanting to become a chef?
Read, travel, eat, talk to people, meet people, see things, just expound on what you already know. You think you know enough, learn some more. Just continue to push that. The more knowledge you (gain), the more you have in your repertoire, the more you can use that in any instance whenever you work in the kitchen.
Tailored to young girls?
Pace yourself, but be prepared to work harder for less money, less accolades. Make sure you're doing it for yourself, because sometimes that drive isn't going to come from someone else eating your food; it's going to come from you. Sometimes people will make you feel like you shouldn't be here, but you will have to prove to yourself that you're here because you're supposed 
to be here.
More stories by this author
Support our reporting -- Follow the MFP.