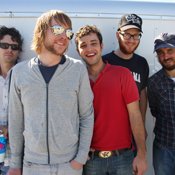 The Dexateens are rambling into their next act. The Tuscaloosa-based band has been bringing its mix of loose, Stones-like swagger, punk energy and southern rock to music clubs throughout the southeast for more than 10 years. As they move into their second decade, the group is working to build on its history through regular shows and new recording projects.
The core of the group's sound is their allegiance to both the punk ethos and country-influenced rock. Prior to starting the group in 1998, singer and guitarist Elliott McPherson led a punk band. During the same period, guitarist John Smith spent time in a group that explored country-rock sounds. The Dexateens brought these two worlds together, creating a sound Smith describes as "Black Flag meets Blackfoot meets Black Oak Arkansas."
In addition to McPherson and Smith, bassist Matt Patton has been with the group since its earliest days. Some Mississippians now Patton from his years playing with the late Belzoni bluesman Paul "Wine" Jones and Oxford soul group Wiley and the Checkmates. Drummer Brian Gosdin and third guitarist Lee Bains, III have joined over the last couple of years.
The band's inclusive sound has enabled them to play for a wide range of audiences. They got their training at the Chukker, a "reformed biker bar" in Tuscaloosa, according to Smith, where they opened shows for regional favorites like the Woggles and the Neckbones. The group has gone on to play at all types of venues, from the typical dive bars and music clubs to frat parties and major music festivals.
"We manage to be a weird fit across a number of different scenes," Smith says. "We're not quite at home, but they're not quite ready to kick us out."
Some of their more notable recent shows were as an opening band for the Drive-By Truckers, the Athens, Ga.-based group with their own take on southern rock. Truckers band leader Patterson Hood is an Alabama native and longtime fan of the Dexateens. He helped produce their 2007 album "Hardwire Healing" and has invited The Dexateens to open for the Truckers a number of times over the past two years.
Smith believes his group has gained new fans among the Truckers' audience. "We certainly got the benefit of the doubt by virtue of the fact that Patterson kind of adopted us," he says.
Their live shows continue to be a crucial part of what they do, but Smith admits that the band's focus has been changing. "We're all getting a little long in the tooth to be out there pretending that we're going to be rock stars," he says. "It has to be about something else."
For Smith, the "something else" is recording. The band has remained diligent in this work, releasing albums at a steady pace over the past five years. They've also been flexible in how they get their music out to fans. They released their 2008 album "Lost and Found" as a free digital download. While a limited budget and the album's short run time were the main reasons for going this route, Smith was surprised by the frequent comparisons to Radiohead's download-only release of "In Rainbows" in 2007.
"It was sort of funny," he recalls. "It implied that we had been sitting around some table planning and decided, 'The biggest band on Earth has decided to adopt this model, so we must follow suit."
The Dexateens will return to the CD format this summer for the release of their next album, "Singlewide." The group took a different approach in putting together the album. Recorded in Nashville with veteran engineer Mark Nevers, the band started the basic tracks for each song with guitar and vocals, adding on the drums and other instruments later in the recording. This method gives "Singlewide" a different feel from their previous albums.
"This record is really, really quiet," Smith says. He acknowledges it will be interesting to see how they will fit the songs into their normally raucous live show. "We don't really have the wherewithal to go out and do a laid-back acoustic set," he says.
The group hopes to tour to promote "Singlewide," but day jobs and family commitments keep their time on the road shorter and more strategic. "I always keep 'tour' in air quotes," Smith says. "For us, an epic tour is going out for eleven days."
The Dexateens will make one of their strategic stops in Jackson this Friday, Feb. 27, for a show at Martin's Lounge. For more information on the band, visit www.myspace.com/dexateens.
More stories by this author