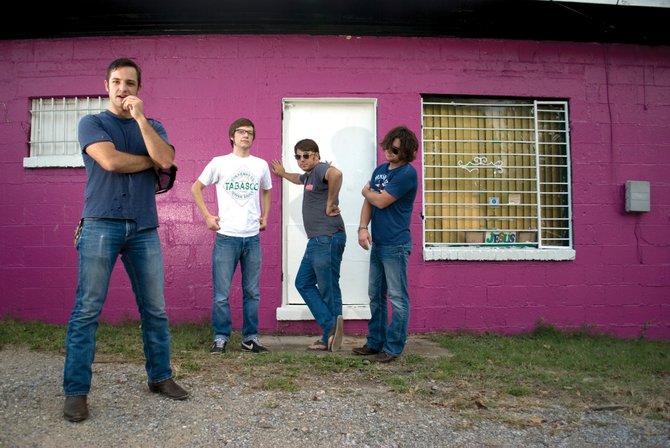 Lee Bains III and the Glory Fires bring together multiple strands of southern music to make a hard-charging, soulful sound. The Birmingham-based group is perfecting an emerging style of southern rock that acknowledges forbearers like the Allman Brothers, but adds punk energy and coats it with a heavy dose of soul. The group's recently released debut album, "There Is a Bomb in Gilead," showcases guitarist and lead vocalist Bains' strong songwriting and the band's high level of musicianship.
Like many southern musicians, Bains, a Birmingham native, got his initial musical training in church. His grandmother was the music director at the local Methodist church, and Bains sang in the choir with his grandfather.
The guitarist was also exposed to more expressive music in the Pentecostal church through his babysitter. As a teenager, Bains played guitar with the church band. This church's looser approach to music made a big impression on him.
"You're not reading out of a hymnal and singing these exact notes in time with everybody else," he remembers. "If you didn't hold that one note exactly as long as the person next to you, it didn't mean you were doing it wrong, that's just the way you were doing it."

In addition to church music, Bains received a deep immersion in rock and classic soul from his father and two older brothers. He heard punk at a young age and, by the time he was a teenager, Bains was playing original songs in bands at punk shows around Birmingham.
He left Alabama to attend New York University. While there, he played in punk bands, but he began to question his connection to the music. The new environment allowed him to take stock of his relationship to his home region.
"I was basically trying to be (legendary hardcore band) Fugazi, but that's not who I am," he says. "I guess I started trying to reconcile with my musical and cultural background."
During his last year in college, Bains formed the band Arkadelphia, which had a more roots-based sound. When he returned to Birmingham after college, he got to know members of the Dexateens, a Tuscaloosa-based band known for fusing punk with southern rock. Guitarist and bandleader Elliott McPherson asked him to join the group in 2008. Although he was still working hard on Arkadelphia, Bains was a big fan of the group and could not pass up the opportunity.
"At the time, I don't know if I would have joined any band in the world, other than the Dexateens or The Rolling Stones," he says. "I was determined to have my own band."
Bains, now 27, joined the Dexateens as it was entering one of its busiest periods. When the group split up in 2010, he spent some downtime playing bluegrass, and then formed the Glory Fires in late 2010. He brought together a group of top-flight musicians (including drummer Blake Williamson, bass player Justin Colburn and guitarist Matt Wurtele), and they quickly made a name for themselves with high-energy shows.
"We play hard and take it seriously," Bains explains. "It doesn't matter if there are six or 600 people; these guys are going to play their asses off."
The band came to Mississippi to record "There is a Bomb in Gilead" at Dial Back Studio in Water Valley. The record received critical acclaim since coming out in May, including a write-up in Rolling Stone magazine.
Despite their constant travel, Bains and his bandmates retain their native football allegiances. Bains is the sole Auburn supporter amongst a pack of Alabama fans in both the Dexateens and now the Glory Fires.
"I don't know what I did in a past life, but I'm paying penance by being in all these bands with Bama fans," he says.
Lee Bains III and the Glory Fires bring their high-energy show to Ole Tavern (416 George St., 601-960-2700) on Saturday, Dec. 22. For more information, visit thegloryfires.com.
More stories by this author
Support our reporting -- Follow the MFP.