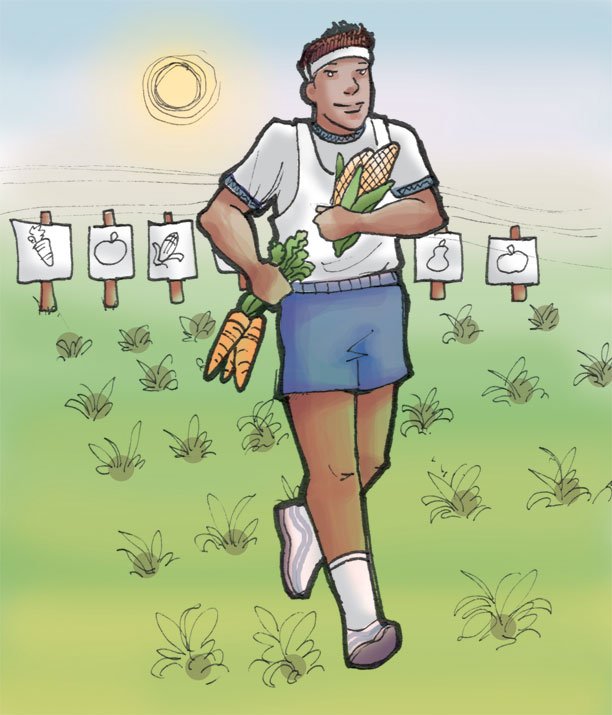 A friend once told me that her dad loved fresh corn so much that he would not pick an ear of corn until he had the water boiling. When he did pick the corn, he then ran back to the house shucking it like a madman to get it cooking in the minimum amount of time. This isn't crazy; this is love.
Experiencing truly fresh food is exhilarating and worthy of pursuit. And there is nothing fresher than food grown in your own backyard.
It is so satisfying to pick fresh vegetables grown in your own soil and make a fresh dish. It's pretty easy, too. However, if you are new to gardening, here's a tip: Pick plants that are easy to grow. If you are tight on space, at least grow some fresh herbs during the summer. Here's a short list of plants for the easy home culinary garden:
Tomatoes: There are so many varieties. I like plum or Roma tomatoes for cooking, Better Boy for slicing and cherry for easy care, but nothing beats heirloom varieties for flavor. Be prepared to cage or stake the plants, especially if the seed package is labeled "indeterminate," which is a fancy word for growing like a vine.
Summer Squash: Yellow squash and zucchini are prolific producers. They grow on small hills in groups of three. Once they start producing, look every two or three days for another one to pick. Their flowers are edible and can be stuffed and baked or sautéed. Plant more than a couple of hills, and be prepared to give some away.
Bell Peppers: Sweet varieties are good, but chili peppers are handy, too. Roasted green chili peppers are a must for authentic southwestern cuisine.
Parsley: I like Italian Parsley. It is easily planted from seed, but takes a little longer to germinate than most herbs. The best thing is that it is a biennial—that is, it will last until frost without going to seed (unlike cilantro). In its second year, it will flower and seed as mine did last year. Now I have parsley everywhere.
Basil: I can never plant enough basil. I love it for pesto, pizza and salads. I usually buy a plant or two so I don't have to wait and plant a pack of seeds. It pairs well with tomatoes in food or in the garden bed.
Rosemary: Not everyone likes rosemary, but a little bit strengthens the presence of other herbs in a dish. It is a perennial evergreen plant you can keep forever in the South. Eventually, it will form a small shrub with pale blue flowers in the spring. I love to just run my hand along the branches to release its strong piney scent. Chop it fine and leave out the woody stems.
If you plant in the early spring, you'll be picking by July. All of these plants handle hot weather pretty well and are highly versatile for cooking. If you need recipe ideas, I happen to have one: This dish pairs nicely with grilled portabella mushrooms or fish.
Grilled Summer Vegetables Vinaigrette
1 tablespoon balsamic vinegar
3 tablespoons olive oil
1/4 cup chopped fresh parsley
1 teaspoon minced fresh rosemary (more or less to taste)
1/4 cup chopped fresh basil
1 clove minced or pressed garlic
6 summer squash (a mix of yellow and zucchini is nice), about two pounds
6 plum tomatoes or more of cherry tomatoes
3 bell peppers (any color)
Salt and pepper to taste
Slice the summer squash for grilling. I do this by slicing lengthwise in flat cross-sections about 1/4 to 1/3 inch thick. This creates a plank that maximizes grill exposure and minimizes the number of pieces to turn over. Core bell peppers to remove seeds, and stem and slice into quarters. Slice plum tomatoes in half lengthwise. Leave cherry tomatoes whole.
Place vegetables in large bowl and add oil, vinegar, chopped herbs, garlic, salt and pepper to taste. Toss gently. Place on a lightly oiled hot grill and cook over medium-high heat for about 5-6 minutes on each side side-or more depending on your char tolerance-until the vegetables have grill marks and are tender. Tomatoes will burst their skin and deflate a bit. The pepper skins will blacken.
Once finished on the grill, return vegetables to the bowl. If desired, remove blackened skins from peppers and slice vegetables into bite-size chunks. Toss to refresh the coating of the vinaigrette and serve warm. Serves four to six.
Previous Comments
ID

131831

Comment

Every year, I say that I'm going to grow something, and so far I still haven't gotten the nerve to try. One day I will.

Author

LatashaWillis

Date

2008-07-02T14:16:45-06:00
More stories by this author
Support our reporting -- Follow the MFP.