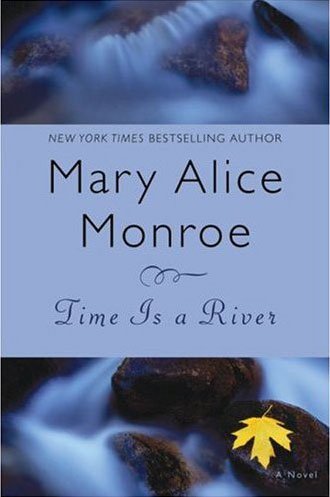 Fly-fishing combines the joy of being outside with the gracefulness of casting a line so light that it takes multiple flicks of the wrist to keep it aloft until that moment when you let it lay out so softly that it mimics the wind and the ripples on the water. The fly at the end of the line floats on the river that carries it downstream. If you look carefully, you may see the trout turning sideways to sip in the lure. You may have time to flick the line and snatch the fly away if you want another fish. If not, you may feel a tug, the electric pulse of a fish on the end of the line.
"Time is a River" (Simon & Schuster Adult Publishing Group, 2008, $16.50) is a novel about fly-fishing women.
It is also a journey of recovery and discovery that leads from Charleston, S.C., to the mountain streams of North Carolina.
The story follows Mia Landan, who is in her 30s and a survivor of breast cancer and a radical mastectomy. Depressed, she lets her sister talk her into going to a fly-fishing camp with other breast-cancer survivors. The camp, called Casting for Recovery, is led by a feisty redhead named Belle Carson. The story begins as Mia returns home from the camp to discover her husband is cheating with another woman. Terribly hurt, Mia drives away and finds herself back at the fishing camp just in time to catch Belle as she is about to go home.
When Belle learns Mia's story, she offers Mia an old rustic cabin that Belle inherited from her grandmother in Watkins Mill, N.C. Belle hasn't had the chance to clean it out, yet, but if Mia doesn't mind, it is hers for the summer, free.
They drive to the cabin together, but Belle won't say much about her grandmother. It is such a sore point that she makes Mia promise not to ask anyone in the town about her grandmother.
"Don't go stirring up the mud," Belle tells her. Then she leaves Mia in this musty old cabin in the woods.
Mia senses a presence in the cabin and as she explores, she finds a diary that belonged to Belle's grandmother, Kate Watkins. Mia is intrigued with the diary. Now the real story begins.
The diary is extraordinary—full of beautiful wildlife drawings, brave honesty and precocious insights for a girl born in 1900. Mia soon learns that Kate Watkins was once well known as the area's finest fly-fisher and guide. She also discovers, however, that Kate had been accused of murder and adultery.
The rest of the novel follows Mia in her search for the truth. Along the way, she makes friends with the townsfolk who help her research.
She also meets Stuart McDougal, a fly-fisherman and guide who helps Mia become more at ease with fishing and with herself. The friendship grows into romance as the summer progresses.
Mary Alice Monroe's novel is full of fly-fishing, as well as personal growth. The feelings of being on the river and in the woods are progressively elaborated as the character develops fishing skills and becomes attuned to her surroundings. To quote Belle's advice to Mia: "Fighting demons is all fine and good. But sometimes you just have to have a good time ... And remember. Trout live in beautiful places."
Similarly, the details of Mia's relationships with the people of the town of Watkins Mill are enhanced over time as she makes friends and loses her shyness. There is the satisfaction of having someone who was profoundly wounded ultimately persevere and heal.
As Mia's character faces the challenges of her new situation, she and the story become a little deeper and more satisfying.
The novel is part mystery and part romance, and the conclusion ties up all loose ends, perhaps a tad too neatly. These elements make this book a satisfying summer read for those who like romantic novels. If you want a hard-edged drama, look elsewhere, but for a good-natured story of personal growth, mystery, romance and fly-fishing, this is the ticket.
Mary Alice Monroe will sign copies of "Time is a River" July 15 at Lemuria (202 Banner Hall, 4465 I-55 N.) beginning at 5 p.m. Call 601-366-7619 for more information.
More stories by this author
Support our reporting -- Follow the MFP.