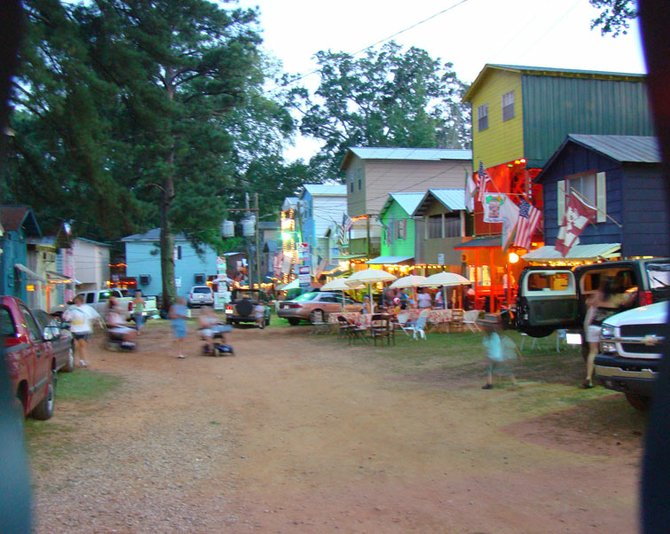 After years of taking photographs as a hobby, Andrew Willis has recently begun to devote more time to his art. As a child, Willis watched his brother Jimmy Ben develop prints in a darkroom behind Willis' elementary school. It seemed relaxing, and Willis became intrigued. When he was 15, the Choctaw, Miss., native received a camera for Christmas, and his interest grew as he began to travel.
Willis' exhibit of prints, "Tamaha" (meaning "city" or "town" in his native Choctaw), currently hangs at the Mississippi Arts Center and is an illustrative documentation of his travels. Many of the exhibits' prints reveal Willis' obsession with architecture. He has photographed rooftops, restaurants, cemeteries, and storefronts in Chicago, Paris, London and Mississippi.
"For some odd reason, I like the look of old buildings," Willis says.
The subject matter is also often iconic—famous buildings, familiar street scenes. "I usually make a trip back to the place and try to take a picture from every angle if possible," Willis says. "I am looking for something I did not see or find at the time. I go back hoping to capture that moment."
The first image in the exhibit, "Six Centuries Watching Paris," is perhaps the strongest. The sepia print features a stone gargoyle looking sullen, with head-in-hands. The gargoyle is in the foreground and is in shadow, but you can see the stonework and weathered features in detail. In the background are the Basilique du Sacre Coeur and sunlit rooftops of Paris, rolling into the distance. Willis says it is his favorite photograph in the show: "I just like the way it picks up everything off the gargoyle; the little cracks and crevices."
In contrast to his sepia photos, some of Willis' photographs are richly colorful, such as "Pub on Wellington." This image of the outside of a London pub shows a bold red entrance, a gold lettered sign and overhead window boxes overstuffed with plants overhead. A man is caught just stepping off the curb. The print is arresting in color as a result of attention to the natural light.
"Neshoba County Fair" is the only blurry photograph in the exhibit. Willis' use of a long exposure creates a dreamlike effect of blurred motion and deeply saturated colors. People appear ghostly in the twilight. The string lights glow fat as they hang over the striped yellow umbrellas, and the twilight sky above is gray-blue and raked with treetops.
While Willis tries to manipulate the same photograph by experimenting with height, angle and other techniques, sometimes, it's all about timing, he admits. "I like to capture it at the right time at the right moment, but sometimes it's just not there, or the clouds or the sun or whatever is just not there," he says.
His black-and-white series of Greenwood photographs include "Delta Junkyard," a landscape that Willis shot while riding a train to Chicago. The details in the print are difficult to make out as just the highlights are clearly exposed. The sun is prominent in a clouded sky with a water tower keeping sentinel over a jumble of wrecked cars. The dark exposure gives the composition with its tower a medieval or post-apocalyptic feel. The Chicago series of photographs concentrates on building design, and how it interacts with the environment. In "Descending Clouds," the Sears Tower soars upward in geometric splendor, converging but never meeting as it disappears into low clouds. "Chicago Approach by Train" depicts a river view of the city's skyline in the distance, softly reflected in the water.
"I saw the railings of the bridge that the train was pulling up into and thought that would be a perfect photo," Willis says.
"Serveur Pablo" is a black-and-white print of a waiter standing in front of a Parisian sidewalk café. With a cowboy-like stance—legs apart, one foot on the curb and his hands in front in fists together—he is king of his domain. Willis waited 30 minutes and took more than a dozen photographs to get this shot. This gem is almost hidden behind the elevator on the side facing the stairs and where the elevator door opens. Don't miss it.
Willis is currently working on a series of photos of cemeteries and would like to go to Yosemite National Park to shoot some landscapes, as well as to New Mexico to take photos of adobe dwellings. While Willis is spending increasingly more time to capture the perfect images, he isn't alone. His recent notoriety has prompted his brother to pull out his old camera. The method of producing prints has changed since Willis watched his brother in the darkroom. But the magic and intrigue is still there.
"Tamaha" hangs at the Mississippi Arts Center Through Aug. 17. For more info, call 601-960-1500.
Previous Comments
ID

133057

Comment

My late grandfather's name was Andrew Willis. What a cool coincidence. My granddad wasn't a photographer, but he could grow a mean garden.

Author

LatashaWillis

Date

2008-08-14T02:22:17-06:00
More stories by this author
Support our reporting -- Follow the MFP.