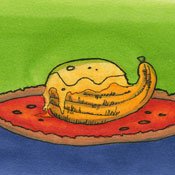 Many ways exist for one to entertain the taste buds with warm bread—the kind that is slightly crunchy with a soft middle, piled high with gooey mounds of salty cheese paired with an endless list of toppings. In my world, pizza is the best way to do this, and because I've grown tired of the same old ways of making it, I plan to use my own produce.
I love how much produce summer yields, especially here in Mississippi. Since I was a little towheaded girl with clay-stained feet, I have become familiar with varieties of peas, beans, tomatoes, squash—you name it, my Mamaw probably raised it and employed my eager fingers for picking and hulling. The best of all of these was the crooked neck yellow squash, which I still use endlessly during the summer. My housemate has become fond of making fritters with them, while I slice them to eat raw or sauté in some mild oil with fresh ground pepper and sea salt.
When I lived in Oregon, my friend Jess requested a squash pizza, and a monster was born. Initially horrified—but entirely intrigued—I accepted the challenge. It gave a new meaning to "veggie pizza" for me. Pretty soon the summer squash pizza gave way to imagining the many uses of summer produce and informed our meals in the fall.
I make my own pizza dough with whole-wheat flour and honey, as well as my own tomato sauce. My Mamaw cans tomatoes every summer, and I usually take advantage of that and cook them down with fresh basil, making a very simple sauce.
The secret to this pizza is what you put on it at the last moment before it bakes in the oven: roasted cloves of garlic on top of the sprinkles of mozzarella, sliced black olives for a briny addition, caramelized onions, and on and on. Whenever you shop at the markets or go to the grocery store and pick up vegetables, think about how you can cook them. Who says you can't take that eggplant and plop it on top of a pizza?
Too many times, we think of pizza as a wholly unhealthy indulgence when it could be a good vehicle for getting vegetables into your diet. Think about the ways that pizza is unhealthy and make easy substitutions. It's not all that hard, and the meal can be an inexpensive staple for your household if you stock your kitchen with ingredients like wheat flour, olive oil, reduced fat cheeses (which are also totally optional for pizza), tomatoes and dried herbs.
Next time you decide to make pizza, chop some squash or roast sweet potatoes, add spinach for iron (maybe not all at once, but challenge your taste buds) and invite some friends over. You can make a large batch of dough and divide it for personal pizzas or go the pre-made route and pick up dough from the grocery store. Create a smorgasbord of toppings and have a happy, interactive dinner-making party.
Quick Honey Whole Wheat Pizza Dough
1 package of active dry yeast (or 1 and 1/4 teaspoon out of a jar of yeast)
1 heaping, dripping tablespoon of honey
1 cup warm water
2 cups wheat flour (you can also cut this with wheat germ for a hearty crust)
1 teaspoon salt
1 tablespoon olive oil
Empty yeast and honey into a large bowl and pour warm water over it, stirring just enough to blend it. (Note: Hot water is a sure way to kill your yeast, so be sure your water is warm). Let mixture sit for about 10 minutes to bloom until it looks creamy. Add oil, salt and flour in two parts, mixing until dough pulls away from the sides of the bowl. Turn out of bowl and lightly rub with oil. Return the dough to the bowl and cover with a towel or plastic wrap to sit in a warm spot for about one hour until it has doubled in size. Punch it down and turn out of bowl to knead with a little with oil, and begin your pizza making.
Produce Pizza: Yellow Squash Edition
Pizza dough (see recipe)
1 cup tomato basil sauce
1 cup reduced fat shredded mozzarella
1 cup generously sliced yellow squash (tossed in mild oil)
1 small can sliced black olives, drained
1/2 cup sliced Vidalia onions
5-6 garlic cloves, lightly roasted
1 teaspoon olive oil
Fresh ground black pepper
Begin by rolling out dough on a lightly floured surface to about 1-inch thickness. Spread olive oil evenly and flip over onto stone or pan. (Note: The best way to get a nice crusty dough is to cook your pizza on a pizza stone. If cost is an issue, you can use a quarry stone often found at hardware stores. Thanks for the tip, Alton Brown!)
Gently press middle out to create raised edges and spread tomato sauce evenly. Sprinkle cheese and onions on top of sauce. If you roast the garlic, let the cloves cool and then squeeze out whole cloves evenly over the surface, and place squash and olives on pizza. Brush the edges of the dough with oil. Grind pepper across and place into a preheated 375- to 400-degree oven.
Bake up to 15 minutes, keeping an eye on how melted your cheese is. Remove and let it cool. Don't burn your mouth, no matter how delicious it looks!
Previous Comments
ID

150629

Comment

Yummy! When I visited Portland this summer, I had a delicious piece of pizza at the Farmer's Market that had yellow squash and zucchini on it, with a pesto sauce. It was sooooo YUM. I'm going to try your pizza dough recipe and see if I can't recreate that squash pizza!

Author

andi

Date

2009-08-06T10:54:28-06:00
ID

150637

Comment

mmmmmm this sounds good

Author

Izzy

Date

2009-08-06T14:33:38-06:00
ID

150677

Comment

It does sound good. I love summer squash on pizza because it cooks more thoroughly than many vegies and pairs well with tomatoes and basil and onions. Lately my favorite homemade pizza is a pesto sauce pizza with artichokes hearts, fresh slice tomatoes, asiago cheese and sometimes shrimp.

Author

gwilly

Date

2009-08-07T11:12:52-06:00
ID

150710

Comment

For an easy way to add more veggies, add coarsely grated zuchinni to pizza sauce and simmer for a few minutes before assembling pizza ingredients. This is also a great way to get kids to eat their vegetables.

Author

wjstrowd

Date

2009-08-10T13:16:48-06:00
More stories by this author