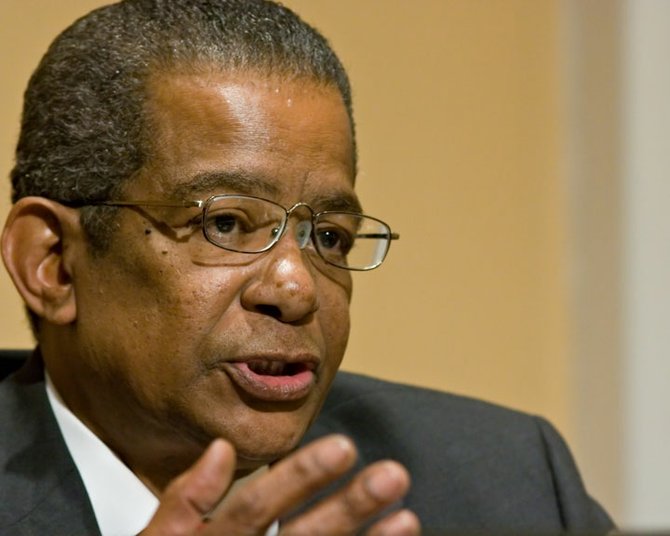 JACKSON — May 30, 2005—Frank Ervin Melton, who turned 56 on March 19, went to The Birdland on Farish Street last Tuesday, April 19, with a no-nonsense promise for the hip-hop generation: Elect me, and I'll build you a recording studio right here in Jackson.
After Kamikaze, wearing a "Hustle or Die" shirt, introduced Melton to the crowd—members of the recently formed Mississippi Arts and Producers Coalition (M.A.P.)—the mayoral hopeful took the microphone, determined to "get real," as he called it, with a neon martini sign glowing over his shoulder.
'Thank you for letting me come to our neighborhood," he said, wearing a crisp, white dress shirt.
Melton wandered around the dance floor as he laid out his credentials: He said he's chairman of the contracts committee for BMI (Broadcast Music Industry), a recording rights organization for songwriters, composers and music publishers that represents the likes of Whitney Houston, Carlos Santana and rapper T.I. That means, Melton told the crowd, as mayor he can build a high-tech recording studio right on Farish Street "so you can produce your music.'
The promise of a new studio was a running theme throughout the talk to M.A.P. members, coming up in response to most every question. Also firmly imbedded was Melton's signature advice to young people: take responsibility and stay out of trouble, preached the same to the convicts in the audience and the college grads without distinction. "There's nothing wrong with power, with influence, with money as long as you use it to help other people," Melton said.
'I Did What I Had to Do'
Giving young people this advice—or getting them arrested, or adopting them—seems to be Melton's raison d'etre. He's been pursuing his dream of getting youths out of gangs and off drugs since soon after he made Jackson his second home in 1984. That, along with his signature tough-talk quips, have made him quite the folk hero in these parts. He is revered by many—and distrusted by others—for his intense focus on young people, especially black males, as well as his often brash answers to urban issues, immortalized in transcripts of his WLBT "Bottom Line" editorials.
On April 30, 2002, he criticized Mayor Johnson for hosting the prestigious National Association of Black Mayors in Jackson. "What would happen if the city of Jackson hosted the National Association of White Mayors?" On May 21, 2002, he said: "[O]ur current welfare system feeds right into our prison system. " People, in my opinion, can do a much better job of taking care of themselves as opposed to having the government take care of them." On July 2, 2002, he called for "public interest groups like the NAACP, the SCLC, the KKK and others" to close down private prisons in the state. "[M]ake them close that mess down and put the money in education and prevention," he said. However, he hasn't addressed closing prisons during this campaign.
At Birdland, Melton pointed out M.A.P. members that he knew—from Raphael Tate, whom he said he sent to Tougaloo for four years—to Donald Ray Quinn ("Donnie Money"), whom he said he sent to prison for 12 years. "I did what I had to do," Melton said.
Melton also mentioned 14-year-old John Ferguson, who was killed with a shotgun blast to the chest. "I had to bury him," he said. Melton, along with the TV-3 Foundation he heads, has paid for burials over the years, mostly through Peoples Funeral Home on Farish Street.
'I'm not going to bury any more kids," he said. "I'm going to send them to college. " If I'm gonna come at you, I'm gonna warn you. I'm gonna plead with you to do the right thing. " When I come at you the second time, I'm coming. "Donald Ray Quinn can tell you that. " I loved him before I put him in prison, and I love him tonight." Quinn stood up and said Melton didn't send him to jail; the federal government did. He and Melton hugged afterward.
Tough Love
Friends of Melton say he takes a tough-love approach with his young people, including his two biological children who grew up with their mother, pediatrician Dr. Ellen Redd Melton, in Tyler, Texas, and dozens of others Melton has adopted, formally and not, over the years. They have lived both here and in Texas, he says, and many are enrolled at colleges in and out of Mississippi. Some, though, did not hold up their end; some are dead; some are in prison.
For about 14 years, Melton's base of operations here has been a double-gated estate, complete with fishing hole and swimming pool at 2 Carter Grove, at the end of a street in well-to-do Northeast Jackson. Before that, he lived in Madison County. He has a sporadic voting record with overlapping registrations popping up both in Hinds and Madison and back in Texas, but with few provable instances of actual voting in any of the locales. He also owns a 4,457-square-foot home in Flint, Texas, with Dr. Melton—where his homestead exemption also resides.
The young people he brings into his cocoon—mostly at-risk males—become a strong part of his life on Carter Grove, he told the M.A.P. meeting. "It's the dirtiest damn house you are going to find in Mississippi," he said, "but they go out there and go fishing, and go swimming," and that "most of your nephews and kids have been out to the house." He told the young people that the suit he wore to the WJTV debate was his first new one in five years, and that he's been wearing the same pair of tennis shoes for 12 years. And he drives "a piece of damn junk Chrysler." Why doesn't he treat himself to luxuries? "That's a college scholarship." He told M.A.P. that he has "34 black kids in college right now."
Despite his description, though, Melton rarely looks ragtag when he's seen around town, especially at the University Club where he's a member and where he sometimes brings his adopted sons to eat and socialize. The young men also, reportedly, have their own tuxedoes, which they wear to upscale events around the city with their father.
Wealthy and Proud
Melton has been very wealthy—especially since he sold WLBT to Liberty Corp. of Greenville, S.C., for $204 million in 2000. He is willing to parade his wealth in his aim-for-the-jugular fashion. "I own the home. I pay city taxes, and truth is, I pay more in taxes than they make in their lives," he said of the local Democratic officials who, on April 4, challenged him for lying to them several weeks before about whether he had filed homestead exemption in Jackson during a qualifications interview. He told them flat-out that he had filed here, but he had not. Some Democrats are now worried that Republicans could challenge his residency should he win the May 3 primary.
Whether wooing rappers on Farish or the wives of rich Republicans in North Jackson, Melton often relates the story of growing up poor in Ward 5, a tough urban neighborhood in Houston, Texas. But as his family—a college professor and a high school teacher—did better, they were able to move to a more middle-class neighborhood. Melton said at a breakfast March 14 that he first tried to attend a military college in Texas. "But they didn't let me be a general, so I transferred," he quipped.
He ended up at Stephen F. Austin University in Houston, where he has said he worked his way through college, by working in the dorms at a nearby school for the mentally disabled. The Clarion-Ledger reported in 1998 that after Melton left Stephen F. Austin, he worked at several Texas TV stations and eventually worked his way into management. (Melton initially invited the Jackson Free Press to his Carter Grove home for an interview, but rescinded the offer after we reported that he said at Bravo! that he was running as a Democrat only so he could win in a majority-black city.)
His "dual residency," as he calls it now, between Texas and Mississippi began when his newly formed company, Civic Communications Inc., bought WLBT-TV in 1984, and he came here as the new CEO. Melton likes to say that he arrived with "a baby on one arm and a wife just out of med school and dead broke," as he repeated both to the Bravo ladies and the M.A.P. musicians.
In reality, though, Melton was likely not broke when he arrived here, and Dr. Melton never lived in Jackson, as her sister-in-law Carolyn Redd, a sports marketer based in Houston and now Melton's campaign manager, told the JFP in February. Her career was too demanding, and she wanted to raise her kids at home in Texas. So the husband and father commuted in a private plane. He has said that he managed to be at many of his children's important events—although he did miss his 25th wedding anniversary.
"Somebody needed to be the full-time parent," Redd said, adding that the family still have not decided whether Dr. Melton would relocate here to be the first lady. "She may retire," Redd said, adding, "That is the family's decision to make.'
Upon Melton's takeover of the country's largest black-owned TV station, the problems—and the complexities—of his reign as Jackson's loudest contrarian began. Twenty-two years later, almost to a person, every long-time Jacksonian either loves or hates Melton—and nearly all can point to a damn good reason for it.
Boycotting WLBT
Originally owned by Lamar Life Insurance Company of Jackson, WLBT was an extremely racist station through the 1960s, refusing to cover race problems or give platforms to men like Aaron Henry and Medgar Evers of the NAACP. As detailed in Kay Mills" 2004 book, "Changing Channels: The Civil Rights Case that Transformed Television," a bi-racial citizens" group together challenged the FCC to strip the license from the station, which it did in 1969. The station was then turned over to a group of community leaders, making it one of the first minority-owned TV stations in the country.
But when Melton arrived in 1984, his actions caused an African American boycott of the station. He fired popular black station manager William Dilday—the first black network general manager in the country—as well as Walter Saddler, WLBT's chief anchor, also black. Melton was accused of union-breaking: a charge with enough evidence backing it that the National Labor Relations Board cited the station for unfair labor practices and delayed its decertification vote'an irony today, considering that the AFL-CIO has endorsed Melton for mayor.
Mayor Harvey Johnson Jr. uses this fact, which still rankles many in the black community, against Melton. "I'm the first mayor who's ever recognized a police union in the city, and I'm the first who's recognized a firefighter's union. This guy, the first thing he did when he got the reins at WLBT was break up the union," Johnson said in an interview.
When Johnson brought up the union-busting at the April 17 WJTV debate at Murrah High School, Melton admitted that he behaved badly then. "I made a mistake," he answered.
The bigger faux pas for many, though, was that Melton then sold the nation's largest black-owned TV station—and his others in Texas—in 2000 to a publicly traded company, Cosmos Broadcasting, a subsidiary of Liberty Corp. In her book, Mills reports that Melton's sale of WLBT coincided with the drop of minority TV ownership to the lowest point since the government started caring in 1990'only 1.9 percent of licensed stations in 2000.
Still, the station, and its eventual sale, helped make at least one African American a very rich man, and he is still involved with WLBT in tangential ways. His office is in the WLBT building, he established the TV-3 Foundation to help pay for his good deeds, and remains chairman of the board.
'What's the Plan, Brother?'
Of medium height and stature, Melton has a huge personality. His strength and Achilles heel is his tendency to proclaim grandiose actions, while glossing over—or perhaps forgetting to iron out—the details. For instance, the homestead exemption that he said he filed here but never bothered to. Or, the promises he made in April 1992 when he was appointed to the State Board of Education about helping reform public education in the state'but was then criticized for not showing up for enough meetings. Or his pledge to sweep drug dealers into prison as head of the Mississippi Bureau of Narcotics—but with few drug convictions as a result of his 14-month stint there.
Now, as a candidate, Melton is promising to not only clean up crime in the city during his first 30 to 90 days in office—saying it'll be done with "leadership" and by immediately firing the police chief—but he says he will partner with unions to pay inner-city kids $20 to $40 an hour to rebuild dilapidated housing in the inner city.
The AFL-CIO says the money for those generous wages will come from their $17 billion pension fund. But the details of how the program would work—including getting crumbling homes untied from their legal ownership problems—are characteristically sketchy. At the M.A.P. meeting, several attendees, all college grads, asked Melton for his specific plans as mayor.
Rapper Skipp Coon: "What are you going to do to help Jackson, other than build a studio and buy stuff. People have done that. What's the plan, brother?'
Melton: "Here's what I'm going to do, young man. I'm entering the fall of my life. The only thing I have left now in my life is to make sure you all have the same opportunities I had. I want a studio on Farish Street.'
Coon: "Great, but that don't help Jackson. That's what I'm trying to get you to see. You ain't got to be mayor to do that. You're not answering my question."
Melton: "No, you're not listening to me. I want a studio right here in my neighborhood. What you don't understand, young man, I want something down here for people who have taken care of me for the last 22 years. I respect you. I love you. You're just like Frank Melton. You gonna get to the bottom line. I'm chairman of the board of BMI. Use me. As mayor I'm gonna make sure everybody is taken care of.'
At that point, another young man—Isaiah Sanders Jr., as in the family that the Farish Y is named after—jumped to Melton's defense: "I'm a n*gga from the streets," he said. "I know him. He gonna do what he says he's gonna do.'
Soon, though, another member picked up Coon's thread: "What kind of plan do you have to bring businesses back to West Jackson and around Metrocenter?" he asked.
Melton: "I've been in business for 35 years. If I had a choice, I wouldn't be on Wall Street; I'd be on Farish Street. I can connect you with the people who can help you as long as you will do the right thing. Hold your head up, forget about all this bullsh*t and go for it."
He then apologized to the ladies in the room for his language. "I'm talking to my children tonight," he added.
The Angry Man
The "angriest man in Mississippi" earned that reputation starting in the late 1980s due largely to his willingness to lambaste people of his own race, from drug users to police chiefs. In the late 1980s, he started targeting drug dealers and gang members wreaking havoc in the inner city during that time—when crack was king in cities around the country, causing record-high spikes in crime. He obtained—illegally, the police alleged then—mug shots of young black men, including Donnie Money, believed to be dealing drugs, and had them blown up onto billboards around the city. This tactic was a double-edge sword—on the one hand, putting gang members on notice that he was after them and, at the same time, ingratiating Melton to white conservatives who believed that young blacks were "super-predators" who needed to be put away.
At the April 17 debate, the mayor challenged Melton's methods. "How does putting black men's pictures on billboards divide this city?" he asked.
Also pleasing conservative supporters, Melton's "Bottom Line" commentaries over the years have targeted the city's black leadership—calling, for instance, for them to yell and threaten judges more. On Feb. 13, 2001, Melton went after Johnson during his first re-election bid because a "habitual car thief" was out on bond and had committed violent crimes. "Sir, why do you not simply step across the street and tell the city judges and the police department that the very next time that this happens that their judicial careers are over? For heaven's sake, man, show some leadership."
On Nov. 3, 2001, just months after Johnson was re-elected, Melton said: "Mayor Johnson will go down in history as being one of Jackson's worst mayors because of his ineffective leadership, his ego-driven management style, and his inability to get help when he needs it. This will be his last term in any political office." He called Johnson "brain dead" on Dec. 20, 2001.
Playing Musical Chiefs
When Johnson first hired Police Chief Robert Moore in 2002—the 11th chief since 1989—Melton was thrilled with the choice. "Marshal Moore is a good and decent man with Mississippi roots," he said on WLBT on June 4, 2002. He likened the former U.S. Marshal and expert on black-on-black crime to former Chief Robert Johnson, a black chief dedicated to traditional "zero tolerance"-style policing—meaning lots of arrests and jail time for even minor crimes—who Johnson fired when he took office. "Both men are very smart, and their integrity is beyond reproach," Melton said then.
Today, however, Melton is targeting Moore as inept, and alleging that the falling FBI crime statistics for Jackson—crime is down 21 percent since Moore came, and 35 percent since Johnson took office—must be doctored, but providing no evidence of the serious charge. All other projects, including downtown development that Johnson believes will lead to a renewed tax base and more jobs in the city, must take a backseat to crime-fighting, Melton says now.
This is not the first time Melton has been down the blame-the-chief road. Melton's loudest outrage over the years was directed toward another black police chief, Jimmy L. Wilson, who was brought here from Washington, D.C., in 1991 by then-Mayor Kane Ditto, who is white, after he promised African American voters he'd appoint an effective black police chief if they would re-elect him. Wilson was known for being tough on black-on-black crime, and he believed in the newfangled concept of community policing.
The chief arrived in 1991 to a city with an ingrained leadership culture, however, and an explosive climate. The demographics of the city were rapidly changing—with white and affluent flight steadily increasing and the crack epidemic and poverty at record-high levels. Wilson was determined to clean things up and didn't mind ruffling feathers along the way—from the district attorney to prominent citizens. The city started working with the FBI to fight drugs and gangs together for the first time, instituting Operation Street Clean, which netted dozens of arrests in its first year.
But on Halloween 1992, something happened that would rock the city—and start a feud that would eventually lead to Wilson's demise: A Hinds County Juvenile Detention Center guard was arrested for raping an under-age female inmate there. The arrest started the unraveling of years of problems at the center—ranging from unsanitary conditions, to corruption, to sexual abuse of juvenile inmates. Charging "gross mismanagement," Wilson ordered 16 of the 25 cells closed immediately and replaced Frank Bluntson, who had directed the center for 23 years (and is today running for City Council in Ward 4).
Using a sworn statement from one of the guards, the chief wanted District Attorney Ed Peters to ask a grand jury to indict several guards accused of rape. Peters refused, saying that the teen girls—all under 18—had consented to the sexual activity, even though they were in custody; thus, he could not build a case for the grand jury. Meantime, Bluntson made a deal that he wouldn't be prosecuted if he resigned from the department—and immediately went to work part-time for his 20-year friend, D.A. Peters, investigating bad checks.
Wilson became increasingly frustrated that he could not convince Mississippi FBI agent-in-charge, Joseph L. Jackson, to investigate the abuses at the center for violation of the young people's rights, as well as corruption by government officials. Jackson said the FBI had no jurisdiction.
In July 1993, according to media reports, the feud between Wilson and Jackson blew up after the chief pulled a detective off the JPD-FBI joint drug task force in order for him to investigate unsolved murders on Valley Street. Over the following days, Jackson told the media that the move was "retaliatory"; D.A. Peters announced he had "no working relationship" with Wilson; the mayor said Peters" comment was "politically motivated." Wilson then lambasted Jackson's "vicious attack" on him, calling it "mean-spirited."
Wilson also told media the arrests to date were the "tip of the iceberg" and that "new names" kept surfacing—one of those names was WLBT exec Frank Melton, whom a four-page police report said had been accused by two young men of sexual molestation, according to media reports at the time. On Aug. 3, Wilson and Jackson made a joint statement: the Department of Justice had directed Jackson to investigate the case. The targets would include "other prominent members of this community as well," Wilson stated.
A month later, on Sept. 3, 1993, Jackson announced his retirement from the FBI after 26 years. As of Oct. 1, he would be the second in command at WLBT, under Melton, reportedly drawing a $140,000 paycheck. He had no television experience, but Melton told the media that he was about to make several new station acquisitions in 1994 and 1995, and Jackson "has an impeccable record at the FBI." Jackson would later follow Melton to the Mississippi Bureau of Narcotics, where he served as his deputy director. On Sept. 24, Melton threatened to hire the "richest lawyer" in the U.S. to sue the city for $10 million over the allegations contained in the report.
In May 2, 1994, Mayor Ditto seemed to bow to political pressure—and Clarion-Ledger editorials—and fired Wilson who, in turn, said he was fired because he tried to get to the bottom of the detention center scandal. The NAACP and other black leaders rose to Wilson's defense, saying they "would not forget" when Ditto ran for reelection in 1997 (which they didn't, electing Harvey Johnson). Later that month, Ditto convinced Peters to put charges before the grand jury. Finally, several guards were indicted.
Roots of the Rumors
The allegations, which were never substantiated (the two young men who made them were killed), still dog Melton today. Although no member of Mayor Johnson's campaign staff has brought them up to the JFP, many people—both detractors and supporters—whisper about them widely in the community, some treating the rumors as fact and some questioning how they could possibly be true of a man who has done so much for young people over the years.
Melton blames the former police chief. "Jimmy Wilson is dumb as a box of rocks," Melton told the ladies at Bravo! in March. One of the women at the breakfast brought up "the rumors" to Melton, saying that his opponents were sure to use them against him. Melton did not hesitate to detail what the rumors were—pedophilia and drug dealing—and said they were trumped-up charges "by the police." Melton also accused the mayor's supporters of trying to dredge the charges up and pay people to sign affidavits to say he had molested them.
Johnson denies trying to use the old rumors against Melton: "I have not, nor has my campaign, been involved in that type of campaign. We have not started those rumors and have not perpetuated any."
A May 15, 1994, Newsday article, by Pulitzer Prize-winning reporter Jim Mulvaney, has been circulating e-mail boxes. The article, reprinted in the Dallas Morning News but not in a Mississippi paper, details the juvenile-detention saga, and spells out the accusations against Melton.
Mulvaney, who now manages an international private investigative firm located in the Empire State Building, said in an interview last week that he still stands by the story, one of his "most lawyered ever" as a reporter. He says he is "shocked and astounded" more arrests didn't result. He said he tried to get other media outlets in Mississippi to investigate it more, but to no avail. "Everybody was out to get Jimmy Wilson, instead of looking at anything else," he said. Wilson, now working in Virginia, could not be reached for comment.
The former reporter, who will speak on Kim Wade's radio show on WJNT Wednesday, April 27, at 5 p.m., remembers being bewildered that the FBI refused to get involved. "What were they thinking?" he said. He said he wouldn't have written the story had he had any question about the veracity of the police report or Wilson's investigation. Mulvaney blames The Clarion-Ledger, in part, for not digging deeper into the story and not proving it one way or the other. "They said it was too long. That was part of it, but nobody was rocking the boat there," he said.
Archives show that local media reported that a four-page police report had been mailed to journalists, and that Melton was accused of wrongdoing in it, but the story seemed to peter out.
Melton says that he was set up by police he criticized'a department that he said had tried to plant drugs on him in years before the report surfaced. And, as he pointed out at Bravo!, his background check for the MBN director's position did not turn up any criminal offenses.
Melton at MBN
Melton was a colorful figure at the Mississippi Bureau of Narcotics from December 2002 to January 2004—often walking around in camouflage with a gun on his hip. He set up roadblocks near the state Capitol to search cars for drugs—an action deemed unconstitutional by the U.S. Supreme Court. Still, he told the Associated Press that the state should be able to bypass the restriction. This led the Greenwood Commonwealth to editorialize that Melton's "tough-love approach" may have worked with young people one-on-one, but was not appropriate for law enforcement agencies to "play cop and judge both." The Emmerich paper stated: "Melton's job is to catch the bad guys within the guidelines of state law and the U.S. Constitution. It's someone else's to decide what happens to them after they're caught."
At the April 17 debate, Johnson said Melton was let go from MBN due to an abysmal number of drug arrests. Melton responded that he had put gang members out of business while he was there and challenged the media to factcheck his record. Hinds County District Attorney Faye Peterson said in an interview that Melton did have success with unsolved cases of violence while he was at MBN. "But those are not drug cases," she said. "Those are violent crime cases and homicides. These are homicides that were cold cases for the Jackson Police Department. Those cold cases were not brought to my office for presenting to a grand jury until after he left MBN. He did get them rolling."
Gov. Haley Barbour issued a press release in January 2005 saying that drug arrests for 2004 were up 73 percent over 2003--when Melton was at the helm of the agency. MBN agents made 2,520 drug arrests statewide in 2000; 2,438 in 2001; 2,358 in 2002; 1,820 in 2003 (while Melton was in charge); and 3,156 in 2004.
Legal controversy also followed Melton to MBN. In April 2003, he allegedly leaked an investigative report written by agent Roy Sandefer to the media. The report detailed instances of past corruption by four agents—Jimmy Saxton, Robert Earl Pierce, Bill Taylor and Ronald Pitts—that ranged from transferring planes allegedly to curry favor with Sen. Trent Lott's office to approving bogus overtime payments for agents. At the time, Melton did not say that he had leaked the report, but made a lot of noise to the media about fully investigating the allegations and ridding the agency of corruption. His deputy director, Joseph Jackson, presided over the hearing that fired at least one of the agents.
However, the state auditor's office seem to vindicate the accused when it supported a report recently saying the men, except for some minor infractions, had not violated the law in any way. The men are now suing Melton, along with The Clarion-Ledger, for libel. The complaint, filed in the Circuit Court in Newton County on March 30, 2005, states: "Frank Melton leaked the Sandefer memo to the defendants with the expectation that a newspaper story would aid and abet his media image as an action-oriented public official and crime fighter." (This account represents only one side of a legal argument.)
A Man of Style
Today, Melton says he is the leader Jackson needs because he will not take his time like Harvey Johnson, that he will forge full speed ahead and get it done quickly. On April 16, 2002, Melton told his TV audience that Mayor Johnson "completely lacks substance." On April 24, 2005, Clarion-Ledger Editorial Director David Hampton said the choice between the two is "substance" (Johnson) or "style" (Melton). The candidate for mayor is clearly a man with his own vision, and style. The question for Democrats on May 3 is whether it's the right style for the mayor of Jackson.
Additional reporting by Adam Lynch.
Copyright Jackson Free Press 2005. Any use of quotes from this story must be expressly attributed to the Jackson Free Press.
Previous Comments
ID

Comment

Is no one on this thread bugged by: 1. Melton's unconstitutional use of roadblocks and 2. This paragraph, from near the end of the profile, where it appears that Melton leaked a report that was later proved unsubstantiated and destroyed the careers of at least one person? Legal controversy also followed Melton to MBN. In April 2003, he allegedly leaked an investigative report written by agent Roy Sandefer to the media. The report detailed instances of past corruption by four agents - Jimmy Saxton, Robert Earl Pierce, Bill Taylor and Ronald Pitts - that ranged from transferring planes allegedly to curry favor with Sen. Trent Lott's office to approving bogus overtime payments for agents. At the time, Melton did not say that he had leaked the report, but made a lot of noise to the media about fully investigating the allegations and ridding the agency of corruption. His deputy director Joseph Jackson presided over the hearing that fired at least one of the agents. However, the state auditor's office seem to vindicate the accused when it supported a report recently saying the men, except for some minor infractions, had not violated the law in any way. The men are now suing Melton, along with The Clarion-Ledger, for libel. The complaint, filed in the Circuit Court in Newton County on March 30, 2005, states: "Frank Melton leaked the Sandefer memo to the defendants with the expectation that a newspaper story would aid and abet his media image as an action-oriented public official and crime fighter."" (This account represents only one side of a legal argument.)

Author

kate

Date

2005-05-02T18:21:00-00:00
ID

Comment

I think all this constant harping on race is racist. The color of a man's skin should be of no more significance than the color of his eyes.

Author

Wyatt Emmerich

Date

2005-05-03T00:00:00-00:00
ID

Comment

So you do. I think your paper promotes division in the city. And your comments on the topic ring hollow, Wyatt. Sorry. I wonder if your same conclusion applies to all the columns you run telling people why they should not talk about race anymore. Are those "racist," too? Or does that label just apply to people who might think that our transformation isn't quite complete, yet, and that a bit of conversation might help us all? Also, have you ever noticed that whenever someone uses the word "harping," it's always about a topic they would prefer not to be discussed - but that needs to be. Wyatt, honest discussion is never racist - even it it makes some folks uncomfortable. Our job as journalists is to afflict the comfortable, and afflict the comfortable, you know - although some prefer to comfort the comfortable and afflict the afflicted.

Author

ladd

Date

2005-05-03T00:00:00-00:00
ID

Comment

It's not that we shouldn't talk about race or cease the debate. It's that a continued discussion of it is unproductive unless new perspectives can be offered. Most of what is tossed out there about racial issues is hollow rhetoric we've heard for years, usually from people who are so passionately advocating one point of view that they are unwilling or unable to graciously listen to or tolerate a conflicting opinion. The continuous bickering annoys the many people who don't have heated views on the topic, and they in turn just want the whole subject dropped. I think it's fine for someone to bring up -- but sadly, the ones bringing it up are typically 1 - the unreformed bigot 2 - the vitriolic minority or 3 - the radical liberal still apologizing for the sins of Mississippi's predecessors. These types have monopolized the race debate, much to the detriment of everyone, who as I said before, have grown so tired of it that they want no debate at all.

Author

sny guy

Date

2005-05-03T00:00:00-00:00
ID

Comment

A media watchdog mentioned above would be an excellent addition -- but choose a writer whose credibility and objectivity could withstand the inevitable barbs from readers on the right and the left ... Matt Friedeman and Bill Minor need not apply ...

Author

sny guy

Date

2005-05-03T00:00:00-00:00
ID

Comment

I think it's fine for someone to bring up -- but sadly, the ones bringing it up are typically 1 - the unreformed bigot 2 - the vitriolic minority or 3 - the radical liberal still apologizing for the sins of Mississippi's predecessors. These types have monopolized the race debate, much to the detriment of everyone, who as I said before, have grown so tired of it that they want no debate at all. People who, for one reason or another, are passionate about a topic are generally the ones who initiate discussion. That's old news and it doesn't apply just to race. In your statement above, you dismissed ALL the people who are passionate about the racial issues that still permeate American society. Do you really expect someone who doesn't feel as strongly about these issues to initiate the discussion? To some extent, I accept that people who don't fall into the categories you've outlined above can be intimidated when people in those categories start a discussion. However, if they are of sufficiently good character to want to see actual progress on these issues, it is their responsibility to overcome that feeling and dive into the debate. And stand their ground. If they can't do that, what do they have to contribute to the solution of the problem at all? It will certainly require a large measure of everyday courage to do more practical things to solve it, and if these people can't even tolerate verbal assaults in a debate of this kind, I seriously doubt that they have the backbone to do anything concrete to help solve the problem of racism. Best, Tim

Author

Tim Kynerd

Date

2005-05-03T00:00:00-00:00
ID

Comment

Sorry, sny, it's not up to you to say who can apply and who can't. The readers here are stuck with this "communist," as your blog readers call me, on this one. Thanks for the suggestion from the hinterlands, though. ;-) Your "objective" little framing of Mr. Minor and Friediman as opposites is very telling - just who do you think has more courage in this state. The one who defends or the one who takes on the status quo. [rolling eyes] Cheers, dl

Author

ladd

Date

2005-05-03T00:00:00-00:00
ID

Comment

Also, somehow, the idea that sny and Wyatt are telling us that a discussion about race is "unproductive" is sweet and predictable, but not exactly convincing. Y'all feel free to close your eyes any time that issues get too hairy for you in here.

Author

ladd

Date

2005-05-03T00:00:00-00:00
ID

Comment

Bill Minor takes on the status quo when they aren't his ideological comrades. I never saw him challenging the Democrat establishment in the 1990s. He did great work back in 1950s, 60s, and 70s, but now he's a partisan hack, a poor man's Molly Ivins. Do you think your diatribes about race are productive? Have you changed anyone's mind? Or are you such a polemic that you only enliven people who agree with you and enrage those that don't? Are you promoting racial harmony or just stirring up debate on this blog and buzz for your newspaper? Are people who disagree with you a bunch of ignorami, or do they have a different worldview than you? Are you a uniter or a provacateur? Are you part of the solution or part of the problem? And is the real debate not whether we should discuss issues of race, but whether or not The Jackson Free Press has or will be an effective forum for progress in this ongoing conversation? Since you think it's not up to me to say what I think is and is not, and I acknowledge that I have few answers -- especially from out here in the hinterlands -- I'll let you answer those questions.

Author

sny guy

Date

2005-05-03T18:21:00-00:00
ID

Comment

Sny, you're perhaps unwittingly making my point for me. You're the one who framed Minor-vs.-Friedeman as the two ideological extremes. Now you're saying that Minor has supported status-quo Democrats, which I can see. However, how does that then make HIM the polar opposite, ideologically, of hard right-winger Matt Friedeman (who, BTW, I like as a person, and he's a big fan of the JFP. Printed a letter from him a while back)? Can you see how blinded you are from your own perch on the spectrum? I'd call Mr. Minor a centrist-to-slightly left columnist - which in itself has required courage in this state where anybody even slightly RIGHT of center gets called a "communist" for believing in public education. As for your second paragraph - please. Do you truly believe I care that you call my writing "diatribes"? You have no credentials here. Go back to your blog and whine on about me being a communist, dude. I'm sure this little redder-than-red forum will fall apart without you and your insights about "racism" being such a useless topic - but we'll try to manage sans the outside agitprops. Funny how you changed your tune since, er, yesterday, sny. Is that what happens when someone dares to challenge your convention wisdom back? The rest of y'all don't choke on all the shots you're doing about now. Lata, gata.

Author

ladd

Date

2005-05-02T00:00:00-00:00
ID

Comment

The Jackson Free Press is certainly a uniter and effective forum for racial progress. Donna's writings are enlightening, promoting racial harmony, causing Socratic questioning, stirring debate, enraging those content to be racist and backward, and evidencing uncommon southern courage in face of the old south that is scrambling for survival.

Author

Ray Carter

Date

2005-05-03T00:00:00-00:00
ID

Comment

I have to agree with Ray... I've met incredible people across the racial spectrum and had incredible conversations and debates with them regarding race, politics and many more topics. I've met people I'd probably never have met through the JFP and have found solid partners in equality not only for races but for religions and the gay community (something I'd never imagine in Mississippi). All the people I have met through the JFP have been a part of the solution... Dare I say most of the naysayers that hit these blogs are actively seeking a harmonic balance though their negativity often leads their intent astray since they come off as a vitriolic attack rather than concerned statements. This communist, atheist, buddhist, queer-eye watching JFP reader is going to the liquor store in preparation because it's obviously going to be a busy day playing the JFP drinking game. <<>>

Author

kaust

Date

2005-05-02T00:00:00-00:00
ID

Comment

Let's play TRUTHWATCH -- Did I call you a communist? Nope. Did you answers my questions? Nope. I think it's disappointing that you of all people is putting words into my mouth used by one of my commenters. I know people have mistakenly associated you with comments made by people on this forum, so I would expect you'd be more careful. You can do better than that. I'm not changing a tune. I acknowledge the conversation will continue. Should it continue in the manner it is conducted in contemporary Mississippi? No, it shouldn't. And we respectfully disagree on Bill Minor. I wouldn't put centrist anywhere near his name.

Author

sny guy

Date

2005-05-03T00:00:00-00:00
ID

Comment

Perhaps the difference between you and me, sny, is that I challenge people when they name-call on my site and try to bait personal attacks. And I am SURE YOU would not put centrist anywhere near Bill Minor's name. But that doesn't mean a whole lot, dude. Drink.

Author

ladd

Date

2005-05-03T00:00:00-00:00
ID

Comment

Remember, Knol, the JFP drinking game goes bricks-and-mortar tonight in the brew pub at Hal & Mal's. Specials on long necks in honor of all the Texas politicians in town today. ;-)

Author

ladd

Date

2005-05-03T00:00:00-00:00
ID

Comment

Texas politician? You talking about Melton or Bush? ;-)

Author

kaust

Date

2005-05-03T00:00:00-00:00
ID

Comment

I predict a Melton victory by a decisive margin.

Author

buckallred

Date

2005-05-03T00:00:00-00:00
ID

Comment

I said "ALL the Texas politicians," Cowboy. ;-D

Author

ladd

Date

2005-05-03T00:00:00-00:00
ID

Comment

I'm not a very involved commenter. I make the blog entry and let the discussion ride, though I regularly monitor it for profanity and hate speech. Personally, I barely noticed the flippant remark at the end of the poster's comment. If you have a problem with it, take it up with him, or if you want me to remove it, I will. "And I am SURE YOU would not put centrist anywhere near Bill Minor's name. But that doesn't mean a whole lot, dude." Why is that? Because I live in the "hinterlands", dude?

Author

sny guy

Date

2005-05-03T00:00:00-00:00
ID

Comment

Sny, the point is not how you run your personal blog; I don't care. It's to show that your perspective isn't exactly one that holds a lot of water for me when you complain about my "diatribes" and how badly the JFP sucks. That is, someone who runs a blog that flippantly calls people "communist" without challenge isn't high on my list of people whose opinions are going to give me much pause.

Author

ladd

Date

2005-05-03T00:00:00-00:00
ID

Comment

Two quotes from Fannie Lou Hamer about being called a Communist: 1. I know about as much about Communism as a horse do about Christmas! 2. If they not calling you a Communist, you not doing your job.

Author

jasp

Date

2005-05-03T00:00:00-00:00
ID

Comment

So does this mean I won't be getting a spot on the JFP's Op-Ed page?

Author

sny guy

Date

2005-05-03T00:00:00-00:00
ID

Comment

Sny: calling Bill Minor a "poor man's Molly Ivins" is, in my view, a compliment (except maybe for the "poor man's" part). Thank God someone who the "president" up close in Texas has a national forum to expose him for what he really is. I know a woman who is now a lawyer in New Orleans but once was a workman's comp adjudicator in Texas when Bush was governor... he called her into his office to try to "persuade" her to back off on a case that was potentially damaging to his big-biz buddies... it was a case involving some dead people who had possibly been exposed to dangerous chemicals. Bush told her that "my friends [the chemical companies] are concerned about this case you're looking at." Of course, she [metaphorically] told him to go play in the highway and judged the case on the merits. Sorry for the tangent, but I am tired of seeing anyone who tries to show up these corporate scumbag Republicans for what they really, truly are, deep down to their rattling bones.

Author

Scott Albert Johnson

Date

2005-05-03T00:00:00-00:00
ID

Comment

whoops: let me finish that sentence... I am tired of seeing anyone who tries to show up these corporate scumbag Republicans for what they really, truly are, deep down to their rattling bones, called a Communist or liberal hack or whatever. The truth shall set us all free.

Author

Scott Albert Johnson

Date

2005-05-03T00:00:00-00:00
ID

Comment

So it's only Republicans who are corporate scumbags??? Kind of ignores the reality of the Democratic Party of today, doesn't it?

Author

MAllen

Date

2005-05-03T00:00:00-00:00
ID

Comment

I don't perfer party labels... I like to call them SOUL-LESS CAPITALIST PIGS.... It's so much more comprehensive.

Author

kaust

Date

2005-05-03T00:00:00-00:00
ID

Comment

MAllen: that's somewhat a fair statement in the sense that most politicians are bought and sold like cotton candy at the rodeo. However, I'll take a corrupt politician who is owned by the environmental movement over one who is owned by the chemical companies (and big oil, the Religious Right, [insert miscreant here]) any day of the week.

Author

Scott Albert Johnson

Date

2005-05-03T00:00:00-00:00
ID

Comment

Donna, Donna, Donna. Me "complaining about how badly the JFP sucks?" Again, truthwatch. You are putting words into my mouth -- again. If you remember, soon after the JFP was released, I commended you on the JFP's quality. I think it's informative, entertaining, and keeps people talking. I don't always agrees with the methods or the mindset, but still, the JFP deserves its due. To infer that I'm running down the paper by questioning your handling of one sensitive issue is being a little presumptuous. I will give Donna props. She effectively deflected my point by bringing up what someone else wrongfully said about her. This was not an issue on April 15, or when I've written in during the last few days. If this is an excuse to casually dismiss my opinions and assertions without responding to them, it's a weak one.

Author

sny guy

Date

2005-05-03T00:00:00-00:00
ID

Comment

I thought Mr. Minor had a super rich lawyer son. Doesn't that keep him from being poor? Also, wasn't Mr. minor one of the shining bright lights in Mississippi for years when other candles, flashlights, et al, were afraid to come in from the cold? I watched President Bush today use some more of his unintentional comedy when he referred to Fred Esco, Mayor of Canton, as Madam Mayor Esco. President Bush is better than Leno and he doesn't have to practice or hire comedy writers.

Author

Ray Carter

Date

2005-05-03T00:00:00-00:00
ID

Comment

Scott, I like your outlook. I agree, they are virtually all owned, with some seemingly notable exceptions - just a matter of which special interest/corporate interest owns them, and who you prefer them to be owned by.

Author

MAllen

Date

2005-05-03T00:00:00-00:00
ID

Comment

Sny, no offense, but I'm having a hard time finding your opinions and assertions. You're rambling a bit, bud. The JFP rocks. What a great way to connect with like-minded people in Jackson--and a reminder that they do exist. Cheers, TH

Author

Tom Head

Date

2005-05-03T00:00:00-00:00
ID

Comment

Buck, I'm voting for Johnson but I think we've all kind of come to the realization that a Melton victory is more probable than a Johnson victory at this point. It's a sad thing in many ways, because Johnson has done so much for this city, but if Melton wins he will have four years to earn our confidence and I hope he takes advantage of that. Cheers, TH

Author

Tom Head

Date

2005-05-03T00:00:00-00:00
ID

Comment

"poor man's ...." is not a literal meaning. It's a cliche that refers to a person who is less-polished or less-accomplished, but similar to, someone else. For instance, "Jason Giambi is a Poor Man's Mark McGwire." -- both power hitters who played 1st base for the A's and allegedly used banned performance-enhancing substances. It's commonly used in sports and entertainment, but can be applied in others fields as well.

Author

sny guy

Date

2005-05-03T00:00:00-00:00
ID

Comment

If Melton wins, he will need to hire a team of energetic and brillant lawyers to fend off all the lawsuits the city will get as a result of his John Wayne's ways. I will be attentively watching this. Buck, you might want to be on standby to help out.

Author

Ray Carter

Date

2005-05-03T00:00:00-00:00
ID

Comment

MAllen: well, it's just reality. I gave up any political idealism I had in my 20s, when I briefly worked in politics in Washington. But we still live in the real world, where people's lives are affected by the leaders we elect, so I don't think we can afford the luxury of being pure when it comes to whom we support. This kind of goes along with what I said on another thread, where I had a rare disagreement with Donna about crossover voting. I don't have a problem with such tactics because I think that all is fair in love and war, and the stakes are too high to let concerns over "violating the spirit of the system" (my paraphrasing, not her words) rule the day. The other side will bend and massage, if not break, every rule in the book if it will get their candidate elected... I don't advocate fraud or breaking the law, but I also don't want my side to play nice. This is something Clinton's people understood in 1992 but the Dems have since forgotten.

Author

Scott Albert Johnson

Date

2005-05-03T00:00:00-00:00
ID

Comment

Thanks Syn Guy!

Author

Ray Carter

Date

2005-05-03T00:00:00-00:00
ID

Comment

Gee, Sny, thanks for the cliche tutorial. I know what "poor man's" means... kind of like you are a "poor man's Alan Lange". :) (No offense intended to you OR my friend Alan, honestly!)

Author

Scott Albert Johnson

Date

2005-05-03T00:00:00-00:00
ID

Comment

My mistake... I see that Sny was filling in Ray on the etymology of "poor man's ___ ". Watch me now remove my virtual foot from my virtual mouth. :)

Author

Scott Albert Johnson

Date

2005-05-03T00:00:00-00:00
ID

Comment

Tom Head, With such a lengthy thread, it is challenging to follow the back-and-forth. But bud, I admit I am scatterbrained. I guess you could say I'm a poor, poor, poor man's version of a talented writer.

Author

sny guy

Date

2005-05-03T00:00:00-00:00
ID

Comment

Alan who? I aspire to one day be a poor man's MAllen.

Author

sny guy

Date

2005-05-03T00:00:00-00:00
ID

Comment

Scott Albert Johnson is a prophetic genius. Why isn't he in D.C. and running the Democratic Party. When the bell ring at a prize fight, I expect my fighter to fight! Not explain why he's not fighting or to win with kindness. Fight as the opponent is fighting him.

Author

Ray Carter

Date

2005-05-03T00:00:00-00:00
ID

Comment

Scott, don't apologize. Your "poor man's Alan Lange" has me ROTFLMAO. That's the Quote o' the Campaign, I do believe. Sny, speaking of rambling, I have no friggin' idea what point it is that I am so cleverly avoiding. I probably got sidetracked by the drive-by assault in which you DID NOT say the JFP sucks: Do you think your diatribes about race are productive? Have you changed anyone's mind? Or are you such a polemic that you only enliven people who agree with you and enrage those that don't? Are you promoting racial harmony or just stirring up debate on this blog and buzz for your newspaper? Are people who disagree with you a bunch of ignorami, or do they have a different worldview than you? Are you a uniter or a provacateur? Are you part of the solution or part of the problem? And is the real debate not whether we should discuss issues of race, but whether or not The Jackson Free Press has or will be an effective forum for progress in this ongoing conversation? Oh, maybe those are the big questions of life and tantamount significance I'm avoiding so aptly. Please. No, really, please. Get yoself a shot or sumpin'. Methinks you don't like it that someone disagrees with you. Not my friggin' problem.

Author

ladd

Date

2005-05-03T00:00:00-00:00
ID

Comment

Why am I not running the Democratic Party? (1) I'm not really a prophetic genius... just an armchair quarterback... (2) I love to watch politics, hate to be in it. It's made for people who are capable of b.s.ing relentlessly while also seeing through other people's b.s., but also enjoying the fecal exchange. I am not one of those people.

Author

Scott Albert Johnson

Date

2005-05-03T00:00:00-00:00
ID

Comment

Alan knows I love him... and that he's a poor man's Wilson Carroll... who is a poor man's Ben Allen... Oh, will the circle be unbroken, Lord, by and byyyyyyyyy... :)

Author

Scott Albert Johnson

Date

2005-05-03T00:00:00-00:00
ID

Comment

Mr. Carter, I respectfully decline that offer. I think Wilson Carroll is likely more suited for that job. . . Enough with this acrimony! In line with Mr. Johnson's musical reference, I move that we all join hands and sing along with this patriotic power ballad: http://www.americawestandasone.com/video.html

Author

buckallred

Date

2005-05-03T00:00:00-00:00
ID

Comment

Unfortunately or fortunately as the case may be, I can't view that video on this computer. But anything that's entitled "America We Stand As One" but has to pre-emptively dissociate itself from parodies: "America We Stand As One and Dennis Madalone did not authorize or assist in the production, creation, or concept behind alternative "spoof" videos of America We Stand As One. DO NOT BE FOOLED BY IMITATIONS!" ...must be pretty ripe for ridicule. -s-

Author

Scott Albert Johnson

Date

2005-05-03T00:00:00-00:00
ID

Comment

I probably got sidetracked by the drive-by assault in which you DID NOT say the JFP sucks: Have I or have I not complimented you about the quality of The Jackson Free Press? No, really, please. Get yoself a shot or sumpin'. Methinks you don't like it that someone disagrees with you. Not my friggin' problem. Another example of where we disagree. I was of the opinion, correct or not, that you are one of the most prominent examples on this forum of a person who doesn't give much respect to different points of view. And cut out the condescension.

Author

sny guy

Date

2005-05-03T00:00:00-00:00
ID

Comment

Have I or have I not complimented you about the quality of The Jackson Free Press? Yes, sny. I believe I pointed out that little inconsistency earlier. I was of the opinion, correct or not, that you are one of the most prominent examples on this forum of a person who doesn't give much respect to different points of view. sny, I don't respect to people being jerks alongside their opinions. And I'm perfectedly capable of matching tone with tone. I respect and enjoy reasoned discussion and debate, no matter what viewpoint it takes. I don't respect sputtering and calling people you don't agree with names like "communist" or "Nazi." And the way you went off on me earlier, about my diatribes, made me not wish to have you over for cocktails, if you know what I mean. And cut out the condescension. You first. ;-) sny, I honest to God don't remember what all of this is about. As the other bloggers are pointing out in their own ways, no one does. Can we just let it go ... the thrill of this particular battle of wits is waning for me. Or, maybe I'm just drunk. Either, I'm really done with you on this one. See ya.

Author

ladd

Date

2005-05-03T00:00:00-00:00
ID

Comment

Alan knows I love him... and that he's a poor man's Wilson Carroll... who is a poor man's Ben Allen... Oh, will the circle be unbroken, Lord, by and byyyyyyyyy... :) Other than sny's tantrum, this thread gets better and better. Y'all are too much. Oh, and I LOVED Mrs. Hamer's quotes. No one ever wiser has walked this plant than Fannie Lou Hamer. Come to the brewpub and drink a toast with me to Mrs. Hamer tonight. I'm drinking margs. Y'all?

Author

ladd

Date

2005-05-03T00:00:00-00:00
ID

Comment

As I consider the present state of political affairs, I can't resist pointing out something the late and great Malcolm X said many years ago. Love him or hate him, he was undeniably a great orator and communicator. Malcolm said, moer or less, you can't get respect or understanding from a bully or incorrigibly evil person unless you speak a language they can understand. Often fire with fire is the only language these kind of people understand. Once you unhesitantly employ a fire to fire approach you will start to get respect from your opponent, and before long there will be some understanding. This comment has always made me think and laugh at the same time!

Author

Ray Carter

Date

2005-05-03T00:00:00-00:00
ID

Comment

I wouldn't be suprised if Melton in Joe Clark fashion walked into City Hall and said, "you are all expurgated, I wish you well."

Author

esanders

Date

2005-05-03T00:00:00-00:00
ID

Comment

Classic phrase esanders, but wouldn't he also say " ... I prayed to God, and God said (Melton) you're no damn good ... unless you throw those bastards out."

Author

Ray Carter

Date

2005-05-03T00:00:00-00:00
ID

Comment

(Serious mode on: FWIW, Melton said during the debate that he planned on retaining a lot of Johnson's staff. Cheers, TH)

Author

Tom Head

Date

2005-05-03T00:00:00-00:00
ID

Comment

Well, the dagger is almost near our hearts in Jackson people. Get ready to bleed.... If Frank wins the Mayor spot, I'm moving to Madison just outside the city limits so I can watch from a afar at the poor decision the people of Jackson have made. My Mama always told me that if you make your bed, you got to sleep in it. And she was so right. My Dad told me before he died that the people Jackson, Mississippi will NEVER shake their ignorance no matter how much intelligence tries to convince them otherwise. And at age 46, watching many BAD Mayors/Governors come and go (Johnson being the only ray of hope), I'm convinced. Rick Whitlow vs. Frank Melton...LOL...YEAH RIGHT! It's the Amos and Andy show all over again.

Author

Black Man

Date

2005-05-03T00:00:00-00:00
ID

Comment

Let me know if you need your gas filled up on the way out.

Author

MAllen

Date

2005-05-03T00:00:00-00:00
ID

Comment

Today, in their piece about the runoff between Bo Brown and Frank Bluntson, The Clarion-Ledger finally mentioned a little bit about Bluntson's past with the Juvenile Detention Center: As the head of the former Jackson/Hinds County Youth Detention Center, Bluntson was accused but not charged in a 1992 case alleging abuses at the center. He resigned during an investigation in which three guards were charged with varying counts, including rape, child neglect, extortion and sexual battery. Brown has been encouraging people to look into Bluntson's past. "It's not because he's running against me," Brown said. "I want my message out that I'm the best man for the job. His public record speaks for itself." Bluntson said Brown was only losing ground by slinging mud. Of course, The Ledge didn't reach very far down their memory hole, or they could have quoted their own articles saying that Bluntson made a deal that he would step down if the city would not prosecute him for anything - and then went to work for his 20-year friend - District Attorney Ed Peters (the same man who was refusing to prosecute the alleged guard rapes of teenage girls in the detention center because he said they "consented." That was in The Ledge, too.) The question, of course, is why the lamestream media won't report what they have already reported about people who are running for office. Where's the responsibility here? Do the public not have the right to know and then decide for themselves? And if he was cleared of wrongdoing, report that, too. But just to pretend all this didn't happen in the '90s is plain weird. And, recall, that this is the same week that the Ledge is giving so much ink to attacks on a lame-duck mayor and police chief. Could they really not find any news hole in which to talk about the public history of candidates in a run-off next week?

Author

ladd

Date

2005-05-15T00:00:00-00:00
ID

Comment

I should also add that Mr. Bluntson using his long-term tenure as the head of the detention center in his campaign materials as a selling point. That makes it even harder to argue that the circumstances of his leaving the job isn't important (as if one could possibly make that argument about a public official anyway).

Author

ladd

Date

2005-05-15T00:00:00-00:00
ID

Comment

I just saw on the news that Frank Bluntson and Charles Tillman were elected in the primary run-offs with very small turnouts. Interestingly, WLBT was interviewing Bo Brown who tried to say that the issue that was at the center of Blunton's credibility and leadership potential (I'm paraphrasing; will have to check the Web site for exact quote) was not investigated by the media. Then the camera cut away mid-sentence. He has a point.

Author

ladd

Date

2005-05-17T00:00:00-00:00
ID

Comment

Remember we are going to be the best of the new South! I think?

Author

tortoise

Date

2005-05-03T00:00:00-00:00
ID

Comment

BTW, I can't find this piece on WLBT's site today (or in Google News) in which Bo Brown says the media did not cover the main problem with his opponent. The story on the Tillman-Dagner-Cook matchup is in both places, though. Huh. Let me know if anyone runs into it. Sounds like we need to talk Bo Brown and let him say what's on his mind, being that no one else seems to be.

Author

ladd

Date

2005-05-18T00:00:00-00:00
ID

Comment

If Brown thinks there is some whiff of wrongdoing in Bluntson's past that has been suppressed, or covered up, then he should be taking those allegations to JPD, the Hinds County DA, MS AG Jim Hood or directly to the FBI. Immediately.Like.Right.Away.

Author

Proud To Be Right

Date

2005-05-18T00:00:00-00:00
ID

Comment

He may well be. I don't know, yet. But I don't know if there is anything there, about Blunton, to investigate today. This is different from the cases being talked about on talk radio that happened recently under a current police chief. This is history, we're talking about. Even if there is nothing to prosecute -- and I'm certanly not saying there is; that's your guess, PBR -- the media have a responsibility to tell voters about the public record of people running for public office. This is kinda a 101 point. Brown is correct that it's befuddling that the media didn't cover Bluntson's past record at all, being that it was all over the papers back when the Juvenile Detention Center scandal hit. People may or may not have thought his non-prosecution-deal-then-job-with-D.A. was still important, but they could have been told by at least one corporate media outlet about it. He heralded that job in his campaign materials - but he left it under a cloud. The public has the right to know that even if all they do is quote their own news reports from a decade ago.

Author

ladd

Date

2005-05-18T00:00:00-00:00
ID

Comment

Not to mention, PBR, this apparently WAS investigated. Hence: Bluntson made a deal that he would step down if the city would not prosecute him for anything. They came to a plea agreement, the city wouldn't prosecute, Bluntson would step down. Kind of a "don't ask don't tell" arrangement. But now Bluntson uses his tenure to get elected and the media still doesn't ask...??

Author

GDIModerate

Date

2005-05-18T00:00:00-00:00
ID

Comment

Yes, it is weird, GDI, based on the media's own archives. Also, if anyone reading this doesn't know what we're talking about, it is explained in great detail in Mulvaney's Newsday article linked in the Melton profile above.

Author

ladd

Date

2005-05-18T00:00:00-00:00
More like this story