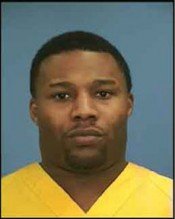 A long, rambling deposition by a man awaiting trial for murder has again raised the unproved specter of Frank Melton as a long-time linchpin of drug dealing in Jackson—an allegation that was first investigated by members of the Jackson Police Department, including Officer Robert J. Washington and then-Det. Gerald Jones, in the 1980s.
In a 28-page deposition, first reported by WAPT's Greg Flynn on April 21, Stephan Hickman accuses Melton of being close to Sharrod Moore, 32, who is awaiting trial for the Nov. 13, 1995, murder of Washington—so close that Melton allegedly encouraged Moore to "show me you don't mess with him (Washington) no more" just hours before Washington was killed in a field near Whiting Road and U.S. Hwy. 80. Melton denies ever knowing Moore or Hickman, who is accused of capital murder in a separate 2007 case.
Washington's murder has never been solved, and has been the source of many whispers over the years because the police officer was found with his pants down, with a used condom and condom wrappers next to his body*, and without his squad car and other belongings. The car was found later in West Jackson where Hickman says Moore left it.
When Moore left prison last October after charges were dropped for a separate murder of four men in 1998 due to missing evidence, Melton denounced his release and vowed publicly that he would get to the bottom of it, and assigned now-Lt. Gerald Jones, a long-time JPD investigator, to that case.
On Feb. 1 of this year, Hinds County District Attorney Robert Smith arrested Moore not for the 1998 murders, but for the murder of Washington; his trial is slated for trial May 27.
Contrary to recent media reports, the deposition, taken by Smith and Assistant District Attorney Winston Thompson—incidentally the attorneys for Melton's bodyguards in the Ridgeway demolition case last year—does not accuse Melton of ordering Moore to kill Washington or anyone else. Without his attorney present, Hickman did, however, accuse Melton of being a big man in the local drug trade for many years, and of wrestling for "positioning" with Moore and others since at least the 1990s.
Regardless of veracity, the drug-dealing accusation is not a new one—and according to documents the Jackson Free Press obtained in recent months, R.J. Washington himself, then-Det. Jones and other officers apparently investigated Melton for drug-trade involvement as far back as the 1980s.
'As a Box of Rocks'
The drug rumors have dogged Melton since he moved to Jackson from Tyler, Texas, in 1984—egged on by accusations by men such as Hickman who were themselves accused of crimes. Police investigated those accusations in the 1980s, but apparently found no solid evidence to substantiate the claims.
According to documents, Washington assisted with those investigations, leading Melton, then the head of WLBT, to write him, then a Precinct 2 officer, a letter (PDF, 242 KB) on TV-3 Inc. letterhead on Oct. 4, 1989, warning Washington to cease making "false allegations" against him.
Melton wrote to Washington: "Please be advised that on four different occasions, comments that you have made relative to me and my family have been brought to my attention. I want to make it clear and in writing that if this continues, I will have no alternative but to take serious legal steps against you personally and as an officer of the law."
He added: "I also want to state clearly, that I have never used or caused to be used, distributed or caused to be distributed any form of narcotics in my life. After having stated this, I want to assure you that I will take legal action against you for making such false allegations."
The letter to Washington ended by saying that Melton had reported "all of your conversations relative to this matter" to federal authorities and JPD officials.
Melton's then-attorney, Melvin V. Priester, also wrote to at least one of the officers, threatening him with legal action if he did not cease investigations of Melton, who was then head of WLBT.
Priester, now a Hinds County municipal judge appointed by Melton, wrote Det. Gerald Jones on March 24, 1989, about his investigative efforts: "[W]hereas your department has already conducted a full and complete investigation of the allegation accusing Mr. Melton of use and distribution of drugs and have found such allegations to be totally false and without any basis in fact whatsoever, it seems that such tactics as described above may expose both the city, its police force, as well as individual officers to potential liability."
Melton himself has brought up and talked openly of past accusations against him to the Jackson Free Press, including old rumors that he is a drug dealer and a pedophile.
The JFP first reported such accusations three years ago after Melton spoke at a campaign fundraising breakfast at Bravo! restaurant March 14, 2005. One of the women present asked Melton how he was going to combat "the rumors" his political opponents were sure to use against him.
The mayoral candidate did not hesitate then to detail what the rumors were֖pedophilia and drug dealing֖and said they were old trumped-up charges "by the police."
Specifically, Melton blamed former JPD Chief Jimmy Wilson, an unpopular black chief brought in by then-Mayor Kane Ditto in 1991 from his post in Washington, D.C., to head a department that had been racked with corruption charges and inter-department squabbling. In D.C., Wilson had gained notoriety for leading the drug-sex investigation of Mayor Marion Barry.
"Jimmy Wilson is dumb as a box of rocks," Melton told the ladies at Bravo! in response to the query about the rumors, eliciting laughter in response.
'Which Have Not Been Proven'
The subsequent JFP investigation, however, learned that Chief Wilson did not launch the investigations of Melton—authorities had looked into the claims back in the 1980s as evidenced by the Priester and Washington letters—but Wilson did jumpstart them after a scandal at the Hinds County Youth Detention Center broke in 1992.
That scandal raised a range of questions about a number of local residents' possible, but unproved, involvement with bribery, sexual assaults and drug-trafficking connected with the Juvenile Detention Center.
Melton's name and past accusations came into play because then-Detention Center Director Frank Bluntson had assigned a number of young people from the detention center to live with Melton over the years. "Melton was taking custody of young boys on a regular basis, even though he was not certified by the State as an authorized Foster parent," Wilson wrote in a July 28, 1993, letter to a number of elected officials and a newspaper editor.
According to police documents from the time, Wilson tried, to little avail, to get a wide-ranging federal investigation going about the accusations, which have not been proved one way or the other to date.
"I have determined, based upon my review, that these allegations—which surfaced years before my tenure as Chief of Police for the Jackson Police Department—were not investigated properly and never resolved," Wilson wrote July 28, 1993. He was also frustrated because many of the original related files from the 1980s were missing from the police department.
In that July 28 letter, which mentions allegations against Melton among others, "which have not been proven," he was careful to say, Wilson took then-District Attorney Ed Peters to task for not pursuing a grand-jury investigation of Bluntson and others for Detention Center and related allegations. He also criticized Peters for hiring Bluntson to work for the DA's office after Wilson removed him from his youth post—a scandal that was detailed in an April 1994 article by Pulitzer Prize-winning reporter Jim Mulvaney that appeared in New York Newsday and the Dallas Morning News.
Documents show that Wilson re-opened the investigation, pulling in some of the same officers who had been involved with the 1980s-era probes, including Washington and Jones, to work with JPD's Intelligence division. In a Sept. 3, 1993, memo (PDF, 611 KB) to a superior officer in the police department, who was working with Wilson on the re-investigation, Washington recounted a meeting he had with Melton on Aug. 25, 1993, when Melton flagged him down near the Pizza Hut on Robinson Road Ext. and told the officer he was aware that JPD was investigating him for earlier allegations.
In that memo, Officer Washington told his superiors that he knew young drug dealers who had lived with Melton, and had asked them many questions about where they got their cars and money; why they were selling drugs on a corner and who they're working for; how Melton got them out of jail when he (Washington) put them in for auto theft; why Melton adopted them; and what they are doing for him.
Washington continued: "Now when asking questions to them about Frank they would not give me a yes or no answer most of them would just say, nothing." (sic)
In a separate memo filed with the same superior officer the same day, Sept. 3, 1993, Jones recounted his own meeting with Melton at the corner of Prentiss and Robinson Road. Melton said he believed that Wilson had a vendetta against him because he had criticized him in a WLBT editorial, and said that he knew that the JPD Intelligence division was investigating him. Jones wrote that Melton also said it was a mistake when he had threatened legal action against Jones years before for asking similar questions.
"Melton stated that he had recognized this error and had attempted to correct it by apologizing and changing his thoughts about this detective," Jones wrote. "It seems odd that this letter would be mentioned after so much time."
Wilson has since declined comment on the old investigations, as have Peters and Bluntson. Jones did not return calls for this story.
'The Rumors Were So Bad'
Melton, however, has been eager to discuss the rumors against him with the JFP in the past, first bringing them up after the Bravo! breakfast, and then multiple times during a March-April 2006 series of interviews he granted to this paper after he was elected mayor. He seemed to bring up the rumors so that he could respond to them.
"It got so bad, Donna, in the '80s and '90s that I swore out an affidavit with the city that I stand behind to this day because the rumors were so bad with these gang kids and my association with them," he said in City Hall in March 2006. "I swore out an affidavit that I had never used, never caused to be used, never distributed, never caused to be distributed any form of illegal narcotics in my life, and I still stand behind that same affidavit."
Melton detailed his own drug-fighting efforts֖as a private citizen, as the short-lived director of the Mississippi Bureau of Narcotics and then as a midnight-raid-prone mayor֖to underscore the unlikelihood that he could actually be a drug dealer who helps arrest drug dealers: "A drug dealer doesn't let another drug dealer put him in jail."
The mayor said that some police officers have long despised him because he's tried to help some of the "worst of the worst" kids in Jackson—kids they hated.
He also pointed to all the background checks he says he had to endure as head of MBN in order to show the ridiculousness of the rumor.
Melton has seemed to fear some of the drug dealers he has targeted, as evidenced by his own propensity to cover himself with guns, including on the side of his bulletproof vest and in a leg holster, especially, not to mention his constant bodyguards.
Interestingly, the late R.J. Washington may have been the first person to suggest to Melton that he needed bodyguards. In the same Sept. 3, 1993, memo, Washington recounted Melton telling him that "they" were after him. Washington then added, "We then talked about him running for the Mayor and I stated to him that you will get killed and that you will need a bodyguard."
CLARIFICATION APPENDED
In the above story, I used information from sources that the police officer was found castrated. After being challenged by former Jackson Police Chief Robert Johnson on that point (see comments below), I did more investigation and could find no documented evidence of the claim in the materials I obtained since last week. In fact, attorneys for both the prosecution and Sharrod Moore say they have no knowledge of the castration claim. Records show that Washington was found with his pants down and with condom wrappers scattered around him, and Moore's attorney has requested a DNA rape test results on the used condom. I had also been told that the autopsy report was missing, but have learned that it was located recently, and am told that it does not indicate castration. I apologize for quoting faulty sources in that story.
I also put "Jr." after Washington's name on first reference. That was also an error, and I apologize.
Previous Comments
ID

129772

Comment

Wow! This is some deep s***. That is, if any of this stuff is remotely true.

Author

golden eagle

Date

2008-05-13T22:20:21-06:00
ID

129773

Comment

Is there anyone here that hasn't heard rumors such as these going back to pre-mayoral? Anyone?

Author

bill_jackson

Date

2008-05-13T22:35:27-06:00
ID

129774

Comment

I've heard them for years (and from many people who think they're in the know), but I do not want to base my opinion of Melton on rumors I can't prove to be true.

Author

golden eagle

Date

2008-05-13T22:56:49-06:00
ID

129781

Comment

I believe I made an error above by putting "Jr." after Robert Washington's name. It has been deleted in the text.

Author

DonnaLadd

Date

2008-05-14T08:42:23-06:00
ID

129784

Comment

I know of a lot of people who'd like these rumors to be true. I also know a lot of people who'd vote for the idiot anyway because they might be true. It's why I don't live in Jackson.

Author

Ironghost

Date

2008-05-14T09:48:37-06:00
ID

129840

Comment

castrated????

Author

blkokc

Date

2008-05-15T07:07:59-06:00
ID

129846

Comment

It's interesting to watch The Clarion-Ledger today discredit the deposition they wrote four articles about last week.

Author

DonnaLadd

Date

2008-05-15T09:29:07-06:00
ID

129863

Comment

This is the "big story" and I'm glad to see the JFP hard back on it after the C-L mangling it for a week. I've always thought it was insane that the mayor said, oh yeah! They'll come at me with the pedophilia charge! At Bravo. But like blkokc @8:07--I've read variously that the officer had his pants down, that the police did a rape kit, but--I have never heard the castrated detail. Is that in the police report??

Author

David McCarty

Date

2008-05-15T12:31:19-06:00
ID

129867

Comment

Thanks, David. At this point, I'm not revealing any sources any than what I put online because the work is ongoing, and has been for a while. Vague enough fer ya? ;-)

Author

DonnaLadd

Date

2008-05-15T13:28:36-06:00
ID

129870

Comment

!!!

Author

David McCarty

Date

2008-05-15T13:44:56-06:00
ID

129878

Comment

OK, here's where I am on following back up on the castration issue. On the one hand, I have several good sources saying he was. On the other, Sharrod Moore's attorney just told me that he was not aware of that. But the autopsy report is apparently missing from the case, along with some other evidence. People close to the case over the years say that it has been a very "strange" case with a number of items missing, thus adding to its difficulty. (Note that the charges were dropped in the case where he was accused of possibly killing a witness because evidence went missing as well. This has seemed to be an epidemic in Hinds County for many, many years.) Washington definitely was found with his pants down, and Moore's attorney has ordered a DNA rape test. Anyone with further reliable information on this case or the investigation is welcome to contact me directly: [email protected].

Author

DonnaLadd

Date

2008-05-15T14:58:03-06:00
ID

129892

Comment

There is no documented information that this ever happened! So many rumors and lies!

Author

blkokc

Date

2008-05-15T20:57:44-06:00
ID

129893

Comment

They certainly did Bubba! The Democrats hands are not clean.

Author

wow gold

Date

2008-05-15T21:20:12-06:00
ID

129909

Comment

Ladd: "On the one hand, I have several good sources saying he was". This is an absolutely false claim. Anyone present at the scene and who viewed Washington's body will tell you that he was not castrated. You need to do more verification of this claim before continually repeating it as fact.

Author

Robert Johnson

Date

2008-05-16T14:03:00-06:00
ID

129912

Comment

The term FACT-CHECKING comes to mind!

Author

blkokc

Date

2008-05-16T18:10:31-06:00
ID

129913

Comment

First, Othor, you really don't need to give me lessons in factchecking, and you know it. And you might stick around and learn what someone does when they're challenged on facts. Chief Johnson, I did verify the claim--or I thought I did--in the usual way, and they seemed more solid than you seem to believe. I can't tell you who I talked to, but trust me that it met a verification standard. As you know, there are missing documents in this case, and even people who have been directly involved with the case tell very different stories. However, sometimes the standard is not good enough no matter what you do. And since some people whom I trust a whole lot more than Othor have called me to ask me about the castration claim, I've been doing another round of checking, as I've already said above. I'm not done with that, yet, but you were on my list to call. So far, this is still a bit of a mystery, and I will say that I will include a clarification of sorts in next week's issue that explains the conflicting accounts, regardless of where it stands by then. And I've been transparent here already about the process of going back and looking at it again, to see if I was given bad information, which is the best thing a journalist can do (not pretend you could not have possibly made a mistake, Othor). The truth is, sources give bad information, especially in a case where back-up materials are missing and where people have tried to cover up certain things. There are two very different stories out there, which should surprise no one with this case, which has suffered from both urban legend, cover-up and missing evidence since the beginning, it seems. But I do really appreciate your comments, and do know that I will continue to look at this aspect closer, among others.

Author

DonnaLadd

Date

2008-05-16T18:54:55-06:00
ID

129917

Comment

Don't take your screw up out on me!

Author

blkokc

Date

2008-05-17T07:16:35-06:00
ID

129919

Comment

Othor, I am not taking anything "out on" you. You have shown up here merely to troll and pick a fight with me without offering anything substantive yourself about anything, which you seldom do. And you've done so incredibly disrespectfully on a thread that talks about a police officer losing his life and a mayor being accused of very heavy-duty things by other media, apparently without knowledge of (or at least reporting about) past investigations of Mr. Melton and their outcomes, or what role people in the news today played in those investigations. That complex history is what this story is about. As always, if at any point, I have the information to show that the JFP has "screwed up," which we do as everyone does (unlike others, we don't do it intentionally to spread bad information), we will correct that information because it is the right thing to do and because people always respect you more when you can admit you made a mistake. If the issue is a gray one (sources v. sources), we will explain the grayness to our readers. The castration point is a delicate one, as different sources are saying different things, and the autopsy report is missing for some reason. It is also a side point to this particular story, and I find myself wishing I hadn't included it at this point because people seem focused on that and not what this story is actually about. But from your comments, I don't think you care. You seem only interested in catching me an error, presumably because I caught you in such a huge one that you have never dealt with. Those are child's games, Othor, in the world we're living in right now, and I'm going to leave you to play them in your sandbox because I have much larger things on my plate right now. Journalism in my world involves more than turning on a microphone or logging on to a blog and saying whatever I feel like saying. As anyone who knows the history of this case knows, it is not a simple one and with due respect, I highly doubt you know everything there is to know about it; you haven't shown any indication that you do. And if you do, I urge you to put some real stories out instead of playing these childish games. Meantime, I have work to do. We're done.

Author

DonnaLadd

Date

2008-05-17T08:36:23-06:00
ID

129925

Comment

The castration detail sounds like the sort of thing that would have been left out of the initial media reports so police could use it as a detail to tell who does and doesn't have inside info on the killing, so the fact that it wasn't in the early reports does not by any means suggest that it didn't happen, especially if the castration was postmortem. Would be interested in seeing what kind of data emerges (in general) when the police report can be accessed which, by my reckoning, would be when SB 2728 takes effect after July 1st. But both of you clearly agree (as do I) that there's a lot of smoke surrounding all of this, and it's ugly, and some scabs are going to have to be peeled back before it's all said and done. (My earlier promise not to post here again was divisive and had more to do with personal stress than anybody else's behavior, so I'm officially turning back the plow on that promise starting now. I would request that folks not respond to, or even acknowledge, this part of the post because it's irrelevant to the topic.)

Author

Tom Head

Date

2008-05-17T22:53:54-06:00
ID

129929

Comment

Ladd:"... I did verify the claim--or I thought I did--in the usual way, and they seemed more solid than you seem to believe. I can't tell you who I talked to, but trust me that it met a verification standard." I was present at the scene and personally viewed the body along with several other officers and investigators. I would be more than happy to supply you with some of the names of those who were also present at the scene or who have direct knowledge of the facts; anyone of whom would gladly go on the record to refute the "claim" of castration. I challenge any of your sources claiming otherwise to make their claims or themselves known.

Author

Robert Johnson

Date

2008-05-18T12:34:53-06:00
ID

129930

Comment

I appreciate your post and the offer, Chief Johnson. I would like to speak with some of the officers, but not only to refute the claim that other sources have made, but for more details on the case in general and the investigation to date. This isn't the easiest case to get people to be straightforward about. For now, it seems time to take this conversation offline, or I'm going to be tempted to start interviewing you here right in public. ;-) We'll be in touch.

Author

DonnaLadd

Date

2008-05-18T13:22:47-06:00
Support our reporting -- Follow the MFP.