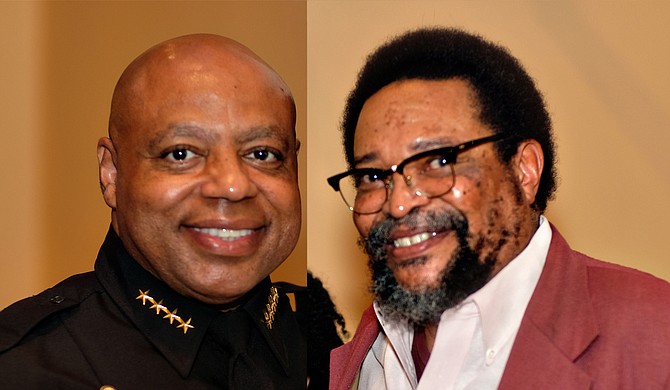 JACKSON — It was standing room only in Jackson City Council chambers ahead of the special meeting this morning to confirm James Davis as Jackson Police Department's chief and Frank Figgers of Ward 3 as the final appointee to the Jackson Public Schools Board of Trustees. The council confirmed both men with a unanimous 6-0 vote. De'Keither Stamps of Ward 4 was not present.
Mayor Chokwe Antar Lumumba introduced Davis first, a man who has climbed the ranks in JPD over the last quarter-century.
"As we have searched far and wide, I have discovered that the best person to lead our police department is right under our nose," Lumumba said.
Chief: 'People Want to Hear from their Police department'
The mayor addressed the peculiarity of having two successive interim police chiefs, including Davis, since Lee Vance retired from the post at the end of December 2017. Then Lumumba pivoted to an anecdote. He said the day after appointing Davis in the interim capacity in June, he called him for a briefing, but the sound of a lawnmower overwhelmed the conversation.
"[I] could barely hear him because he was out at his church cutting grass," Lumumba said. "At the end of the day, I realize I want a police chief that will cut the grass at his church."
Davis, who characterizes himself as a "public servant," said that the best education he has gotten on the job has come from interacting with the community, and he wants JPD to follow suit.
"As chief, I am in a position now that the whole rank-and-file follows that," he sid. "The whole rank-and-file understands the importance to patrol the streets, to talk to the kid on the corner, to talk to Ms. Johnson on the porch. That's important. That's policing. That's a part of public service that the country has somewhat lost."
Most of the council arrived with their minds made up and waved their opportunity to question Davis. Councilwoman Virgi Lindsay of Ward 7 posed one of the only questions to Davis about what he believes is the single most important issue facing JPD. Aside from the financial woes, Davis wants the community and police to work together.
"I see, as I police the city, a disconnect from the community as it relates to our fighting crime efforts," Davis said. "... I believe that if we come together as community, and it takes the police to make that happen, I believe that if we develop a better police product, a better professional police packet, that we can have the community to join us. For that to happen we have to engage the community."
Davis also listed accomplishments since he has been at the helm: a police recruit class currently in training, new police vehicles and a boost in morale. Davis said he helped uplift morale by leading by example and hitting the streets when he realized officers had lost identity and professionalism.
The newly appointed chief inherits a police department bound for even more change considering the mayor's officer-involved task force that recently proposed policy for the City to release names of officers who shoot citizens within 72 hours. Davis promises transparency in this arena.
"We have to give real-life response to what we do," Davis said. "... With today's time, technology is out there so people want to hear from their police department. We want to be able to provide them with information so they can get a better understanding of police-involved shootings, a better understanding of what's going on in their community."
Figgers: Kids Deserve a Good Education
After Davis' confirmation, the council quickly moved on to Figgers, a civil-rights veteran and native of the Georgetown community in Jackson. Figgers works as a strategy consultant for One Voice Inc., a local nonprofit focused on voting rights and education. Through the Jackson Human Rights Project, Figgers helped found the Georgetown Liberation School, which later changed its name to the Georgetown Black and Proud School and, ultimately, the Black and Proud Elementary School. The school originated as an after-school program and, over the course of several years, developed into a state-accredited elementary school.
Lindsay of Ward 7 was one of the only members to question him. She wanted to know what Figgers considered to be the single most difficult issue facing JPS.
"One of the issues that children face in Jackson, and elsewhere around the state, is the desire for a quality education," Figgers said. "I believe that it is incumbent upon the community, educators, teachers, administrators to provide and shore up the needs that children bring. Children show up everyday asking for an education and it is incumbent upon people who are placed in positions to provide for children their needs, what they're asking for. They are the ones that deserve it."
Figgers came before the council as a mayoral appointment, but Lumumba deferred credit to Ward 3 Councilman Kenneth Stokes for selecting Figgers to serve on the school board to fill a slot that has been empty since November 2017.
Like the police-chief confirmation, many council members declined to question Figgers having already been familiar with his community involvement. Ward 6 Councilman Aaron Banks used his time to thank and commend Figgers.
"I'm going to call you Dr. Figgers," Banks said. "Most people think if you're going to be on the school board for a school system, you have to have a PhD. But I want to thank you mayor for understanding and knowing importance of somebody who's a community activist. Because you do have a doctorate as far as I'm concerned—you have a doctorate in advocating for people...."
Tillman, a longtime educator in Jackson, expressed pride in his former student.
"It is truly an honor to have been around long enough to see one of your former students follow your footsteps," said Councilman Charles Tillman of Ward 5, who also once served on the board of Jackson Public School District.
Email city reporter Ko Bragg at [email protected].
Support our reporting -- Become a JFP VIP.
The news business has changed dramatically in the past two years, and we need your help more than ever to keep bringing you important stories about Jackson and the Metro. Become a JFP VIP with an annual membership or you can Sign up as a monthly supporter. Thanks for anything you can do to empower our journalism!