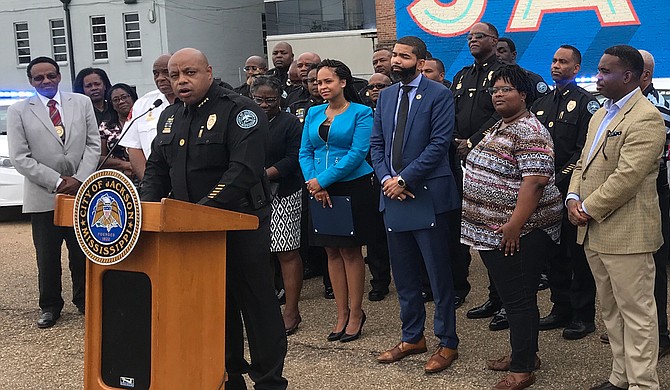 JACKSON — The Jackson City Council will consider Interim Police Chief James Davis as a permanent fit for the role at a special meeting at 10 a.m. on Sept. 20. Mayor Chokwe Antar Lumumba appointed Davis on June 28 as the City's second interim chief under this mayoral administration. The capital city has not had a permanent chief since the end of December 2017.
When Lumumba appointed Davis, he said he would not "limit the boundaries" of the search, while also considering locals like Davis for the role.
"I am encouraged by the person I know Chief Davis to be," Lumumba said in June. "He has been a consistent presence in our community within our civic organizations, within our churches. ... So I think there is a great chance and a positivity that arrives out of that."
Mayor Lumumba could not be immediately reached for comment at press time.
The Lumumba administration has been slow-moving about appointing a police chief. When former Interim Chief Anthony Moore took over for retired Chief Lee Vance on Jan. 2, state law required the City of Jackson to fill the position within 180 days. On the 177th day, Lumumba appointed Davis to fill the position in an interim capacity.
"I always choose getting the decision right over it being swift and quick," Lumumba said in June. "So that will be a consistent thing in my time."
Amended state law cut that time in half as of July 2018. House Bill 1114 says municipalities now have 90 days to fill interim positions before city funds can no longer pay the person serving in the role. The council will consider Davis just six days shy of the 90-day deadline.
Document
State law also says that if the council rejects Davis tomorrow, Mayor Lumumba may not reappoint him during the remainder of his current term in office.
Council President Melvin Priester Jr. of Ward 2, spoke positively of Davis in an interview with the Jackson Free Press this morning.
"I was always impressed by his availability and his real commitment to community policing, and by that I mean coming to neighborhood association meetings, bringing in really diverse sets of people to the precinct house to proactively meet and find solutions to things," Priester said. "It's not glamorous work."
Priester added that a lot of the challenges in making Jackson safer comes not only from putting boots on the ground or using force, but also getting involved in people's lives.
"I'm really impressed with his willingness to do the sort of just gut work involved in really getting to the root of what is at issue in a given neighborhood, or block, or apartment complex," he said. "I think he has the potential to make the citizens of Jackson very proud."
Davis was not available for comment this morning, but he has been candid about his hopes to become permanent chief. Public Information Officer Sgt. Roderick Holmes declined to comment, deferring to Davis in this matter.
In the 25 years Davis has been with JPD, Davis has moved up the ranks from 10 years as a patrol officer to the first African American rangemaster at the training academy, to sergeant, to lieutenant of the 3rd Precinct, to district commander, to deputy chief, to assistant chief, and now interim chief. Davis also spent 15 years with the S.W.A.T. team, and has been a Jackson resident for 30 years. He hopes to become the mayor's ultimate choice to run the capital city's police force.
At the same meeting tomorrow, the city council will also consider civil-rights veteran Frank Figgers to fill the school-board position for Ward 3, which has been empty since previous board members had to resign as part of the negotiations last fall to avoid a state takeover of the Jackson Public School District. All other wards have been represented on the board since November 2017.
Email city reporter Ko Bragg at [email protected].