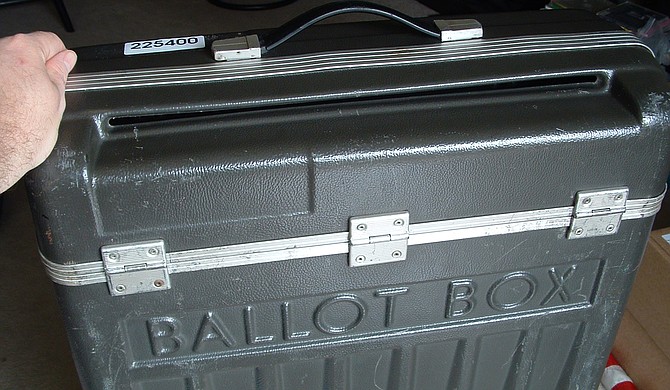 On. Nov. 6, the same day as the national midterms, voters choose between Democrat Mike Espy, Republican Cindy Hyde-Smith and Republican Chris McDaniel in a U.S. Senate special election; there will be no partisan identifications on the ballot for the special. Mississippi's other U.S. Senate seat, in which Democrat David Baria seeks to unseat incumbent Republican Sen. Roger Wicker, is also on the ballot that day, along with House seats in each of the state's four congressional districts. Polls are open from 7 a.m. to 7 p.m. in Mississippi. Voters must bring a valid form of photo identification such as a driver's license or a student ID.
Many judicial races are also on the ballot.
Some voters are eligible to vote by absentee ballot; all absentee ballots must be turned in by Nov. 3. In the U.S. Senate special election, if no candidate receives more than 50 percent of the vote in the special election, the top two vote-getters will face one another in a runoff on Nov. 27. Voters who did not register in time for the Nov. 6 election can still vote in the runoff if they register 30 days prior to the runoff.
Hinds County residents will also vote in the judicial elections.
Voting Tips
by Amber Helsel
Check your voter registration and locate the polling place, which should be on your voter registration card you receive in the mail. After that, find out the hours of operation at the polling place.
If you can't vote in person on Election Day, cast an absentee ballot on time.
Bring a photo ID. If you do not have one, get it before the day of the election.
Read the instructions and ask for help when needed.
If you have a disability and need help, make sure your polling place is accessible.
Before submitting your ballot, make sure it is correct. If there is a problem, alert a poll worker. If you fill out a paper ballot, you get two more to correct the mistake. If you are voting digitally, request a substitute ballot. For any complaints, call the secretary of state's office at 1-800-829-6786 or the 
Election Protection hotline at 866-OUR-VOTE.
If someone challenges your right to vote, alert a poll manager. The person will then ask you and the challenger questions and determine the legitimacy of the challenge.
If someone tries to harass you, tell a poll worker. If the worker is the problem, tell a poll watcher, call the circuit clerk or call the Election Protection Hotline.
 If you aren't on the voter list, ask the poll worker to check the list again and to confirm that you're at the right place. If you're at the right place and your name isn't on the list, ask to fill out an affidavit ballot. If you go to the wrong place, ask a poll worker to help you find the right one.
 If you do not bring an ID to the polling place, you will have to fill out an affidavit ballot and will then have five business days to show an acceptable form of ID or apply for a card at the circuit clerk's office.
Helpful Links
Phone Numbers
Secretary of State:
1-800-829-6786
Election Protection Hotline: 866-OUR-VOTE
 Twitter: @electionland
Mississippi Civic Engagement Roundtable-601-353-6906
Hinds County
Hinds County Circuit Clerk: 601-968-8038 or -6628
Election Commissioners: James Reed, District 1, 601-968-6685; Toni Johnson, District 2, 601-968-6557;
Zakiya Summers, District 3, 601-968-6682; Yvonne Horton, District 4, 601-968-6556; Connie Little, District 5, 601-968-6684
How Do Candidates Compare on Issues?
Watch jacksonfreepress.com and jfpdaily.com until Election Day (and beyond if there is a run-off) to see how candidates compare on vital issues including public education, health care, infrastructure, tariffs, criminal justice, abortion rights and more. Send story tips to [email protected], and see all congressional coverage and interviews at jacksonfreepress.com/2018elections. (Judicial coverage is at jacksonfreepress.com/judicial2018.)
If you experience any issues at polling places, including wait times or registration problems, the Jackson Free Press wants to hear from you. We partnered with ProPublica's Electionland to gather tips on Nov. 6. To participate, you can text the word VOTE to 81380, send a message on WhatsApp +1 (850) 909-8683, use Facebook Messenger or send a tweet to @Electionland. You can also call our newsroom directly (601) 362-6121.
Support our reporting -- Follow the MFP.