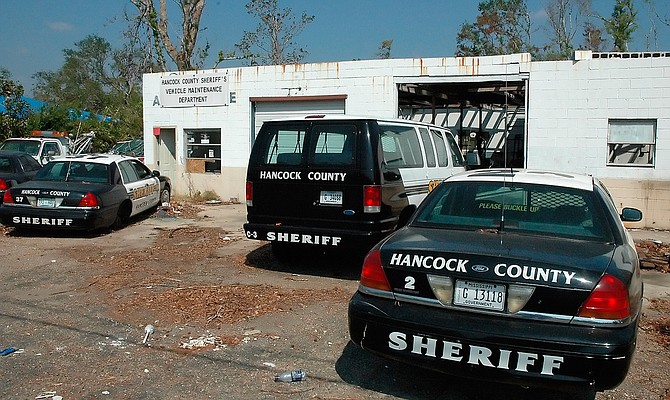 JACKSON — A lawsuit on behalf of a Latino and Native American family from South Carolina alleges that Hancock County Sheriff's deputies detained and searched them while traveling through Mississippi because they "looked" Latino.
The Southern Poverty Law Center and the Mississippi Justice League filed the lawsuit in U.S. District Court for the Southern District of Mississippi on Nov. 7, calling it an example of "pervasive racial profiling by law enforcement throughout the United States."
The plaintiffs, Stephanie and Marcos Martinez, say they were driving on Interstate 10 headed for vacation in June 2017 when a sheriff's deputy pulled their van over and detained them for about four hours. The SPLC alleges that the deputy told the family he was looking for "illegals," and then proceeded to confiscate the family's passports and immigration documents.
The family spent two hours on the side of the road before the deputy took them to the sheriff's office, where they were held for another two hours, the SPLC says.
In the van were the Martinez's three children, Marcos Martinez's 83-year-old mother, his sister and a family friend. All were in the U.S. legally, either as U.S. citizens, legal residents or visa holders.
Marcos Martinez, a legal permanent U.S. resident, claims officials threatened him with deportation if drugs were found; Stephanie Martinez, a U.S. citizen, says she was threatened with family separation.
"A sheriff's deputy drove Stephanie Martinez to tears by threatening to separate her from her three children," the SPLC said in a press release. "The children were scared that their father would be deported following the deputy's threats, even though Marcos Martinez, who was born in Mexico, has legal status in the United States."
Local law enforcement does not have the authority to act as immigration officers, except in agreement with federal law enforcement, and Hancock County did not have such an agreement, the SPLC says.
The family was released after Stephanie Martinez called 911 from inside the sheriff's office to describe the situation and after the family's immigration lawyer made a demand to police.
The family was never found guilty of any wrongdoing, the SPLC says.
"Despite two invasive searches and extensive questioning during the stop, no drugs or any other evidence of criminal activity was found," the SPLC says. "The family's only 'crime' was that they looked Latino."
The lawsuit charges that Hancock County and its deputies violated the Martinez family's constitutional rights to equal protection, and against unreasonable searches and seizures. It also charges false arrest and imprisonment under state law, and that the family suffered "significant emotional distress" that "undermined their trust in law enforcement officers."
The stop was based on the "racist assumption that any Latino person must be either undocumented or a criminal or both," the lawsuit alleges.
"Racial profiling against people like the Martinez family is an egregious and pervasive form of discrimination," SPLC attorney Elissa Johnson said in the press release. "Not only is it illegal and traumatic for victims; it also erodes communities' trust in law enforcement, which can have a direct and significant impact on public safety."
The family's detention came at a time when the newly inaugurated Trump administration was ramping up efforts to detain and deport undocumented immigrants.
At press time, the Hancock County Sheriff's Office had not responded to a request for comment.
Ashton Pittman is the state reporter for the Jackson Free Press. Follow him on Twitter @ashtonpittman. Email him at [email protected]. Read 2018 campaign coverage at jfp.ms/2018elections.
More stories by this author
Like independent media outlets around the world, the Jackson Free Press works hard to produce important content on a limited budget. We'd love your help! Become a JFP VIP member today and/or donate to our journalism fund. Thanks for considering a JFP VIP membership or one-time support.