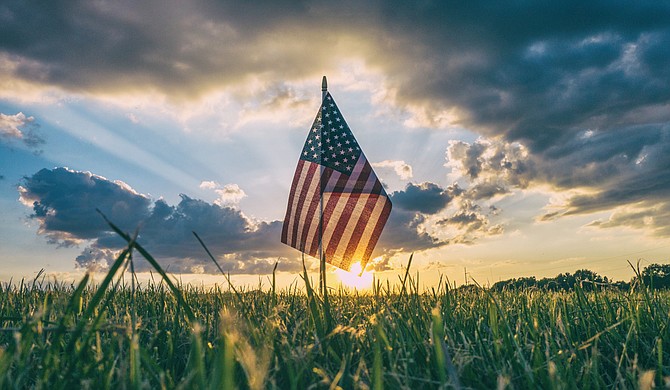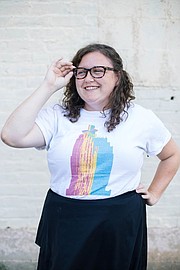 We get a lot of questions every year about how the voting process for Best of Jackson works. By now, most should know that we start off with a nomination ballot, and a few days after that one closes, we release a finalist ballot based on whom readers nominated. Jacksonians and people in the metro area then choose the winner on the finalists' ballot, and we announce them in the issue before the Best of Jackson party.
Everyone gets the same chance to vote and has the same chance to win.
We also get accusations each year that the system is rigged. Some people say only advertisers win (not true at all); some say that we determine the winners ourselves (also not true because who has time to handpick the winner of more than 120 categories? And we don't want to, nor would we choose some of those who've won repeatedly; think Haley Barbour or Phil Bryant); and some just say that it's not worth voting in because what's really in the Jackson metro area? (A lot, actually).
Editor-in-Chief Donna Ladd and Publisher Todd Stauffer started Best of Jackson almost 16 years ago to uplift the city because back then it was in a bad place, much worse than it is now. Cities around the country had "Best of" contests, but no one had cared enough to do one here. BOJ grew into a bigger deal each year, and the planning process can span anywhere from four to six months. While it's a tough battle getting everything done, it's always worth it in the end.
We take pride in that contest (and party!) and in lifting up a city that so many claim is too dangerous, too small, has nothing to do, etc. And you know what? We also take pride in the voting process. Over the years, we've worked to make it as easy and convenient as we possibly can, and we've even had to strengthen rules to keep people from cheating. (Really, some have tried.)
The people who complain about BOJ often don't bother to vote, which means they didn't get their say in who is voted the best in Jackson. Some even say their vote doesn't count; however, it counts as much as the next person's, just like in local, state and national elections. While the voting process for those elections is also a little more complicated than just a couple of online surveys, they're the same at the core: People announce they're running for an office. They campaign and then get on the ballot. Citizens vote, and at some point, someone wins the office.
I voted for Hillary Clinton in the 2016 presidential election, and I watched the results, feeling excited at first. But as the night wore on, I and the people around me felt more and more anxious and frustrated. Around 9 p.m., I decided to go to 
McDade's for groceries and then go home and go to sleep, hoping and praying that Clinton would win. Of course, as we all know, she won the popular vote, but Trump won the Electoral College, therefore winning the presidency. He got 306 Electoral College votes, while she got 232. In the popular vote, Trump actually ran behind by 2.1 percent, receiving 62,985,106 votes. Clinton received 65,853,625 votes.
That sucked, and it's easy to then get sucked into the mindset of "my vote doesn't count." But it does, even it's more complicated nationally. On election day, we essentially elect the electors (Electoral College) who then elect the president. It's a system that needs overhauling, for sure—how sad is it that Clinton won the popular vote, but Trump won the Electoral College because he won big states by a small margin?
But for now, it's the elections system our nation has. We can't change it overnight. We can vote, though.
We can't effect change quickly at the national level, but we can do it on smaller levels, changing things from the inside out. Take the upcoming election in the state. Currently, all congressional House seats are up for re-election, as well as both Senate seats with primaries on Tuesday, June 5, from 7 a.m. to 7 p.m. in Mississippi.
It's easy to believe your vote doesn't count, but as Young Democrats of Mississippi President Marcus Williams (see page 3) says, it's an important way for citizens to come together and raise their voices, even if it may seem like no one is listening.
"Sometimes people think that because they don't have money or that they're not well-connected that they don't have a voice, but through voting, we all have a voice," he the Jackson Free Press. "I believe by us collectively getting together, and organizing, we can truly have a voice."
Whether you're Republican or Democrat or Independent or Green Party or just like to party, or you just don't care, you should still vote in the upcoming election. Want to know why? Vox.com compiled a handy-dandy list of some ways these elections could change national politics: (1) Either house in Congress could flip, which means the current legislative agenda could change; (2) A flip in either house could mean more investigations into the Trump administration; (3) If Democrats retake the Senate, they could veto Trump's nominees for positions such as judges; and (4) State elections could lead to Democratic majorities.
So if you're unhappy with the current state of the country and the state, voting gives you the ability to try and change it. Sure, your vote is one among many, and the process is convoluted, but your vote does matter.
Mississippi's primary is on Tuesday, June 5, and the general election is Nov. 6. If you haven't registered to vote or don't know if you are, go to sos.ms.gov/vote. If you don't even know how to vote or how it works, Y'all Vote has good resources for that, along with calendars, a polling place locator and more. If you never spend a day of your life involved in politics, still take the time to vote because as Williams said, politics affect our everyday lives, from something as simple as traffic violations to issues as complicated as sex education in schools.
If you do nothing else, vote. Vote for yourself. Vote for the women and children in your life. Vote for those experiencing injustice. Just vote.
Managing Editor Amber Helsel is a storyteller and artist. Her hobbies include annoying her cat, going on adventures, listening to excessive amounts of EDM and running sound at CityHeart Church. Email story ideas to [email protected]
More stories by this author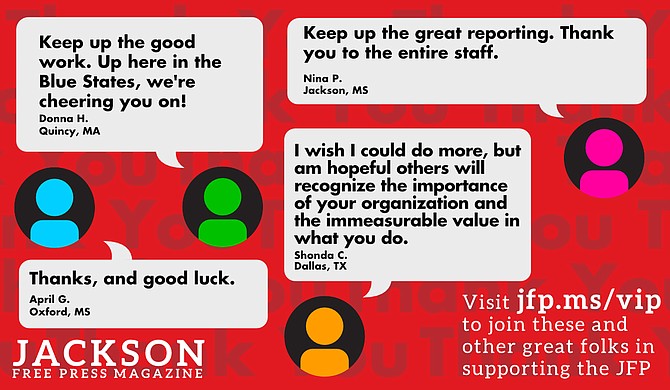 Thanks to all our new JFP VIPs!
COVID-19 has closed down the main sources of the JFP's revenue -- concerts, festivals, fundraisers, restaurants and bars. If everyone reading this article gives $5 or more, we should be able to continue publishing through the crisis. Please pay what you can to keep us reporting and publishing.