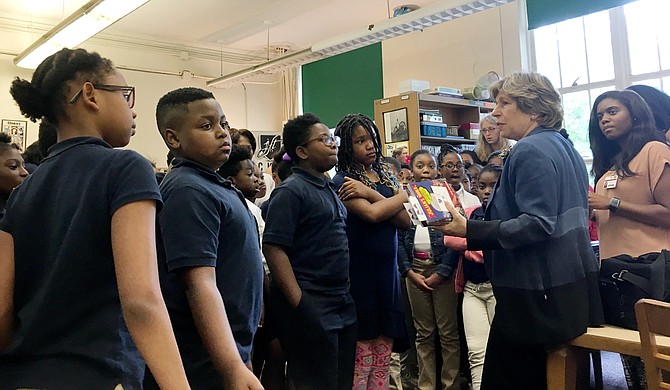 JACKSON — Students at Davis Magnet Elementary School crowded into their library to receive free chapter books for the summer from the American Federation for Teachers last week. Randi Weingarten, president of AFT, handed out books to students for the First Book Partnership.
"I am a high-school social-studies teacher in Brooklyn, New York, but I am on leave from teaching so that I can do this other job," Weingarten told a group of students that had gathered around her.
"[Y]our teachers in Jackson and your bus drivers and great principal and great librarian said this is a school of readers, so ... we said how do we make sure that when we come and visit this school, (we) make sure that we give each and every one of you ... a book that you're reading this summer that you can keep."
Weingarten also met with AFT Mississippi members later that afternoon to discuss "educational issues and the recent teacher actions in several states around the country," a press release said. She said that she was invited to come down and speak to the membership.
AFT is one of the nation's teacher unions, and it has a Mississippi chapter as well as a strong local chapter in Jackson.
Jackson AFT president Akemi Stout could not share her membership numbers or statewide membership numbers, she said.
Teachers in Oklahoma, West Virginia, Arizona, Colorado, Kentucky and now North Carolina have made national headlines as they strike for better wages, policy matters and other various reasons. Weingarten said in states like Mississippi where funding challenges are an "uphill battle," paths to change can seem impossible.
"But this is the difference today ... one of the things that I think is an unintended consequence of the Trump era is that the president did not just shake up his base, but he has shaken up a lot of people," she told the Jackson Free Press. "And there are a lot of people now who are saying 'wait a second, if we want fairness, if we want a better life, we have to use our voice.'"
Stout said her group's focus right now is getting more funding to the classrooms.
The fight to pass Initiative 42, a ballot initiative that could have forced the Legislature to fully fund the Mississippi Adequate Education Program, was the last big public push to get more funds to the classroom in Mississippi. After that initiative failed, the public-education community has been on defense, fighting to offer input on the Republican supermajority's proposed new education funding formula.
So far, the state's education community wants more public input and hearings on the new proposal. The legislation to change MAEP to the Uniform Per Student Funding Formula died in the Senate earlier this year, after educators and Mississippians flooded their lawmakers' phones with calls.
"(First) let's get funding for the classroom, so the teachers can have what they need," Stout told the Jackson Free Press. "Second, let's make sure we've got pay increases for teachers so we can keep a viable workforce within the schools."
Striking in Mississippi would be challenging—and depending on the specifics, also illegal. Mississippi is a "right to work" state, which means unions are not allowed to enter into contracts with employers on the exclusive behalf of their members—so union membership is not automatic. Mississippians have the right to voluntarily join unions, however, the Legislature passed a slew of laws in 2014 to prohibit people and unions alike from "intimidation and coercion" against any business when they are seeking to get a neutrality agreement or collective bargaining recognition.
The Mississippi Legislature also made itself the exclusive authority over labor peace agreements or collective bargaining under federal labor laws. It is illegal in Mississippi for unions or an "agency thereof" to engage in mass picketing or demonstrations. The fine is $500 or up to six months in jail. The law states that it does not interfere with the First Amendment.
Tough laws did not stop teachers in other states from walking out, however. Strikes in West Virginia are technically illegal, but that did not stop teachers from every county from striking in February.
Katie Endicott, a West Virginia high school teacher, told reporters at the Education Writers Association seminar in Los Angeles last week that superintendents and school-support personnel all supported the strikes. Endicott said walkouts stemmed from not only salary concerns but increased insurance rates and programs that lawmakers had required school districts to implement. Endicott said social-media and posts going "West Virginia viral" were crucial to the organization of the walkouts.
"Social media was the catalyst," she said at the EWA Seminar last week. "We were able to get the pulse of the state... (which) allowed us to move quickly."
West Virginia has strong teacher unions, and the unions were involved in the strike there.
Teacher salaries in Mississippi rank 50th nationally, a National Education Association report shows. NEA estimates the average teacher salary in Mississippi at $42,744. Based on the 2018-2019 MAEP salary schedule, a teacher with the highest certification would have to work seven years to get to this level of pay, however.
These MAEP numbers do not take into consideration what some school districts can afford to give their teachers above the state schedule. Stout says her organization will continue to focus on making sure teachers have the resources they need.
"Is a walkout possible? It is. ... I can't control what people do, and when people are fed up, they do many things," she said.
Email state reporter Arielle Dreher at [email protected]
More stories by this author
Support our reporting -- Become a JFP VIP.
The news business has changed dramatically in the past year, and we need your help more than ever to keep bringing you important stories about Jackson and the Metro. Become a JFP VIP with an annual membership or you can Sign up as a monthly supporter. Thanks for anything you can do to empower our journalism!