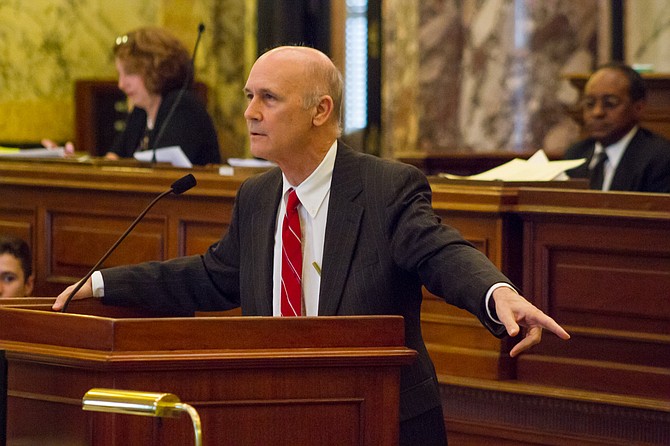 JACKSON — Sen. Gray Tollison, R-Oxford, thought he had the votes to pass the Republican proposal to replace the Mississippi Adequate Education Program, when he stepped up to the speaker well in the Senate chamber Thursday afternoon. The vote would likely be close, but Senate leaders had several more days to bring the bill out if they were not sure it would pass. The deadline for the Senate to consider general bills is not until Wednesday, March 7.
An hour later, however, 27 Democrat and Republican senators voted to kill the proposal, stunning Senate leadership.
"This bill creates a new method for funding schools in Mississippi. The significance of this change is (that) the determination of how much money each school district receives under the funding formula will be student-centered rather than inputs-based," Tollison said explaining the bill Thursday. "The focus on the new formula is funding students."
Eight Republican senators had different convictions, however, voting with 19 Senate Democrats to kill the measure, after Sen. Hob Bryan, D-Amory, one of the MAEP authors, introduced a motion to recommit the bill to committee. The procedural motion eventually killed the measure for the 2018 legislative session.
"I would suggest to you that the bill before us is not fully understood by the people here in this chamber, and not fully understood by the people back at home," Bryan said on the Senate floor.
In the Senate rules, motions to recommit bills take precedence over motions to amend legislation. When Tollison finished his explanation of the legislation, the Senate was oddly silent. A few Republicans stood to ask questions, before Bryan stood to offer his motion to recommit the bill to committee. Tollison, who spoke against Bryan's motion, said it was a "killing motion."
Lt. Gov. Tate Reeves would not take responsibility for Republicans who voted against the measure, telling reporters they would have to ask them why they voted the way they did. He blamed the media for helping kill the bill, however.
"I know you're all smiling big today. You've worked really hard to help kill this, and you were very successful at doing so," Reeves told reporters after the Senate adjourned Thursday. "The fact of the matter is that there are a lot of kids in Mississippi who are losers today; there are a lot of kids come from ... lower-socioeconomic backgrounds that were going to be funded at a higher level than they are currently funded."
The proposed Mississippi Uniform Per Student Funding Formula could have directed $108 million more toward public education by 2026, if lawmakers had funded it at the levels the proposal suggests. This is still a lower number than MAEP, the current law, calls for at full funding, however, but the Legislature has refused to fully fund it most years since it passed.
House Speaker Philip Gunn, R-Clinton, blamed politics for the proposal's defeat.
"Those senators who did not support the legislation failed to do what is best for the students," he said in a press statement. "They let the politics of public education get in the way of our students. We can argue about the dollar amount all day long, but no one can refute that this was a better way to fund education."
Some Republicans who voted against the measure said they received a large number of calls asking them to oppose the bill. Sen. Chad McMahan, R-Guntown, said he supports a simpler funding formula but said his constituents did not want him to vote in favor of House Bill 957.
"I spoke with leaders in my district. I spoke with educators and parents, you know, with county supervisors, with industrial leaders, financial institution leaders, and no one in my district wanted me to support this," McMahan said after the vote. "Literally, I had not one phone call for me to support this particular bill because it was a large bill that was misunderstood, and it was misunderstood in my district."
Email state reporter Arielle Dreher at [email protected]. Read more about education funding in Mississippi at jfp.ms/maep.
More stories by this author
Support our reporting -- Follow the MFP.