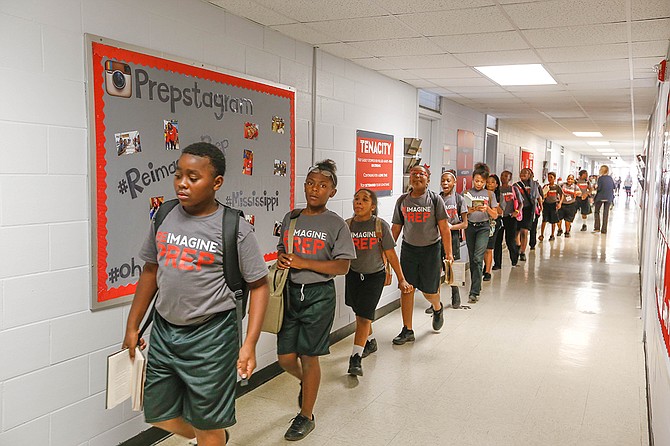 JACKSON — By August, four of Mississippi's five charter schools will be up and running in the state's capital city. The state's charter wave could continue in the next application cycle, with the highest number of groups wanting to open charter schools since the first year they were allowed to open in 2014.
Four groups have submitted letters of intent to open new charter schools in the Jackson Public School District. RePublic Schools, the only charter-management organization to operate schools in the state, plans to submit an 
application for the first charter high school in the state, called RePublic High School.
RePublic High would share a campus with Smilow Prep, a charter middle school and Smilow Collegiate, a charter elementary, scheduled to open in August.
RePublic staff did not return repeated calls and messages left for this story.
State law only allows charters that do not have permission from the local school board to open in "D" and "F" districts , and the JPS experience with charter schools could help explain why.
Since Reimagine Prep and Midtown Public Charter School, Mississippi's first two charters, opened in 2015, JPS has sent more than $12 million in state and local tax dollars to the three charter schools operating in the district.
Charter 'Deserts'
Supporters see charter schools as a solution to low-income students having access to education choices, just as wealthier children have access to private schools. A new study from a pro-"school choice" group, the Thomas B. Fordham Institute, found nine "charter school deserts" in the state—meaning nine high-poverty areas that have no charter schools.
The report identified west Jackson as a "charter desert." The Charter Authorizer Board, which evaluates applications and ultimately decides whether or not a group can open a charter school, has high standards. Last year, only one of 12 applicants received clearance to open. So far, large charter-management organizations like KIPP or Imagine Schools, have yet to apply to run a charter school in Mississippi.
The Fordham Institute study found that many of the larger charter organizations are not moving to "the inner-ring suburbs of flourishing cities, which are increasingly becoming magnets for poor and working-class families priced out of gentrifying areas." This could explain, in part, why large organizations are hesitant to come to the Magnolia State. -Funding could also be a part of it.
"It's not that money is the whole thing, but let's not kid ourselves, you have to have a decent per-pupil amount to make it work and have enough kids to make it work," Amber Northern, the senior vice president of research at the Fordham Institute, told the Jackson Free Press.
"[Y]ou have to guarantee a sort of enrollment to make sure schools are healthy."
Public-school advocates decry charter schools for their adverse impact and financial drain on public schools. The Southern Poverty Law Center challenged the funding provisions of Mississippi's charter law and continues to appeal the lower court's ruling in the Mississippi Supreme Court. SPLC attorney Will Bardwell said the costs to JPS are only accelerating with time.
"In 2015-2016 the total cost of charter schools to JPS was a little over $1.8 million. Again, that's a lot, but it's not apocalyptic. But two years down the road, you've gone from $1.8 roughly to about $8 million—so you're getting pretty close to apocalyptic," Bardwell, who filed records requests to calculate his numbers, said.
"It's just not sustainable. There's no way that any school district, even the most well-funded school district, could take a $8 million hit and have it not have effects."
In the case of JPS, that number will increase in coming years as long as the four charters continue to add students. Smilow Collegiate has 230 kindergarten and first graders enrolled for this fall, RePublic's website shows, and it projects to have 900 students by 2025.
Bardwell says the school districts are getting hit twice, with underfunding from the state at the outset and then charter schools syphoning not only their per-pupil state funding but also their local tax dollars.
"In a district like JPS that is already underfunded, you don't have to be an expert to predict what is going to happen—what is already happening," he said.
Who's Applying?
Besides RePublic Schools, three locally formed organizations want to run charter schools in JPS beginning in 2019, letters of intent show. DeArchie Scott, a former public- then charter-school educator with 10 years of experience in DeSoto County and Memphis, wants to open Ambition Prep Charter School in west Jackson. Scott spent the last year touring dozens of charter schools around the country, documenting best practices.
"We're here because of the need—because two out of 10 students are acquiring the skills necessary for college success," Scott said, citing MDE assessment data from students in west Jackson.
A 2015 study from the Center for Research on Education Outcomes at Stanford University found that some urban charter-school students make greater gains than their peers at traditional public schools. The report, which did not look at Jackson's charters, maintains that charter schools increase student performance in urban areas.
While it is early to identify trends, charter schools in Jackson have so far posted "D" and "F" grades, not unlike some of the JPS schools that surround them. Bardwell said the larger body of research on academic performance in charter schools shows that charters perform at the same level as public schools.
Scott said his board has not acquired a building or location, noting that the authorization will come first.
Several education stakeholders are listed as proposed board members on the letter of intent for the school, including Elayne Anthony, dean of the JSU journalism department, and Laquala Coleman, the JSU dean of students.
Zikri Arslan, a Jackson State University chemistry professor, has applied as the board president of the Mississippi Information and Technology Schools to open a grades 5-12 school. The school would provide computer-science AP courses, the group's letter of intent letter says. No specific location is identified in the application.
Rep. Greg Holloway, D-Hazlehurst, who voted against the charter law in 2013, is listed as a board treasurer for the group. Arslan did not respond to calls at the number listed on the intent letter and emails for this story.
The fourth group looking to open another charter in Jackson is Success Prep Incorporated. Monesca Smith, who is listed as the founder, lists only one board member on her application. Success Prep would eventually serve all grades, the intent letter says. Groups who submitted intent letters to run charter schools must apply by May 8 to be considered in the 2019 application cycle. From there the Charter Authorizer Board evaluates all the applications and announces who can open new schools this fall.
Email reporter Arielle Dreher at [email protected].
More stories by this author
Support our reporting -- Follow the MFP.