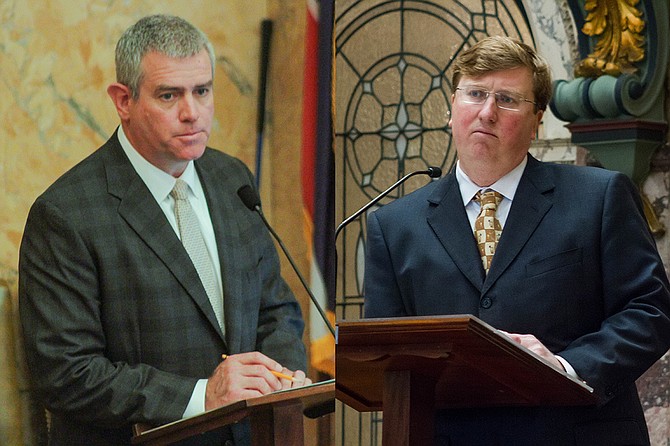 JACKSON — State revenues are higher than expected, and lawmakers set aside about $112 million, or 2 percent, of the state budget for its rainy day fund, as they worked several late nights at the Mississippi Legislature to pass a roughly $6-billion budget to fund state agencies starting in July.
Rep. John Read, R-Gautier, who leads the House Appropriations Committee, said the final budget is not great, but it at least level-funds or exceeds original estimates for agencies.
"Is it workable and doable? Yes. .... I'm proud of it," Read told reporters on Monday night, before lawmakers filed the last of the budget bills.
Public-school programs, public universities and the state's foster-care system received increases in funding from last year.
Senate and House leaders opted to increase K-12 education funding by approximately $11 million, directing dollars to early-learning collaboratives and the School Recognition Program, which rewards A- and B-rated schools as well as any that increase a letter grade.
Lt. Gov. Tate Reeves said the School Recognition Program needed more funds because more schools are improving. "That's the results we ought to see," he told reporters during conference weekend.
The Legislature also sought to patch a rocky relationship with attorneys in the "Olivia Y" litigation against the state's foster-care system. The Mississippi Department of Child Protection Services has been out of compliance with the settlement agreement since December.
Commissioner Jess Dickinson told lawmakers this year that he needed about $133 million to run his agency, not $98 million as was originally requested.
Budget writers found the funds to give to CPS and to the Mississippi Department of Human Services, in order to draw down matching federal funds for the state's foster-care system.
Rep. Sam Mims, R-McComb, told the House that the joint budget for DHS and CPS would help DHS draw down federal Temporary Assistance for Needy Family funds for the foster-care program, in order to cover CPS' budget needs. He could not identify what programs that currently use TANF dollars would lose funding as a result of the shift in funds, however.
Medicaid Wedge?
On Monday night, tensions ran high in the statehouse after the House of Representatives sent back the Medicaid budget for more conference between the chambers as leverage to ensure that a different technical bill survived the legislative process. Their strategy seemed to work, and representatives and senators began to negotiate a technical amendments bill, which contains specific legislative directions for the Division of Medicaid to follow, like the type of medical care covered or amount of prescriptions allowed for Mississippians who use Medicaid for health-insurance coverage.
Rep. Jason White, R-West; Rep. Chris Brown, R-Nettleton; and Rep. Joey Hood, R-Ackerman, came back to the House chamber after the 8 p.m. deadline for the technical amendments legislation had passed with copies in hand. They had come to an agreement with senators, namely Sen. Brice Wiggins, R-Pascagoula, who had earlier told the Senate that he sent House members the Senate's position at 10:15 a.m. that morning.
White, who looked exhausted, told reporters that some of the House's preferred provisions stayed in the bill, like language to help rural hospitals choose what type of reimbursement they want to receive from Medicaid. Senate Bill 2836 also directs an audit of the Division of Medicaid.
"One of the accusations of managed care (companies) is that they don't pay providers in a timely manner, so this would be a way to make sure beneficiaries do what they need to be doing," Brown told reporters last night.
The main difference between the House and the Senate position on the technical amendments bill is whether or not the State should re-bid managed-care contracts.
 Wiggins told the Senate on Tuesday morning as they passed the technical amendments bill that the re-bidding idea, which the House supported, is not in the agreed-upon measure.
"The Senate has been strong on that. We did not want to open up the policy or the precedent that the Legislature is getting into the sole-sourced contracts, (which) we've had a lot of problems with, particularly in this case," Wiggins said.
The House passed the Medicaid budget bill, and the agreement was still intact. Lawmakers in both chambers passed a Medicaid budget bill and a technical amendments bill also survived, ensuring that the Legislature will continue to have some authority and be able to hold Medicaid accountable going forward.
Email state reporter Arielle Dreher at [email protected].
More stories by this author
Support our reporting -- Follow the MFP.