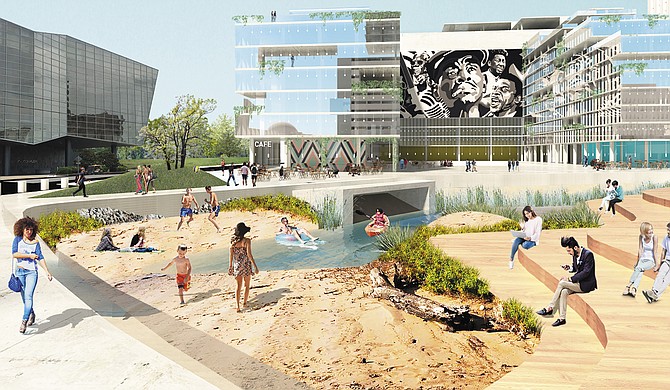 JACKSON — If downtown Jackson were a person, she would be an upstanding woman with a lot of scars, living in the shadows of painful memories. Despite her propensity to bask in nostalgia and hypotheticals about what could have been, she would be one of those people with strange, unmerited optimism considering how many people have abandoned her—she believes her people will come back to her.
As a capital city, albeit a small one, Jackson is not the social or economic hub that it should be. Nearly 20,000 people in the daytime workforce flood its "business improvement district," and they don't stay once they're off the clock.
However, the City is in the early phases of developing roughly 9 acres in front of the Jackson Convention Complex. This could be the catalyst, and makeover, that downtown needs to get her groove back.
"This is a huge opportunity for us to rethink what our downtown can be," Travis Crabtree, a member of the City's long-range planning team, says.
Talking Design
The City's Planning and Development Department hosted an event on June 30 called "Downtown Design Dialogue"—colloquialized to D3—where the public came to share hopes about what could fill the undeveloped acres largely functioning as parking lots for now.
The backdrop of D3 was perfect: the large floor-to-ceiling windows offered a direct line of sight to where a $315-million development could go in the next six to eight years.
More than 100 people took the escalator up to the second floor of the convention center. After signing in, groups cycled through presentations from members of the planning department. Large-format printouts of downtown's history and renderings of what it could possibly look like in the future rested on large cinder blocks.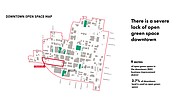 In 2008 the City took out a $7-million loan from the U.S. Department of Housing and Urban Development to develop the land across from the convention center. But, after the initial developer that purchased the land from the City went bankrupt, the property went back to the City and the Jackson Redevelopment Authority, and nothing else happened.
The City still owes that loan to HUD, but Mukesh Kumar, director of planning and development, established a "workout plan" with the federal agency last fall to give the administration an opportunity to secure a master developer once more. Part of the workout plan was to bring in a team of consultants to do a market analysis of downtown Jackson.
Chicago-based Hunden Strategic Partners hosted listening sessions
in the winter prior to compiling a roughly 100-page study with recommendations about the downtown area. Some of those findings were on display at D3.
Kumar, a brand-new father for the first time, welcomed people at the first introductory station in a striped linen shirt, navy pants and brown sandals. Von 
Anderson and Mike Davis from the planning department walked groups through the highlights of the next station, focusing on the downtown market analysis.
Approximately 485 people live downtown, and 87 percent of the residential units in the area are occupied. Eighty percent of those living in the apartments inside of the Standard Life and King Edward are from the suburbs of Jackson.
"If you go to Columbus, Mississippi, they will have more people living in their downtown than the capital city of Mississippi. That just don't seem right—however, that's why we're here," Davis said.
Swim, Boat, Gather
A middle-aged black woman named Gwen (she declined to give her last name) was among one of the groups. When she permanently relocated to Jackson, she started off living downtown, but left because she wanted the option to own her domicile and desired amenities she could walk to—her dream is to be able to walk everywhere.
Downtown Jackson does not seem walkable right now because things are so spread out. Also, you would mainly see parking lots because that is what comprises most of downtown: 87 acres of parking structures. Twenty-six percent of downtown land is used for parking.
The next station was Crabtree's. As part of the build-out, Crabtree and his team envision some residential apartments among condominiums, office space, vertical parking, green spaces, a movie theater, and eventually, a hotel connecting to the convention center.
There could even be a water feature making use of the stormwater, as the convention center and undeveloped land in front of it are right in the middle of a floodplain, and Town Creek runs underneath it all. The idea would be to open it up and create a body of water where people could swim, boat and gather.
Finally, attendees filled out color-coded cards to note things they wanted to see in downtown Jackson. Then, everyone pinned the card exactly where the proposed idea should go in the city, and ideas were connected with colorful strings of yarn.
Some made serious suggestions. Charles Hatcher, the former director of finance and administration who resigned suddenly at the end of May, showed up to D3, giddy and smiling with his former coworkers like a recent graduate back on campus for the first time since his glory days. Hatcher suggested a convenience store on the perimeter of downtown.
Others made light of the activity—one person suggested "Shade" as a program the city should implement. It instantly became a fan favorite.
More green spaces, however, are not only cooling, they also represent a shift Kumar wants to achieve with his long-range planning group: going from seeing the worth in consumption to valuing production. For Kumar, the very act of being in a space is a way to produce quality of life for instance. He can't put a pricing model on the concept, but Kumar's goal is to have a city space where people want to linger and make memories.
"These people are not thinking that by the very act of you being here in downtown you're producing," Kumar said. "But most of the time people don't value that. They just see the value in how much can I consume."
Rare Equitable Approach
After the event some did linger in the way city planners want to happen regularly downtown. Matt Bolian was among them in his "JXN" shirt. Bolian left the area to serve in the military for seven years, and cried when he found out he had to come back to Jackson.
"Jackson sucks; that's just the reality," he said after D3. As someone who worked on the Capitol Art Lofts downtown, Bolian is excited about being part of the movement to make the City better, but he still feels that the place, quite frankly, still sucks. But, he says, if you want to be in a place to make a difference, he sees Jackson as a top-five option for that.
Even after Bolian left, Kumar stuck around and went back over some of the renderings. He is excited about the opportunity to develop such a huge portion of downtown, but he wants to make sure it happens equitably. He hopes to start funding the City's affordable-housing trust fund, especially for the Fondren area—no one will be displaced with new downtown apartments because the area is so empty. This is not the case further north. Kumar hopes that as new opportunities attract new residents, a variety of people can benefit.
"It would be entirely impractical to think that you should just try to attract 5,000 rich people or people who can afford it directly at the market rate," he said.
This equitable approach in favor of community input is rare. In most cases, communities get to react to a design firm's prototype just before a groundbreaking. Kumar and his team will take feedback and come up with other iterations to ultimately roll into an RFP for a master developer.
"It's not a developer's job to watch out for the interest of the public. ... That's our job. We have to do that," Kumar said.
Email city reporter Ko Bragg at [email protected].
Support our reporting -- Become a JFP VIP.
The news business has changed dramatically in the past two years, and we need your help more than ever to keep bringing you important stories about Jackson and the Metro. Become a JFP VIP with an annual membership or you can Sign up as a monthly supporter. Thanks for anything you can do to empower our journalism!