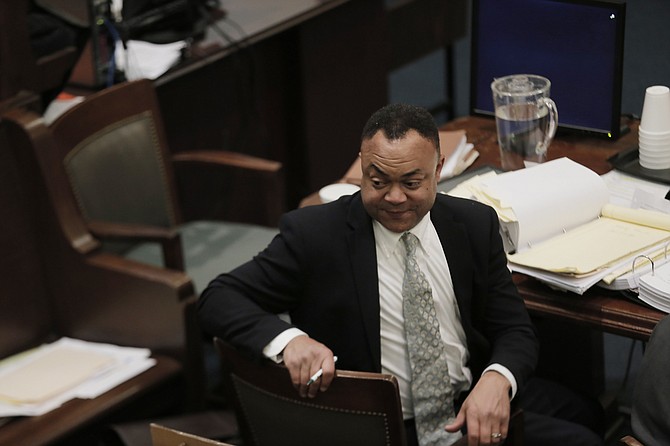 JACKSON — Hinds County District Attorney Robert Shuler Smith was supposed to be in front of a Rankin County judge this morning to begin the trial for two counts of domestic violence, and aggravated stalking and robbery. After yet another delay, the trial will take place in March.
Rankin County Circuit Court Judge William Chapman granted a continuance order on Jan. 25 to push back the trial. A different circuit-court judge, John Emfinger, previously postponed Smith's trial date in early October 2017 to give the Mississippi Supreme Court time to rule on an interlocutory appeal—an appeal that takes place while a case is still active—Smith had filed. He also wanted to give counsel time to respond to evidence placed into discovery after his original timeline.
Judge Chapman was assigned to the case in late November 2017 when Rankin County Circuit Court Judge John Emfinger disclosed that his daughter had interned in the attorney general's office and that she sat in on a meeting between 2014 and 2016 involving Christopher Butler. The attorney general's office is prosecuting Smith.
Smith also added another co-counsel in late November 2017. In addition to his new head lawyer, Vicki Gilliam of Clinton, he hired Michael Sterling. He is the Atlanta-based lawyer who provided counsel on the Smith trial for hindering prosecution of Butler, which resulted in an acquittal for Smith in August 2017.
In advocating for a continuance at the October 2017 court date in front of Emfinger, Gilliam pointed to things that had not been done prior to her coming on board, saying she needs time to "do the work the State (and the FBI) has had time to do" in the two years since the August 2015 incident happened between Smith and the alleged victim, Christie Edwards. Gilliam accused the attorney general's office of operating in bad faith, particularly when it came to what she characterized as a lackadaisical approach to retrieving texts between Smith and the victim.
The charges against Smith are anchored on an altercation that took place on Aug. 13, 2015, in Rankin County, when the Hinds County district attorney allegedly stalked and physically abused Edwards and brandished a gun at her.
Gilliam has filed motions indicating that Smith plans to claim self-defense, telling the court that Edwards was the "aggressor" and had threatened the Hinds DA with the weapon he took from her. Earlier motions by both sides show that the State plans to bring Sandy Middleton, the director of a domestic-violence shelter in Pearl, to the stand to talk about more than one alleged violent incident against Edwards.
Email city reporter Ko Bragg at [email protected]. Read more at jfp.ms/DAfiles.
Support our reporting -- Follow the MFP.